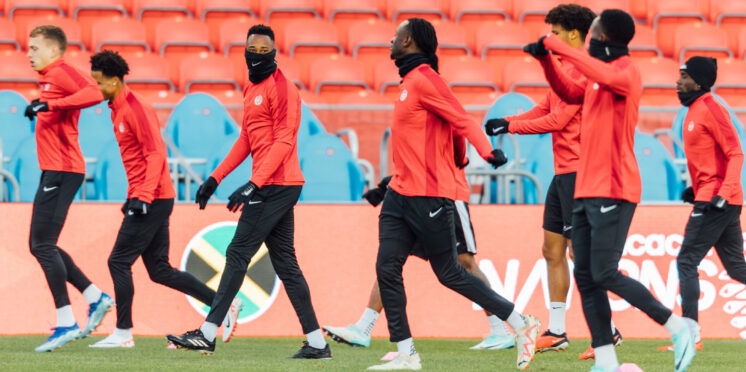 It's Copa or bust for Canada as CanMNT look to book Nations League semi-final and Copa América 2-for-1 ticket
A wet, blustery Tuesday night down at BMO Field will see Canada and Jamaica resume their 2-legged series. Canada comes in with a 2-1 aggregate lead and most importantly, two away goals.
For Les Rouges, any result that sees the Reggae Boyz contained to one goal or less will see the CanMNT book their tickets to more important challenges for the coming year. At stake is progression to the CONCACAF Nations League semi-finals in March. However, the more glamorous prize for Canada is a first-ever spot in the CONMEBOL Copa América, where the 2024 edition will hosted in the USA in June and July and include six CONCACAF nations.
Canada came through a trying and stressful visit to Jamaica this past weekend with flying colours. After a 15-hour rain delay pushed the kickoff in Kingston into the following morning Canada came away with their first win in Jamaica since 1988.
Despite some nervy play that could have put Canada in a hole early in the game (Leon Bailey alone should have bagged a brace inside the first 15 minutes), the back-line, namely Richie Laryea and Steven Vitória, made some adjustments to their dangerous high line and stepped back to negate the threat of Jamaican balls lobbed over the top.
As the match progressed, full-backs Laryea and Sam Adekugbe kept the defensive flanks secure and funneled Jamaica's attacks into the middle where Vitória and centre-back partner Kamal Miller, along with central midfield duo Stephen Eustáquio and Ismaël Koné largely nullified the threat. Expect this pair to replicate their performance at BMO Field.
At the other end of the still soft pitch, Canada's attack was in sync like they have not been in quite some time. Under-fire strikers Cyle Larin and Jonathan David could have iced this game away in the first half as well. The CanMNT's top two all-time goal scorers parlayed their re-discovered chemistry into several quality chances that finally bore fruit just before the first-half whistle.
The shift put in by Canada's midfield, while not always pretty nor spectacular, was effective in winning the middle of the pitch despite the heat and humidity at Independence Park. For much of the match Jamaica's game plan had resorted to long balls straight up-field from their own defenders as Canada's midfield of Eustáquio and Koné, along with Alphonso Davies and Tajon Buchanan on the flanks stymied any efforts by Jamaica to work the ball through the midfield.
In turn, Canada's midfield contributed to the creation of several offensive chances that caused havoc for Jamaica's defence. These efforts culminated late in the match when Laryea, sprung loose on a quick one-two with substitute Junior Hoilett, burst down the right side on a counter and cut back to an open Eustáquio at the top of the box, where he calmly slotted home the winner past the hapless Andre Blake.
For anyone not paying attention, Canada's midfield is an entirely different animal with Eustáquio pulling the strings and snuffing out danger from its midst. Simply put, Eustáquio makes everyone around him better on the pitch. For Canada, Eustáquio is in a class of his own.
Jamaica will come to BMO Field somewhat of a wounded animal, both literally and figuratively. Mentally, losing the opening fixture at home was frustrating in itself but key injuries may come into play as well. Demarai Gray has a knock serious enough that he could not make the game sheet for Saturday morning's tilt in Kingston. On Tuesday night he is likely to be joined on the sidelines by fellow attacker Michail Antonio who exited Saturday's game within 16 minutes with what appeared to be a hamstring injury. With the quick turnaround and cool, wet temperatures forecast it is unlikely either will risk themselves.
Tuesday night's weather will not be ideal for either squad, but Jamaica will find the conditions more uncomfortable than Canada. With at least two of their England-based stars likely absent, and down two away goals, it remains to be seen how the Reggae Boyz will deal with their travel adversity.
Canada comes into the second match in much better spirits thanks to their victory in Jamaica. Mauro Biello remarked post-match that it was "mission accomplished for the first phase," but the job was only half done. With everything trending in the right direction for Canada Biello will need to keep the 'Brotherhood' focused to see out the two-game set and complete the job.
Expect Biello to continue rolling with a 4-4-2 formation on Tuesday evening. The conditions at BMO Field and the respect they must show the athleticism of their opponents' attack make four at the back an ideal setup.
Given the short turn-around from the previous match, there is some question of whether Biello makes any changes to his starting XI.
A prudent move would see Derek Cornelius come in for Vitória. At 36 years of age, it is unlikely Vitória returns to start a match this quickly after the previous one. It has been quite some time since we have seen Alistair Johnston not start a match where he is fit and available, let alone consecutive matches. However, it would not be surprising to see Laryea keep his spot at right-back given he matches up better with Leon Bailey's skill-set.
Despite the low-key braying of die-hard Canada fans to see youngster Luc De Fougerolles earn his first Canada cap it is unlikely he sees the pitch yet unless Canada manages to pull away late on in the match.
Canada's midfield is likely to remain unchanged in terms of personnel although it is conceivable for Toronto-born Vancouver Whitecaps rising star Ali Ahmed to get the nod in place of Koné for the start. Buchanan and Davies are automatics for the game sheet. Both players found themselves attracting the attention of Jamaican defenders whenever they were on the ball, and both put in a good defensive shift of their own.
The strike partnership of Larin and David are untouchable for now and will be given every opportunity to replicate their performance from the first match. The often maligned duo has appeared, for now, to have found a mutual awareness of one another on the pitch.
Three Keys for Canada
Be ready to play in the first 15 minutes. They were not ready on Saturday and could easily have been torched. If not, they may find themselves not so lucky as they were in the previous game.
Again, dominate and control the midfield. Sounds simple enough. Do this and Canada will control the match.
Do not concede first, and do not concede more than once. Accomplish the former and they are in control of the match. Accomplish the latter and they advance to the Copa América and Nations League semi-finals.
Predicted Lineup for Canada: (4-4-2); Milan Borjan; Sam Adekugbe, Kamal Miller, Derek Cornelius, Richie Laryea; Alphonso Davies, Stephen Eustáquio, Ismaël Koné, Tajon Buchanan; Cyle Larin, Jonathan David.
Match Viewing Particulars:
Where: BMO Field Toronto, Ontario
When: 7:30 p.m. ET, 4:30 p.m. PT
Stream: OneSoccer, FuboTV
---
---