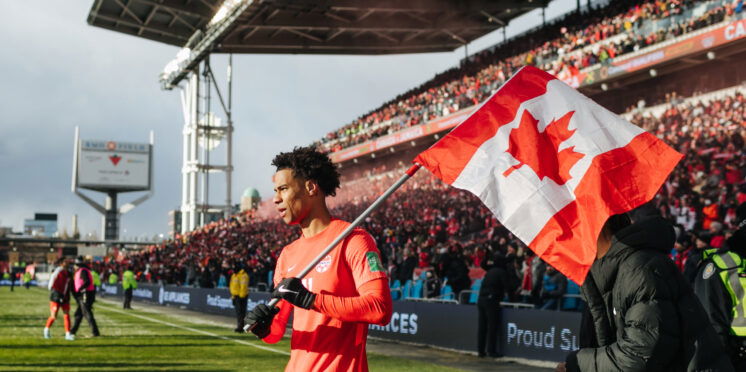 BMO Field is a fortress that Canada hope to take advantage of in CONCACAF Nations League quarter-final vs. Jamaica
For Toronto FC fans who suffered through a dreadful 2023 season, take comfort in the fact that there will be a team in red on the pitch Tuesday night that has turned BMO Field into a fortress in recent years.
The Canadian men's national team take a 2-1 edge into the second leg of their CONCACAF Nations League quarter-final against Jamaica on Tuesday with a spot in next March's semi-finals in Dallas, and a berth in next summer's expanded Copa América, on the line.
You'll be forgiven for not realizing that CanMNT have made TFC's confines a very happy place in recent times. CanMNT are undefeated in their last 19 competitive games on the Lakeshore, which included 13 wins. Read that again.
"Every time we come here and we play here we feel our fans behind us," said interim CanMNT head coach Mauro Biello. "That means a lot to the players. They're able to feel that, those emotions in the stands."
There was no match where emotions in the stands were more tangible than the last time CanMNT played Jamaica at BMO Field, a 4-0 victory last March that clinched CanMNT's first World Cup appearance since 1986.
Previous CanMNT squads would play home matches where a considerable section of the crowd where there to cheer on the opposition. Jamaica have drawn great crowds when the Reggae Boyz are in town. That wasn't the case last March and that will not be the case on Tuesday.
"When you combine that (Canadian passion in the stands) with this group of players that have had success you start to build this momentum here at the stadium," said Biello. "Hopefully we can continue that momentum [on Tuesday] and make a lot of fans here proud."
The thought of competing against the likes Lionel Messi's Argentina and Neymar's Brazil next summer at the expanded Copa América in the USA is the dangling carrot that is motivating every member of that Canadian roster ahead of Tuesday's second leg.
"It's a very important tournament," midfielder Stephen Eustáquio told reporters at BMO Field on Monday. "Inside the locker room, we know how much of a big tournament it is. Probably the fans in Canada don't really know the value of the Copa América but for me, in terms of passion and quality and velocity and intensity, all these types of things, it's probably one of the best tournaments in the world."
CanMNT's second leg against Jamaica kicks off at 7:30 p.m. ET / 4:30 p.m. PT at BMO Field on Tuesday night live on OneSoccer and FuboTV.
---
---