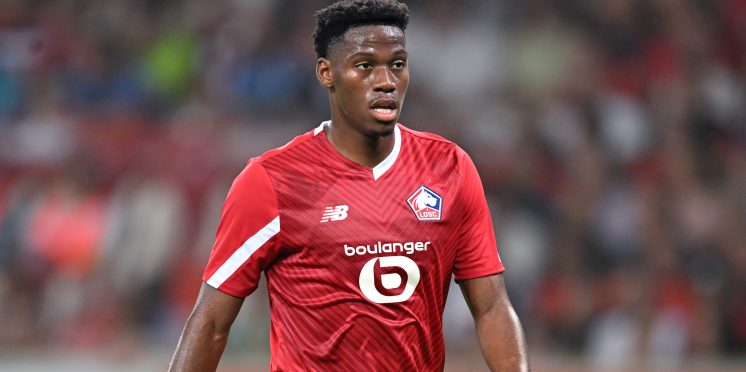 Canada striker Jonathan David wanted by 3 Premier League clubs as well as AC Milan, says Fabrizio Romano
The fact that Jonathan David is a primary transfer target for AC Milan is pretty common knowledge by now if you've been paying attention.
Widespread Italian reports have suggested that the Canadian is the Rossoneri's first choice as long-term successor Olivier Giroud, who has aged like a fine French wine but at 37 surely cannot have long left at the top level. Milan came in late with a loan offer for David on transfer deadline day but were rebuffed by Lille. They remain intent on signing him.
But the Canada striker is also on the list of three Premier League clubs, according to omnipresent transfer reporter Fabrizio Romano.
There is no indication yet who those clubs are, but social media and transfer whispers linked the 23-year-old with the likes of Tottenham Hotspur, Newcastle United, Aston Villa, and Arsenal earlier this year.
An interesting note is that Romano emphasizes that any transfer move for David likely wouldn't come until next summer, at which point he will have just one year left on his deal. That will bring his transfer value down significantly from the reported €60-70 million ($87-$101 million CAD) that would have made Lille consider a sale this past summer.
There had been previous suggestions earlier this season that Milan may look to strike in January to beat the competition. But La Gazzetta dello Sport now reports that there will be no January move; talks are exclusively for the summer, but Milan are looking to get out ahead of their rivals for his signature.
La Gazzetta suggested last month that Lille would likely only look for €40-45 million ($58-65 million CAD) for the Canadian star whenever solid interest arrives. They now say it could be even lower, around €30-35 million ($48-$52 million CAD).
As well as the fact he will only have a year left on his contract next summer, another factor in the reduced valuation could potentially be that David is miles off the fast pace he set last season. After scoring 24 goals in 37 games in Ligue 1 last season, he has netted just twice so far in 12 games, with more than a third of the season already done.
Despite that dip in form, it sounds like David will still have his pick of several admirers by next summer. After all, he is a hugely talented player and has looked like a natural goalscorer in recent seasons.
Whether David would be keen on the switch to Milan is unclear but you'd imagine he would be. Milan are a clear step up from Lille, a team that consistently compete for the league title and are in the Champions League.
But the Canadian has said in the not-too-distant past that "I don't know if I can find myself anywhere other than the Premier League," and so any solid offer from the richest and most-watched league in the world could be too tempting to turn down.
For now, Canadians and Lille fans would just be happy to see him start scoring again.
---
---