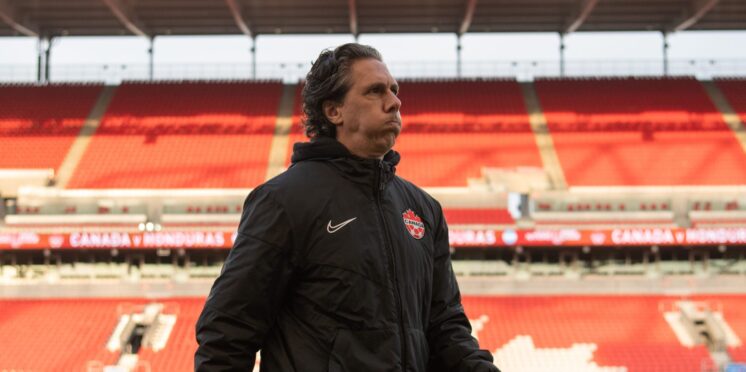 Mauro Biello says Canada must 'manage the chaos' as they look for first win in Jamaica since the 1980s
The Canadian men's national team haven't won in Jamaica in 35 years. It'd be a great time for that to change.
Mauro Biello's CanMNT face the Reggae Boyz on Friday night in the first leg of their CONCACAF Nations League quarter-final which also serves as the primary and easiest route to qualify for the 2024 Copa América. It's not going to be easy.
The last time CanMNT faced Jamaica was the 4-0 win at BMO Field in March 2022, a night which quickly turned from soccer game to raucous celebration as John Herdman's side officially marked qualification for the 2022 World Cup.
The circumstances are very different this time around, and so are Jamaica. Back then, the visitors' most dangerous player in the XI was arguably the enigma that is Ravel Morrison, one of modern European football's great what-ifs.
This time around, their starting lineup could contain as many as five English Premier League players — Brentford centre-back Ethan Pinnock, Luton Town left-back Amari'i Bell, wingers Leon Bailey and Bobby Decordova-Reid of Aston Villa and Fulham respectively, and West Ham United striker Michail Antonio. They also boast the likes of former EPL man Demarai Gray, Ligue 1 striker Shamar Nicholson, and several players from the English Championship and Major League Soccer.
As fast as Alphonso Davies may be, Jamaica are stacked with pacey and clinical players who thrive in turning defence into attack. Bailey has six goals and six assists in 850 minutes of football in the EPL and Europe for Villa this season, Decordova-Reid is Fulham's joint-top scorer, Antonio has 63 career EPL goals to his name. The list goes on.
"These are players that have been playing in the Premier League and top leagues so we're expecting a tough opponent in difficult conditions," Biello told media on a Zoom call on Thursday.
"They're a good team, stacked with a lot of good players, a lot of experience, guys that have played at the highest level. Especially their front players, we need to pay very close attention because they can cause problems. We need to take care of that and then play our game. They have speed, power, technical ability, quality. Our structures when we don't have the ball are very important, and our defensive transitions when we have had the ball. We have to get these things wrong because these are players who can hurt you with minimal space."
Jamaica, to put it lightly, has not been a welcoming destination for CanMNT. The last time the men's national team won on the island nation was a 4-0 friendly win in April 1988. Since then, it's six defeats and three draws in nine meetings on Jamaican turf. In CannMNT's last trip, they drew 0-0 in World Cup qualifying in October 2021, ending a run of six straight defeats in Jamaica.
"We know this is going to be a difficult place to play in, we haven't won there in 35 years," admitted Biello.
"For us, it's about getting the result. Having that opportunity to play at home in front of our fans is something that players love doing and it's also the extra man we need in critical moments… It's how we manage the chaos. There'll be a lot of chaos in these two games."
What exactly is the chaos Biello refers to?
Well, there's the likely state of the playing surface, for starters. Jamaican pitches have become renowned for being tricky and even potentially hazardous to play on. Then, there are the weather conditions. Friday's forecast in Kingston calls for around 25 degrees Celsius at kickoff time, with rain and the risk of thunderstorms, and 95 percent humidity. And then there's the often hostile nature of the home crowds that teams like Canada and the United States tend to see on their travels around CONCACAF.
How Biello's experienced squad deals with those tests will be vital within the context of their two-legged tie.
"This is CONCACAF," Biello remarked. "Every stadium is difficult to play in, we've seen that throughout our history. You go onto a field that isn't a typical MLS field or a field you'd see in other stadiums. The ball may bobble up and you lose control. We have to be strong mentally and be able to react in different moments and situations, it's about not letting your head go down and moving onto the next play.
"We've played games there in a few years that were extremely hot and we weren't acclimatized… We know these two games will be tough; they could be two games where tactics don't mean anything. It's going to be fighting, battling. We need that mindset. The players may have to go out of the norm sometimes in these games, whether it's down to the conditions or the moment in the game."
The overall message, then, is to be ready for anything.
Biello promised on Thursday there will be some notable changes from the way his team set up and played in the 4-1 friendly defeat to Japan last month. One thing that will certainly need to be different is his team's solidity (or lack thereof) at the back and the way the players respond to transitional moments.
"You have to put things in place and learn from that game in Japan. There are certain things where we have to do better. You don't have that much time as a coach to implement some big changes, but there will be some. The players are starting to see the way I work, to see what my message is and understand what I want from them. That clarity for me is important.
"It starts with a tight team, front to back and side to side. When you're able to have those lines nice and compact, you can hold spaces and break up play… But when you're tight, you have to know and expect that ball in behind. We have to be ready for that ball and win all those races in behind and make sure they're not having success in the channels. We've been working on all these situations and we've been sharp, but now it's time to execute it."
The first leg of Canada's tie with Jamaica kicks off from 7 p.m. ET in Kingston, Jamaica on Friday night, live on OneSoccer.
---
---