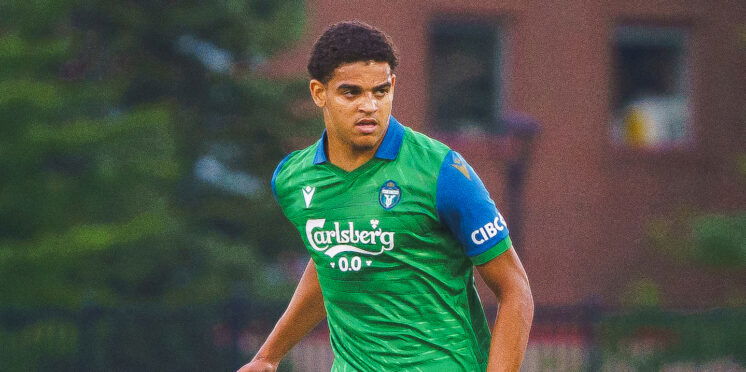 York United's Osaze De Rosario, son of Canada and Toronto FC legend Dwayne, accepts Guyana call-up
Osaze De Rosario has a lot of ties to Canada. He's the son of a Canadian soccer legend. He came through Toronto FC's academy. He plays for a Canadian club, York United.
But it appears his national team allegiance may soon be elsewhere.
Yet to be called up for a Canadian national team camp, the 22-year-old, who was born in San Jose, Calif. while Dwayne De Rosario was playing for the SJ Earthquakes, has accepted a call-up from the Guyanan national team. De Rosario qualified to play for Guyana as his father is the son of Guyanese immigrants to Canada.
De Rosario joins his former York teammate Jonathan Grant in Guyana camp for a pair of CONCACAF Nations League B matches over the next few days against the Bahamas and Antigua and Barbuda. De Rosario said in an interview with Brian Sciaretta last year that "to play with either [the U.S. or Canadian] national team would be an honour." Instead, if he takes to the field for the Golden Jaguars in the next few days, he will become a fully-fledged Guyana international.
The York United striker broke onto the scene in the 2022 Canadian Premier League season, with 13 goals across all competitions being recognized with an Under-21 Canadian Player of the Year nomination. In 2023, he netted six times, including twice on the final day of the season to secure the Nine Stripes' spot in the postseason.
His season was disrupted in unfortunate circumstances, though, as he was suspended for a month by the league in August after testing positive for THC, which he ingested through what De Rosario called "an unlabelled dessert at a dinner gathering." The suspension was criticized by some in the Canadian soccer circle, including former TFC striker Jozy Altidore, who called it "ridiculous."
THC, the main psychoactive compound in marijuana, is a legal substance in Canada but is on the World Anti-Doping Agency's (WADA) List of Prohibited Substances. Its use is prohibited in competition and on matchdays, but not outside of competition. Major North American sports leagues including the NBA, the NHL, and MLB do not test for it in their athletes, reflecting the fact it is not a performance-enhancing drug.
Despite missing a chunk of the season, De Rosario is still York's all-time leading scorer with 19 goals in 57 games.
---
---