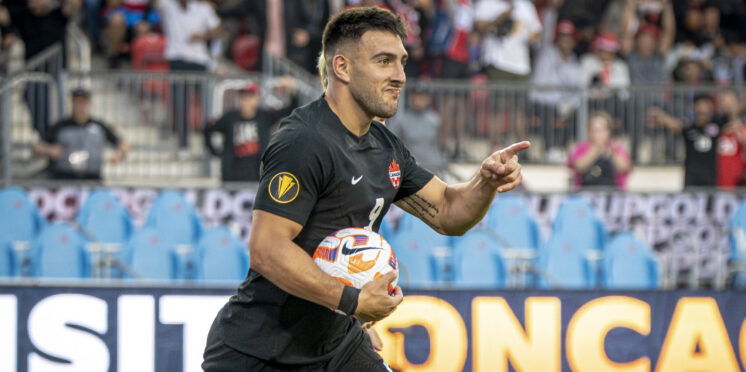 Brady: Canada's Lucas Cavallini unwanted at Tijuana Xolos, but Toronto FC and John Herdman should stay away
A goalscoring centre-forward is one of several things on John Herdman's wish list this winter, and there's a guy he knows quite well that might just be available.
Tijuana Xolos' head coach Miguel Herrera said in a press conference in recent days that Lucas Cavallini has not turned out to be the striker they were looking for and added that the club needs "a partner for Carlos González who can score goals." Ouch.
The clear implication there is that Cavallini's days in Tijuana, whom he joined from the Vancouver Whitecaps last winter, are numbered.
You know what's going to happen now, don't you? Whether or not Herdman actually picks up the phone, there's going to be talk that the former CanMNT boss might pick up the phone. After all, Cavallini has been a favourite of Herdman's. The new TFC head coach gave the former Whitecap 33 of his 40 caps for the Canadian men's national team and has repeatedly cited him as an important and experienced member of the CanMNT.
"From the first time I saw him, from my first time in camp with him [in 2018], I knew that he had something special for us," Cavallini said of Herdman in the days before last winter's FIFA World Cup. "I knew that we were going to be a team who made a lot of history and that we would start representing this country with a lot of pride. That's when I knew things were for real."
Herdman certainly has input into player signings at TFC, but does not have carte blanche. Cavallini turns 31 in December and will likely be expecting a significant amount of money. Perhaps TFC general manager Jason Hernandez can dissuade his diminutive coach from playing favourites early on in this roster rebuild.
While Cavallini is a Toronto kid, it's a bad idea to try and sign him.
Remember how bad of an idea it is to sign a player because of a feeling of loyalty? Jozy Altidore, despite being a club legend, fleeced the club for a few years by taking advantage of that generosity. While Altidore's contract was not a Bobby Bonilla-level payout, TFC basically paid Jozy to sit around for almost four years — including paying his salary while with the New England Revolution.
In short, don't do it!
Adding another relatively high-priced aging striker to a team that desperately needs help all over the field is not the answer.
Cavallini has seen a steady decline in goal production and minutes since leaving Vancouver after the 2022 season. He's only played around 1,000 minutes since joining Liga MX side Tijuana. Cavallini has only played in 12 out of 16 matches and started in just two of these games. 
He's coming off of the bench and averaging around 31 minutes of playing time, firmly behind Paraguayan striker Carlos Gonzalez in Herrera's eyes. Cavallini has scored one goal in 16 matches, while Gonzalez has potted nine goals.
Cavallini is currently nursing an injury and not available for selection and was dropped from the CanMNT due to this injury. However, judging from Herrera's comments, Cavallini will not be able to break into the Xolos first team at any point.  
Toronto FC does not need another player who is not getting minutes in a foreign league. Does the name Terrence Boyd sound familiar? Ironically, Boyd is only one year older than Cavallini. TFC should remember that signing a player from a foreign league to an expensive contract is dangerous, especially when age is a consideration.
Speaking of overpriced players over 30; we've tried that already. We have two Italian Designated Player versions of that model of forward. C.J. Sapong was a disaster of a trade. Adama Diomande is laughing at us all the way to the bank (albeit very slowly due to his Achilles tendon). While Cavallini probably won't demand a DP salary, be sure that he'll want to be compensated handsomely for his services. Cavallini did earn around $1.4 million with the Whitecaps in 2022.   
Although Jason Hernandez is relatively new to the job, the Toronto FC front office needs to start demonstrating some sort of competency to instil a bit of confidence. Since Tim Bezbatchenko left Toronto FC, there have certainly been more failures with transfers than successes.
While it's easy to dunk on the incompetence of the TFC management from 2019 to 2023, I can't resist — here's my top five worst signings from that time: Yeferson Soteldo, Boyd, Erickson Gallardo, Pablo Piatti, and Chris Armas. I could keep going, but that's a lot of messing up from management in a short time frame. Hernandez has shown some ability to offload some of these mistakes of the past like Mark-Anthony Kaye's salary cap hit. Taking on a high-risk player like Cavallini will not help convince the supporters of Hernandez's efficacy. 
Perhaps the most sobering thought is that Toronto FC is stuck with an absolutely dreadful roster construction. The team currently has 6 strikers under contract: Diomande ($585,000 USD), Ayo Akinola ($700k), Prince Owusu ($700k), Jordan Peruzza ($130k), Hugo Mbongue ($78k) and Deandre Kerr ($90k). In total, the club is on the hook for roughly $2.3 million in salary and around a $2 million cap hit, (Akinola's salary only counts as $200k towards the cap.) 
With the 2024 salary cap set at $11.6 million, that means TFC is already spending 17 percent on one position on the field that produced only six goals this season, and five of those came from Kerr. 
Cavallini is not the answer to TFC's scoring woes. Despite being one of Herdman's "culture" players, Cavallini's addition to a goal-starved team will not move the needle. He's simply too old and out of form to justify signing.
---
---