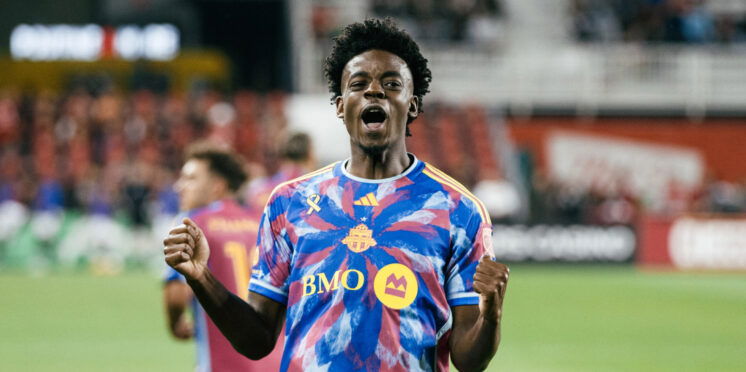 Karageorgos: Deandre Kerr's improvement in 2023 proof he can be Herdman's starting striker at Toronto FC
The 2023 MLS season was one for all Toronto FC players to forget, as TFC posted its worst-ever league record and scored the second-fewest goals in team history.
But despite those offensive struggles, one of the bright spots up front came in the form of Deandre Kerr.
The 20-year-old forward from Ajax, Ontario found the back of the net five times — the same amount as his fellow teammates and Italian Designated Players Lorenzo Insigne and Federico Bernardeschi.
Kerr had played his fair share of action in 2022, his first season with the club, making 26 league appearances (11 starts) and scoring three goals in just over 1,300 minutes in that campaign.
During Kerr's two seasons with the Syracuse Orange men's soccer team, he was used throughout their attack both as a striker and winger, and due to the lack of squad depth at head coach Bob Bradley's disposal in his debut season with Toronto, he was forced to use a lot of young and inexperienced players in a multitude of positions, including Kerr.
Bradley opted to use Kerr on the wing for half of the year before slotting him into midfield after the arrivals of Insigne and Bernardeschi. Although he showed glimpses of his solid passing ability when put in centre midfield, Kerr displayed better performances when put on either wing or as a striker, as he can use his pace to dribble past defenders after receiving through balls from teammates like Jonathan Osorio and Michael Bradley.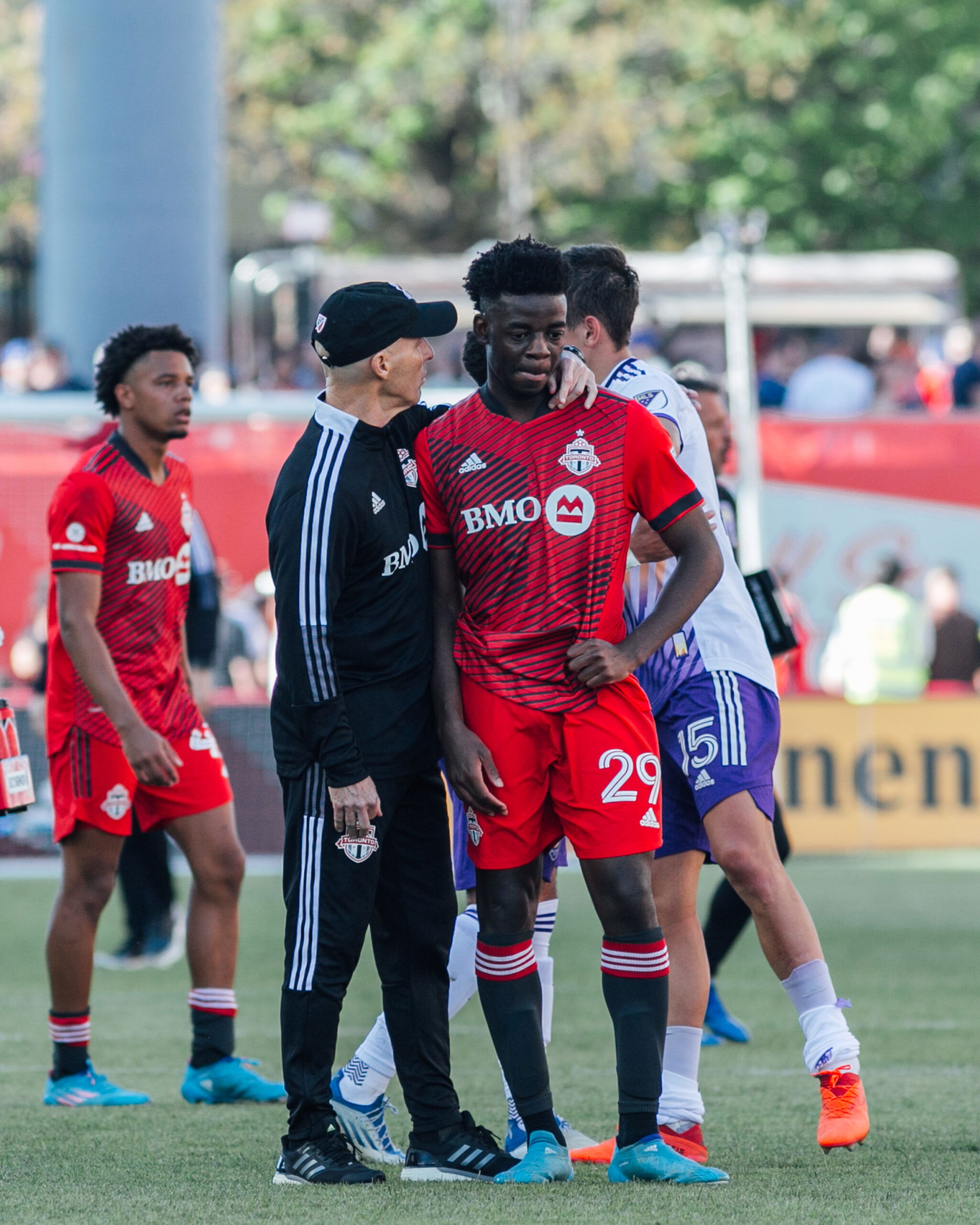 In February 2023, TFC traded away Spanish striker Jesús Jiménez to FC Dallas for central midfielder Brandon Servania. This piece of business gave an opportunity to the club's young crop of strikers such as Kerr, Ayo Akinola, Hugo Mbongue, and Jordan Perruzza. Not all of those have worked out so far, but Kerr's been the brightest.
After not featuring in the first two games of the season, Kerr was given the start up front for Toronto's home opener against the Columbus Crew. It only took 24 minutes for the young striker to get on the scoresheet with an impressive finish with his weaker left foot.
Kerr's action came in spells. He played in three consecutive matches, starting two of them, but was then an unused substitute for four straight games as Bradley continued to utilize different attackers in the hopes of gaining three points — something the club so desperately needed in the midst of a winless run. Perruzza, the Italians, new arrival C.J. Sapong were all tried out as the attacking vocal point, which must have been a damper on Kerr's confidence.
The month of May proved difficult for Deandre as he suffered a possible concussion on Wednesday, May 17 at home against the New York Red Bulls and was sidelined during the Reds' road trip to Austin that Saturday out of an abundance of caution. But the homegrown player roared back to score his second goal of the 2023 campaign in the battle with D.C. United on Saturday, May 27.
Not only is Kerr talented with the ball at his feet, but he can also find the back of the net using his head. He has a sneaky aerial presence – shown off on that play as he evaded the defender who was marking him and made space to jump to meet the cross from Lorenzo Insigne with a powerful header. True no. 9's can always be a threat on the receiving end of set pieces, and that goal is a prime example of it.
The next handful of Deandre's appearances were a mix of starts and substitute appearances coupled with playing on the wing or as striker. If he didn't start, he would typically come on at halftime. Bob Bradley liked the energy he brought in terms of pressing the opposition in order to win the ball back for his side.
One imposing trait Kerr possesses is his dedication to run off the shoulder of the defender while receiving a dissecting pass from the midfield. Sometimes, he doesn't even need to take a touch to set himself before shooting. A specific instance is this chance against Nashville on June 10: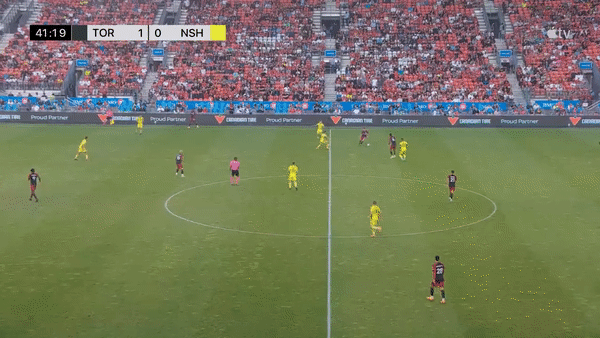 Kerr recorded his third goal of the season (and his only away goal in 2023) on June 24 against the New England Revolution. This finish was pretty cut and dried, simple goals are the most enjoyable to watch in my opinion. Left-back Cristián Gutiérrez began an overlapped run and received a pass from Insigne.
Gutiérrez's clipped cross to the back post went over the head of Sapong and was met by Kerr, whose pinpoint header could not be saved by Serbian goalkeeper Djordje Petrović.
Toronto FC's No. 29 thoroughly detailed his take on the move by his team prior to the ball being delivered to him.
"I was out wide and saw Lorenzo [Insigne] pick up the ball and play Guti[érrez] on the overlap. Something that I've been trying to work on a lot in training and implement in games is when the ball goes wide and looks like it's going to be crossed – to run hard in the box and run in front of the defender and use my presence in the air."
Bradley spoke highly of the Ajax native on that night and highlighted the areas where he can improve.
"It was a good goal, Deandre shows that he can do good things. I thought he put a lot into it tonight but around 55 minutes, physically his tank is empty. That's where he's got to continue to develop and grow as a player; his mentality and his ability to be like that from the beginning to the end of the game."
Even though Kerr's professional career is still in its early stages, the striker exudes a mature and selfless mindset.
"I just always try to stay ready. Wherever the coach wants to play me, whether it's No. 9, out wide or in the midfield. Just staying ready for my opportunity whether I start or whether I come on – just doing whatever I can to help the team win. That has always been my mindset from the start and it will always be my mindset."
It is well known to the TFC faithful that Kerr has a goalscoring instinct and this year he added more playmaking skills to his repertoire. Take a look at this build-up he sparked against Real Salt Lake on Canada Day that almost resulted in a goal for Servania:
Toronto FC endured a 13-game winless run in all competitions, most of which occurred amid the tenure of interim head coach Terry Dunfield. The Reds also failed to score a goal for a month and a half. A 4-3 derby-day loss on Sunday, August 20 to bitter rivals CF Montréal ended the drought, yet a win still evaded the squad.
Cue Kerr.
A goal and an assist on Wednesday, August 30 in an Eastern Conference clash with the Philadelphia Union powered the club to their first three points since the home game versus D.C. United in late May.
Kerr calmly received a short pass from Osorio and took one touch to settle the ball, picked up his head then found Insigne with a cut-back cross.
An admirable trait of Kerr is that he's clinical with both feet – his fourth goal of the year was scored with his left foot.
Arguably, the best goal of the five was his final one of the year, his composed finish against the Vancouver Whitecaps on Saturday, September 16. An effective counterattack from back to front by TFC concluded with a goal by the home side in the blink of an eye.
Having scored five goals on 11 shots on target in the 2023 MLS season, Kerr has shown he can take his chances when it counts, and it's clear he's developing the other tools a striker needs.
Toronto FC should take a chance on him to be the team's starting striker moving forward.
---
---