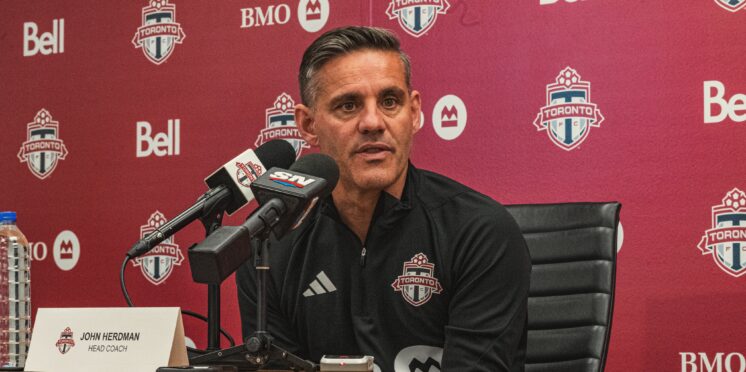 'Enough is enough' says Toronto FC's John Herdman as TFC put bow on disastrous season with delayed media day
After a disastrous 2023 campaign which saw Toronto FC finish dead last in Major League Soccer, one thing is for certain; change is needed.
The bringer of said change is John Herdman, who officially took over as head coach on October 1. After overseeing just one match, a loss at home to Orlando City on the final day of the regular season (which was also TFC's seventh loss in a row) Herdman is ready to enter 2024 with his new vision, and has already seen a shift in the team since taking charge.
"There's just a deep willingness to come back and make it right," Herdman said at the year-end press conference. "I expected more players wanting to jump ship and go somewhere else where maybe they could start afresh. I was surprised at the amount of players that want to be a part of bringing us back."
Lorenzo Insigne and Federico Bernardeschi are two of those players who are ready to contribute in 2024 according to Herdman, general manager Jason Hernandez, club president Bill Manning, and everyone that spoke on Friday, including the Italians themselves.
From his perspective, Herdman said that he has been able to connect with both players during one-on-one interviews but that he doesn't quite have their full trust just yet as a new coach. He also added that when he speaks to club staff who have been at TFC longer than he has, they say that there has been a change with how the two Italian stars are going about their business.
"Everything we've heard is there's been a shift," Herdman mentioned. "I can only judge what I've seen here … I've seen a shift in them as human beings to focussed individuals that are now having a much bigger presence in the dressing room."
With so much of the chatter off the field questioning the mentality and commitment of the team and specifically the top-earning Italian attackers, Herdman stated that since taking over the role, the duo have been professionals who are committed to the new tactical frameworks he is introducing to the squad.
Outside of the in-game formation and approaches, Herdman also emphasized the importance of positive relationships between teammates as well as between players and the fanbase.
With longtime club captain Michael Bradley now retired, the leadership void will need to be addressed. Although Herdman said he is still undecided on who will wear the captain's armband next, he did namedrop Sean Johnson and Jonathan Osorio, also adding that the two Italian designated players know what it takes and are all in.
When looking forward to new arrivals, Herdman stressed that the existing leadership group is setting a standard for the new additions who might join the team this winter. According to Herdman, those players who join the cause for 2024 will know what is to be expected of them and that those expectations will be raised from what they were in the past.
"Enough's enough. The tolerance level of what might've been tolerated in previous pre-season arrivals won't be tolerated for this team."
As a first-time club manager, Herdman expressed that he's enjoying the day-to-day process of being a hands-on coach after not really getting the opportunity to put his own stamp on the Canadian national teams given the nature of the international schedule.
While committed to the process of developing his players, Herdman pointed out that the upcoming season needs to be about picking up points, and that young players, including Deandre Kerr, need to turn into men.
"You're no longer a kid in this team. This team is here to win championships and championship forwards are at times nasty.
"We've got to shift our mentality. We're not growing players at this club in terms of using games to develop a player … we're here to win now."
As part of that shift, Herdman has begun to tinker with the team's tactics and find the best positions for each of his players in order to get the best out of the them, mentioning that Jahkeele Marshall-Rutty is one example of a player who was playing under capacity before but is impressing him now.
Testing a three-man backline and lowering the intensity of the attacking buildup are just two of the changes that Herdman believes are already having a positive effect.
"There's been an absolute shift in some individuals, players that were low in confidence they're feeling more like themselves."
With never ending drama surrounding his stars, a front-loaded salary, and a dressing room in need of mending, the tall task of bringing TFC back to glory isn't lost on Herdman or the local supporters he's met around the city.
"The fans have come up and said 'good luck, you're going to need it.'"
They've got that right.
---
---