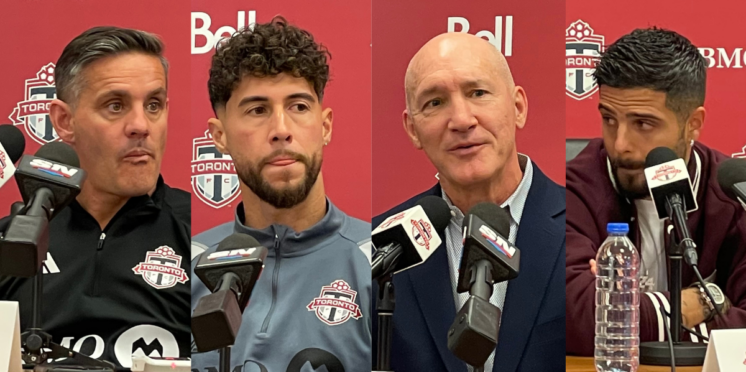 Toronto FC players & staff highlight need for unity at year-end media day to leave disastrous season behind
How does one even begin to explain how the 2023 season played out for Toronto FC?
The club officially put a bow on the worst season in club history on Friday with their standard year-end press conference. Not standard was that it came three weeks after TFC's season ended with a 2-0 loss at home, in Michael Bradley's last-ever game for the club, which was quite emblematic of the disappointing year it was.
The main message from the players and management made available on Friday: put it behind us, learn from it, and never have a season like that again. Ever.
"I don't want to make excuses," said midfielder Jonathan Osorio. "But there were a lot of things that happened, but now that we've gone through it we have an idea for how to make sure this doesn't happen again."
Toronto FC won just 22 points from their 34 regular season games this season. But if you read this site regularly, you already knew that and certainly don't need to be reminded. Neither do TFC players.
"Honestly it was tough for sure because it was a tough year, it was difficult," said Federico Bernardeschi, who was the first speaker made available to a room that included just three writers and one national television camera. "We should be better next year. I expect more of me too, honestly. But you know when you are in a tough situation it's not easy to be your best."
The frustration from the former Juventus man was evident long before his falling out with then-head coach Bob Bradley, which is when the turmoil of the season really started to unravel and spill outside of the change room, something Jonathan Osorio addressed in his availability as a major turning point in the season where the "outside talk" about what was happening within the TFC camp — stories of the Italian led coup to oust Bradley, vaping on planes, etc. — sowed deep divisions within the team.
"It's been a tough year, losing wears on you. You can see that in the group," goalkeeper Sean Johnson admitted. "In hindsight, we had probably wished we were more together as a group. But as honest individuals, we can recognize that and look to move forward."
There's nothing president Bill Manning would like more.
"It has been an incredibly difficult few years, just taking a step back to look at things," Manning expressed. "I think John [Herdman] has sent a very clear message that we're not going to look back, but we're going to have a sense of accountability looking forward."
Herdman's arrival has brought a major shift in the mood around the team and the training facility, something stressed by every speaker on Friday.
"[Herdman] sets goals, objectives that are very clear," said Osorio." They are not easy, they're tough goals. He gets you to believe, he gets you to believe that those goals are achievable. He sets a certain standard that makes you want to come in every day and achieve."
The former Canadian men's national team head coach expressed his joy in having the chance to actually coach players day-in and day-out, something he deeply missed as an international head coach.
It's good that there is a clear portion of the job that he enjoys, because there's no denying that Herdman and his staff have a massive task in front of them.
"We came in very clear that enough was enough and we needed a change," Herdman said. "We came in with a vision. We're the only club in MLS that has won the treble, we're the only club with that kind of prestige. Underneath that, we have to be very clear about how we get to work."
It is a unique scenario that Herdman walked into. Taking charge of the team in the final month of the season with just one game on the touchline before having two post-season weeks of full-on training before the team is dismissed for the winter, just isn't normal.
There's no shortage of work to be done on the pitch by Herdman and his players, and in the offices by Manning and TFC general manager Jason Hernandez this winter.
"Finishing at the bottom of the table, leaves us open for business. I have to go out and get players to improve our ability to win games. We can't finish at the bottom of the table and everyone be safe, that's just the reality of football," Hernandez said.
Toronto FC currently have 21 players under contract heading into next season. They won't all be here when the 2024 MLS regular season kicks off.
"Moving forward, we're going to have a clear style and a clear identity tactically. Part of the incoming will be the outgoing," the TFC GM said.
When asked if the club was open to offers for Insigne and Bernardeschi, Hernandez admitted that as a business you have to be, but that both he and Herdman see the Italian DP's as an integral part of the future and that both Insigne and Bernardeschi have bought in to Herdman's vision.
For TFC fans who struggled to see any plan from the stands this season, it feel like a very long, but much needed winter. For Toronto FC, the pressure to make sure they get things right is unavoidable.
---
---