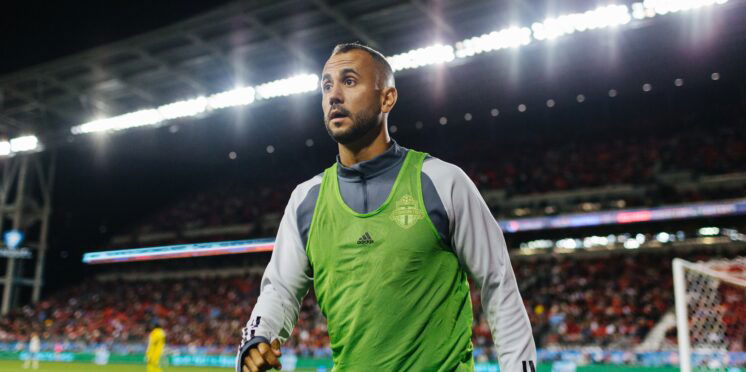 An ode to Víctor Vázquez as MLS Cup-winning midfield magician departs Toronto FC
I remember MLS Cup 2016 like it was yesterday.
The build-up during the regular season, where the club took that thrashing in the first round of the 2015 playoffs and used it as motivation. All the new faces; serious faces, players that came here to be missing pieces and to win. There was a feeling of destiny in the air, a sense that TFC were finally serious about the soccer, that the extended spell of growing pains was over and this club was actually getting it together.
The front office was cooking, the team had the bit between their teeth. A ridiculous playoff run that led to that absolutely insane two-legged Eastern Conference final against Montreal (still the gold standard of all MLS playoff series, fight me). The last-minute re-painting of the pitch lines at Stade Olympic, going down by three goals to the same team that embarrassed us with a 3-0 result the prior season and not wilting but blossoming. Then, the chaser: the sideways rain at BMO, the wind that tore through you, the atmosphere, the stakes. The club we love against our biggest rivals, with the prize being the first trip to the MLS Cup Final for either team. The euphoria when the final whistle blew and we were that team.
Which brings us to that final.
On an even colder night at the Lakeshore, a game that made no sense. One Stefan Frei wonder save plus some bad penalties equalled a trip home on the TTC fully and completely shell-shocked, in stunted silence. Were we still bad? Was that our ceiling? Could you honestly grade the team on a shock result that saw them lose to an opponent that registered zero shots on your net? It was all a bit feverish and frenzied.
Losing like that hits ya right in the feels, but the one thing the entire fanbase could agree on was that as good as that 2016 team was, it was still incomplete. We'd found many missing pieces, bar one — a proper playmaker, a warlock who could operate in midfield and take the pressure off Michael Bradley to be the fulcrum in attack and defence whilst also allowing Sebastian Giovinco to stay deeper on the field and not chase his own balls to create his own chances.
Never, in our wildest imagination, did we expect to land a player of the pedigree and skill of Víctor Vázquez.
To say he was the missing piece of the puzzle is too reductive. He threw that puzzle away, replaced it with a slab of marble, and made everyone his apprentice. His skill and vision unlocked the maximum potential we all knew this team possessed. And many of us had no idea what we were getting. I kinda did though; my friend Gavin, who first went to BMO in late 2015 and became a TFC superfan, got wind of the signing and called me long-distance to inform me that we were about to win everything.
I was a bit embarrassed. Shouldn't I have made this connection myself? Do I know anything about the beautiful game if I blanked on a potential signing of this magnitude? Turns out I could give myself a mulligan. Many, many people with far more impressive soccer resumes had forgotten all about Víctor Vásquez. This is because VV's career went sideways multiple times, a consequence less due to his skillset than bad luck, bad timing, and bad injuries.
Here's my favourite primer on the subject:
Barcelona's La Masia Academy is probably the premier soccer academy on the planet, and its golden age saw teams featuring Lionel Messi, Pique, Cesc Fabregas (my all-time favourite player, but you knew that already) and … Víctor Vázquez.
While Vázquez never reached the dizzying heights of many of his teammates, again, that was never about his talent. Football is a fickle business and it's easy to slip through the cracks. So much of it comes down to luck and timing. Despite being denied a spot on Barca's first team, VV carved out a nice little career for himself. Eventually, he landed at Club Brugge in Belgium, where his quality was as evident as ever and he won both the 2015 Player of the Year Award and the attentions of TFC's scouting department.
I have no idea if TFC tabled any offers at that time, and I would guess that since we had three high-cost DPs already on the books, it wasn't a realistic option. VV's next move took him to Cruz Azul in Mexico, a jaunt he regretted for myriad reasons. He only lasted a year, but the move is important because he really wanted out, TFC already had him on their radar, and the fates aligned to the degree that Toronto FC were able to sign him on Max TAM. Max TAM. Here was a guy who was a DP to anyone paying even a modicum of attention and we got him on a sweetheart deal. There's a huge part of me that laments this move as forever tainting our concepts of what a "DP" is, but that's for another article and another time.
For now: Let me be clear: VV was a DP in all but name. TFC had four DPs.
And boy, did we ever cook with VV in the lineup.
With Víctor pulling the strings, Toronto FC leveled up exponentially. And he was a force multiplier: he made everyone around him better. Jonathan Osorio went from a capable role player to a core contributor. Marky Delgado was allowed the freedom to express his best self on the pitch. The wingbacks had the space and service to become agents of chaos and devastation. The defense was able to settle in and defend because the attack was so brilliant. The goalkeepers often had little to do but watch this team swashbuckle their way through the rest of the league. Everything clicked into place. We were world-beaters. 2015 begat 2016. 2016 begat 2017. And 2017 was inevitable. You could set a clock to it. After so much bad, we were massive. We were delightful.
And always in the centre of the maelstrom, pinging inch-perfect passes that no one else could dream of executing because he was thinking five plays ahead of everyone else, was Vázquez.
This is the exact moment many of us (myself included) fell head over heels in love. Tell me your first mouth-agape, "did he just do that?" VV moment in the comments. Collect 'em and trade 'em. We had a player that did things like this!!! In our house.
2017 saw us reach the summit in style.
2018, and that Concacaf hangover, was always going to be messy.
Having such a short break between the treble-winning campaign and a two-tiered 2018 meant we were playing with fire, and of course, that injury bug hit us hard, especially VV, who has struggled with injuries his entire career. The drop-off was pronounced. VV started missing more games than he featured in. A big-money offer came in from Qatar and the club, if you can believe it, did the right thing and let him walk. VV certainly deserved to get his bag, and all signs were pointing to this move as his final act, so to block him from a situation that could set him up for life after football was … decidedly not the move.
Of course, VV was the first domino to fall in that off-season that also saw Seba take off for 'greener' pastures, but we can't put that on him. The club did right by Víctor and got out of the way. It was hard, but understandable. I wished him well and took comfort in the fact that my club weren't assholes. I still read all the 2019 post-mortems through gritted teeth:
Even though VV was now half a world away, his influence could still be felt at this club. He changed the way we trained, played, even thought about the game. He changed our recruitment strategy, for really, what was Alejandro Pozuelo if not a near-perfect mash-up of the best parts of VV and Seba? Hell, we scouted Poz because his ascent in the Belgian leagues with Genk mirrored VV's a few years earlier. There's even a pervasive rumour that there were plans to bring Pozuelo in while VV was still on the books.
Víctor's Qatari adventure didn't pan out as hoped, and after jumping around a few teams in the area, he returned to MLS, this time to play with now-former TFC gaffer Greg Vanney at his new club, LA Galaxy.
While he clearly was no longer a regular 90-minute option, he once again added as much value off the pitch as on it, becoming something of a super-sub and putting up pretty decent numbers in his two years there. I often watched LAG games during this period; I mean, it was basically TFC South, and VV was still doing VV things on the semi-regular. Plus, I was low-key envious. But Father Time is undefeated, and you could see that VV was feeling those battle scars. MLS is a salary-capped league, and LAG, reeling from bad signings and facing league penalties and sanctions for roster shenanigans, saw VV as a luxury they couldn't carry over. He was released by the club.
To say I was surprised when TFC swooped in to re-sign him on waivers is an understatement. I thought that ship had sailed. And while I was realistic (I think) about just what he could bring to the team in 2023, I was more excited about "righting a wrong" because, dammit, I wanted VV to be a part of the front office, imparting his considerable wisdom to the very heart of this club, not just the fabric, but the soul. I'd thought that was one of the reasons Greg Vanney brought him to Los Angeles.
The idea that he could gift us even a thimble of that La Masia magic is hella enticing. I saw it as a perfect reunion — one more year (or a couple) of VV on limited minutes and then profit. I bundled bringing him back as a catch-all for how it ended with other legends of that 2017 team. I figured if we got this reunion right, it would correct for other wrongs, most very tenuously related. Of course, these were huge assumptions on my part, but what is fandom if not a bit of fan-fiction? To me, it made perfect sense. Plus, more VV magic, in snack-size portions!
I don't need to remind you that 2023 was a disaster in every conceivable metric. Let's focus on one: VV was limited to just 12 MLS appearances (three starts, 235 minutes total) thanks to a heel injury. At a cost of $301,500 US, those numbers are hard to justify. To me, it was never just about those numbers, it was about the wider picture, but alas, myopia rules the day and VV's option was declined for 2024.
Now, for the second time, I'm saying goodbye to my all-time favourite TFC player.
There are no easy positives this time, like happiness that the player, who was earning far less than his actual worth with not so much as a single public complaint, is getting his due elsewhere and the club serviced and respected a great soldier. Only sadness. I understand why the club went in this direction. Really, I do, but I don't have to like it and if the choice were mine, I'd have done the opposite.
I don't like the move. Not even a little bit. I don't think this team is anywhere near competitive next season, so why not give VV another year if it means even an outside chance he remains with the club in a coaching capacity upon his retirement? Again, huge assumptions. We don't even know if he wants to coach, although my guess, based on subjective social media evidence, is that is exactly his plan. And if there's even a hint that is where he wants to go after hanging up his boots, $300K is a bargain to keep him around. Just my two cents. I was willing to start a GoFundMe for the remaining $299,000.98.
But I'm not making these decisions — many of you are probably glad — and let me be clear again: I know I'm trading on the same memberberries that I often deride others for. Hypocrisy is, after all, my middle name (the "P" is silent). I'll raise my hand here and admit that when it comes to VV and TFC, I'm operating from 60/40 emotion to logic and like to pretend it's the opposite.
That's how special a player he is to me. He owns a piece of my soul like I'm an opposing player facing him on the pitch.
So yeah. This hurts bad and I don't think I care if it makes sense.
Víctor; thank you for choosing our club. Thank you for all those insane line-breaking passes. Thank you for that cheekiest of Cheeky Free Kicks. Thank you for scoring the goal that certified our name on that Philip J. Anshultz Trophy. Thank you for the heart-hands goal celly, the hilarious press conferences. Everything. Every damn thing. You will always be remembered as a legend in these parts. And hopefully, one day you come back and finish what you've started here.
I'm still far too tender to write this with even a hint of unbiased objectivity. I told this to the WTR Braintrust but they countered that this is something I had to do, and they were right. Forgive my butthurt stream-of-consciousness rambling, but I'm still trying to deal here. Maybe writing this has helped. I'll let you know.
Víctor, you will always have a place in our hearts. Good luck on your next adventure and hopefully this isn't a 'goodbye', but a 'see you later.'
---
---