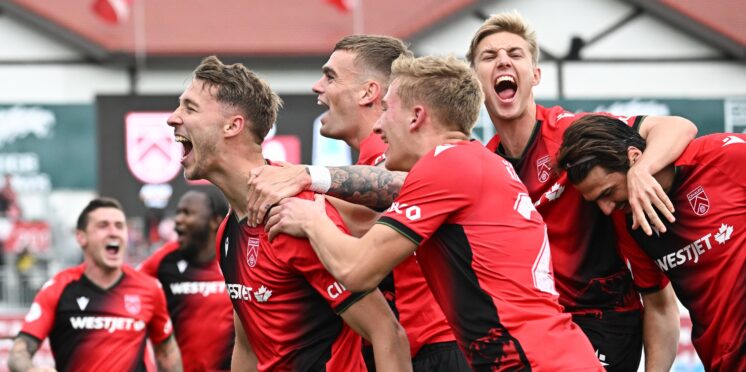 Cavalry book spot in CPL Final, rematch with Forge FC after earning home win against Pacific
The 2023 Canadian Premier League Final is officially set.
Cavalry will face rivals Forge for the second time in the 2023 CPL playoffs next Saturday, this time in the showdown for silverware in Hamilton after getting through Pacific in the semi-finals with a 2-1 result at ATCO Field on Saturday.
Cavalry's two Player of the Year finalists, Daan Klomp and Ali Musse, each scored on either side of half-time to propel the Calgarians back to the CPL Final for the first time since the league's inaugural 2019 season.
A superb late consolation goal from Pacific's Kekuta Manneh made things interesting in the game's final minutes, but the Tridents were not able to muster enough across the 90 minutes to put the result into question.
James Merriman set up his team in a defensive posture from the start, opting to go with three centre-backs against the side which led the league in scoring across 28 regular-season games. Zakaria Bahous was forced into an appearance at right-back because of the suspension Kunle Dada-Luke picked up in Pacific's gutsy win in Halifax last weekend.
Lined up to soak up pressure from the regular season champions, Pacific did just that, allowing Cavalry to hold the majority of possession and set the tone from kickoff. Armed with a rare chance of their own from a set piece, Georges Mukumbilwa sent a lofted ball well wide of Marco Carducci's goal, earning a sarcastic cheer from Cavalry's supporters.
Not long after, Klomp made the most of Cavalry's own set play, netting a picture-perfect header on the run to bring the home crowd to its feet. It was the sixth goal of the season for the defender Klomp, who scored in Cavalry's last meeting with Pacific on the last day of the regular season, getting up to meet a Musse corner in that one.
"We know what they've been doing, they put three of the big guys zonally and then three man-marking, so we know if we can get a run on them we can beat them in the air," Klomp told OneSoccer's Kristian Jack postgame.
"I knew from the first corner that Musse put in I saw that there was still a lot of space there so we kept making the same runs and managed to score another one."
Another one of the dozen first-half Cavalry efforts came from William Akio in the 33rd minute. The former Valour striker somehow sent his volley off target when it seemed easier to trouble Pacific's Emil Gazdov.
Having earned the right to a second life in the playoffs by finishing top of the pack in the regular season, Cavalry looked determined to not let it go to waste, and to seal their first-ever playoff win at home. In the second half, Ali Musse came close to doubling Cavalry's lead after brushing by Amer Didić, but his chipped effort was denied by Gazdov, who dashed out of his net to meet the ball.
Didić would see his day cut short soon after that play after being substituted out of the match after hitting his head against the ground and appearing to lose consciousness. He would get back up on his own accord and was furious as he left the pitch, seemingly thinking that he was fine to continue on. Not long after, Klomp would come inches away from scoring a brace, but Sean Young stepping up at centre-back in place of Didić came up with a goal line clearance to keep it a one-goal game.
Minutes later though, Musse would get his goal after a crafty Cavalry corner routine set into motion by Fraser Aird.
His low cross into the penalty area was played back to Musse near the top of the box who then unleashed a shot onto goal. The effort deflected off of Mukumbilwa and into the net to bring Cavalry one step closer to a date with Forge.
Pacific were able to get one back just four minutes after conceding the second goal of the day to Musse, with another deflection getting the better of Carducci this time. Kekuta Manneh dribbled into space to fire his shot off of Klomp and in, making the final 30 minutes of the semi-final a lot more thrilling.
Cavalry kept Pacific at arm's length for most of the half-hour that remained, but two late chances from Adonijah Reid and Manny Aparicio brought heart rates up at Spruce Meadows as Pacific desperately chased a last-minute equalizer to keep their season alive. Carducci was called to make a great save at his far post to stop Reid from finding his second of the postseason, while Aparicio was unable to call Cavalry's goalie into action after swerving his shot from 12 yards out wide of the upright.
After coming out on top in two hard-fought playoff encounters and having to travel across the country to do so, Pacific were unable to shake off a Cavalry side that came out ready to respond after a rare loss last weekend. Asked to sum up Pacific's 2023 campaign, Merriman stated that there were good moments in the first few months but that he needs to think about why his team couldn't keep up the positive momentum as the season went on.
"We need to think about the second half of the season and why the dip, we need to look at our group," Merriman said.
"I think the essence of who we are, the spirit of who we are showed towards the end in the last three matches so we'll build off of it. We know we want more, we know our fans want more, the club wants more so we have to learn, we have to move forward and we'll get back to work."
Tommy Wheeldon Jr.'s side now advance to the CPL Final on October 28 at Tim Hortons Field, where they will be going for the double after claiming this year's North Star Shield. Having now won their first playoff match outside of the 2020 Island Games, Cavalry's boss is up for the challenge of going up against a familiar foe in Forge
"I'm looking forward to it," Wheeldon Jr. told Jack following the win.
"We've buried one ghost, we've got another ghost to bury and it's getting close to Halloween so let's keep doing it."
After dropping their playoff opener to Forge and falling to the Hammers in two previous playoff meetings, Cavalry will have revenge on their minds next weekend as they aim to buck the trend against the five-time finalists.
"I think everybody's excited," Klomp told Jack post-game.
"It's the first final for me personally … I think all the boys are up for it. Let's make sure we don't get beaten twice."
---
---