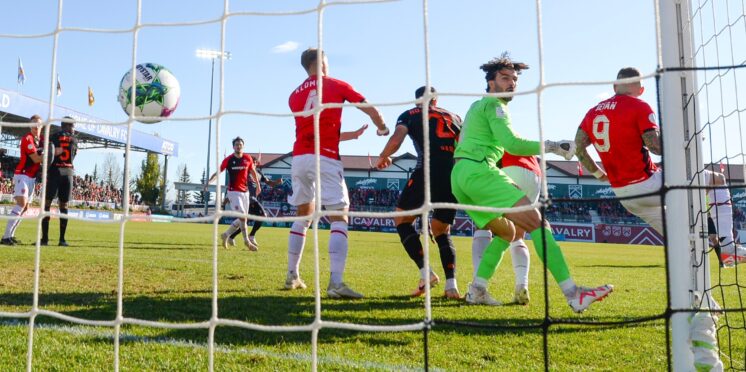 Forge advance to host CPL Final, Pacific to face Cavalry in the semis after pair of away-day upsets
Doubt them at your own peril.
Forge FC and Pacific FC both pulled off upsets on the road during Saturday's doubleheader of Canadian Premier League action, earning wins in Calgary and Halifax respectively. Bobby Smryniotis' Forge punched their ticket to their fifth straight CPL Final, ensuring in the process that it will be hosted at their own ground, while Pacific held on to secure a place in the second semi-final where they will battle regular season champions Cavalry.
Own goal wins cross-coast clash for Pacific
The first match of the day saw the Tridents grab a gutsy 1-0 victor at Wanderers Grounds thanks to a 37th-minute own goal from Halifax full-back Zachary Fernandez. The 22-year-old tried to deal with Kakuta Manneh's cross, which, in fairness to the defender, was destined to reach one of Djenairo Daniels or Adonijah Reid in the penalty area anyway.
The away side were able to bring their narrow lead into half-time knowing that the pressure would mount at a rowdy venue that has gotten used to seeing their team come out on top. Halifax grabbed a stranglehold of the possession in the second half as they desperately searched for a winner. Firing shot after shot, Pacific's Emil Gazdov was able to survive the onslaught in the end but had his uprights to thank on two occasions. Tiago Coimbra nailed a header off the crossbar while a cross from Aidan Daniels bounced off the bar before landing at the feet of Fernandez who had his effort swiped off the line by Thomas Meilleur-Giguère, denying him a chance at redemption.
A late header from Daniel Nimick was the last of Halifax's real chances as they sent bodies forward up until the 100th minute of the match. A post-game scuffle between the two sides followed the final whistle as Doniel Henry and company took offence to the celebrations of Kanle Dada-Luke and Pacific. Dada-Luke was shown a red card during the exchange, leaving James Merriman without the energetic right-back for their upcoming semi-final.
Still, though, facing a tough task and a quick turnaround having just taken on York United on Wednesday night in the playoff opener, Merriman sounded pleased with his team's performance given the travel demands and daunting environment.
"I think for a lot of reasons it feels amazing because of the way our season ended," Merriman said. "We were in a difficult moment, we tried to fight it a little bit and it challenged us a little bit. Then in matches like this under this adversity, you find out who you are, who you are as a team, who you are as a club."
On the opposite end, Patrice Gheisar and his Wanderers will be disappointed with the way they were knocked out, but there remains a lot to be proud of after finishing third in the table and having a successful rebuilding season.
"We take the experience, it is really difficult to take it because I still think we did enough to get something out of it but we didn't and that's the cruelty, or the beautiful part of this game, it depends on which end you are on today," Gheisar told the media after the match.
Forge show champion quality again
After grinding out their result and heading on a plane back west, Pacific had to wait a few hours to find out if they would be meeting Cavalry or Forge in their semi-final meeting next weekend. The No. 1 seed vs. No. 2 seed matchup between those two clubs offered the chance of home-field advantage to the winner, but a second chance opportunity to whoever fell short.
The Cavs were the protagonists in the opening minutes at Spruce Meadows, with Ali Musse and Sergio Camargo driving forward and getting good looks. Both players were unable to convert early on and Forge would grow into the game, creating a couple of decent opportunities through Terran Campbell and Noah Jensen, who got the start after Woobens Pacius was mysteriously not a part of the matchday squad.
Forge would get the opener through what appeared to be the second own goal of the day, but the tally was eventually awarded to midfielder Alessandro Hojabrpour. He was closest to the action after a Kyle Bekker corner was punched out by Marco Carducci but right into Hojabrpour's back and then into the net.
Surprise starter Jensen made the most of his time on the pitch early in the second half when he assisted Bekker to double the visitor's lead. Jensen fed his captain near the top of the box and the three-time CPL champ made no mistake with the finish, going top bins and celebrating right in front of Cavalry's Foot Soldiers behind Carducci's goal.
Cavalry upped the pressure for the remainder of the period but could only find one goal when they needed two. Another quality corner kick delivery, this time from Ali Musse, ended up on the head of Joe Mason and then in the net, but the 80th-minute goal would prove to be little more than a consolation with Myer Bevan unable to find a finish from close range as the final whistle drew nearer.
"Would we want to play in the final and host it, absolutely, that was our goal," Tommy Wheeldon Jr. told the media after the game. "We didn't get it, so we have to recalibrate and we have to adapt and overcome the scenario that's ahead of us."
It's no doubt a disappointing result for Cavalry who entered the contest not having lost in nine. Questions will be asked again of their playoff credentials and their history of falling to Forge, specifically in recent postseason tournaments, having been beaten by the Hammers in the semis just last year.
After a good but not great showing in the regular season by Forge's own lofty standards, they can now win a trophy in front of their own fans for the very first time. The weight of that opportunity is something Smyrniotis doesn't take for granted.
"It's an excellent feeling, it's not something that's easily accomplished," he said post-game.
"These games are always special, sometimes you can go your whole career as a player or as a coach and not have the opportunity to play in these, so you can't take them for granted and we are looking forward for the opportunity to try to win one at home, in front of our home crowd."
The quirks of the 2023 CPL playoff schedule mean that while Cavalry are down, they're not out.
They now have to refocus for what should be a thrilling encounter with Pacific. Beating the Tridents would present them with the chance to enact some revenge on Forge and play the role of party-spoiler in Hamilton. The Calgarians should feel confident about their upcoming matchup, having just recently defeated the Islanders 3-0 on the final day of the regular season. Cavalry went undefeated against the Tridents in league play and have won their past three games against the 2021 champions.
That Cavalry vs. Pacific game goes next Saturday, and the grand finale against Forge is set for October 28 in Hamilton.
---
---