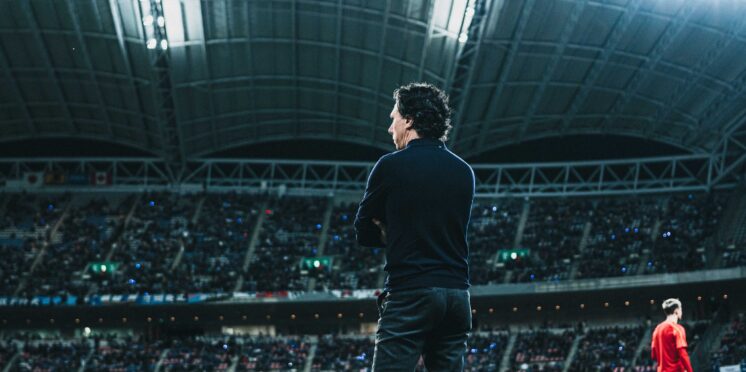 Canada self-destruct, haunted by defensive frailties and penalty demons again in Japan thrashing
There are rude awakenings and then there are downright explicit ones.
Canada interim head coach Mauro Biello called Japan one of the top teams in international football in the lead-up to Friday's friendly. After all, they're fit, they're talented, and they've beaten Spain, Turkey, and Germany (twice) in the last 12 months.
Frankly, Canada made them look like world-beaters in Niigata as they lost 4-1 in what was their first game at near-full-strength since June's Nations League final.
For all the understandable talk of needing to play high-quality opponents like these in order to improve, things unravelled within the very first minute for the men in red.
Les Rouges were horrendous in the opening minute, like a deer caught in the headlights, looking entirely unprepared for the Japanese onslaught. The Samurai Blue came out swinging, swarming all over the men in red with the kind of heavy and furious pressure the world has come to expect from them.
Canada were sliced apart. Alphonso Davies gave the ball away while attempting to run out of defence and then first Samuel Piette and then Derek Cornelius failed to get the ball clear. The latter of those attempts fell to Ao Tanaka on the edge of the box and his shot deflected past captain Milan Borjan for 1-0 after just 76 seconds.
Just like that, Canada's game plan and Biello's team talk were ripped to shreds.
In fairness, a shellshocked Canada did well to find a foothold and grow into the game, finding more of the ball and beginning to work attacking situations, although part of that was likely down to Japan sitting pretty at 1-0 up after two minutes.
A potentially pivotal moment came in the 19th minute but only served to awaken dormant demons from last winter.
Davies and Jonathan David combined nicely down the left wing and though David's pass was a little heavy, Davies saw the goalkeeper coming, got to the ball first, and went down under contact from the Japanese goalkeeper Yuya Osako. After a VAR review, the referee, who had initially rejected claims of a penalty, gave the spot kick.
Unlike at the World Cup, it was David, a regular and prolifically successful penalty-taker for Lille, who stepped up. Unfortunately, the result was the same as it was at the World Cup: no goal. It was David's first-ever penalty miss for Canada as his low clipped effort was saved by the legs of Osako. A poor penalty and an excellent piece of goalkeeping; sometimes, both things can be true.
While that could have brought the scores level, it would have been clear to anyone even half-watching the game that while Canada did pose some counter-attacking threat, they were desperately struggling to keep up with Japan's press — which they seemed to have the ability to switch on and off at will — and quick ball movement. Canada, on the flip side, simply couldn't break Japan's defensive line.
If the opening 76 seconds were a harbinger of things to come defensively, the second Japanese goal arrived in even more calamitous circumstances.
Five minutes before half-time, Canada gave the ball away cheaply in midfield again, opening up a three-on-two attack for Japan. Still, Davies seemed to have the cross covered, but the ball bobbled in front of him and he instead sliced the ball into his own net via Borjan's face in a goal that would make those footballing fail compilations DVDs if they still existed.
Two minutes later it went from game over to potential embarrassment as Japan scored again with another self-inflicted Canada concession.
Poor Alistair Johnston had his own nightmare and was robbed of the ball in an entirely vulnerable position and Keito Nakamura finished superbly to make it 3-0 before half-time.
Canada, as has been pointed out by players, staff, and onlookers, need games like these if they are to improve long-term in the run-up to co-hosting the 2026 World Cup.
There were mitigating factors, certainly: the long travel, the short preparation period, the change of coach, the chronic lack of games in the September and October FIFA windows. But what was also being proven before our eyes was that Canada are a far worse team than the likes of Japan, a minimum of one tier (as John Herdman liked to say) below them, if not more. We knew it already but seeing it confirmed in such stark fashion was quite something.
The second half continued in the same fashion. Just over three minutes into the second period, their crisp and so-impressive attacking play yielded a fourth goal, some superb interplay completely bypassing Canada's hapless defence before another fine finish saw Tanaka get his brace.
At that stage, the only thing that made sense for Canada and Biello was rotation and experimentation. The interim boss gave two Canadians their national-team debut on the hour mark, tearing up his overwhelmed Stephen Eustáquio-less midfield and bringing on CF Montréal All-Star Mathieu Choinière and Motherwell midfielder Harry Paton for their first CanMNT appearances.
The final half-hour or so proceeded at a pedestrian pace, with Canada digging in for the sake of pride and Japan seeming to lose some degree of interest in attacking, although they still sprang the Canadian defence open at will when they could be bothered.
There were bright sparks in the latter stages: the debuts for Choinière and Paton, the threat posed by fellow substitute Liam Millar, and the consolation goal scored by another substitute, Junior Hoilett, after the ball was generously presented to him by Osako.
But, ultimately, this was Canada being outclassed by a good team, but the nature of things certainly raises cause for concern moving forward. With a couple of small tweaks and notwithstanding Eustáquio's injury absence, CanMNT essentially turned out with the same system as they did during their Nations League final defeat to the USA. It'll be difficult to precipitate meaningful progress if bigger things don't change.
On a larger scale, the chief worry here is that, with the way things have gone both on and off the field since the World Cup, 2023 may go down as something of a lost year for this team after so much growth in the 18 months prior. Much of that falls on the shoulders of those people higher up within the Canada Soccer organization, but an intense period of reflection and response will be needed from those responsible for what happens on the pitch, too.
The crucial CONCACAF Nations League quarter-final / 2024 Copa América qualifier is just a month away and while Canada will undoubtedly be playing a much lower calibre of opponent, if they really want to start competing with the bigger and better teams in international football, galling lessons like these need to be learned.
"These are the games Canada need," it's true. But they need more of them, and they need to perform better when they come around.
---
---