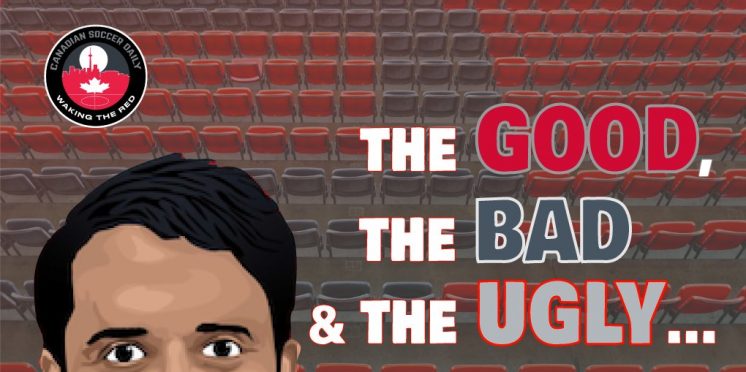 The Good, the Bad, and the Ugly — NYRB 3-0 Toronto FC
Another match, another 3-0 loss. This is kinda abjectly hilarious, because if we actually went and forfeited the remaining games of this MLS season, as some have been recommending we do since, I dunno, June, we'd lose by the EXACT same scoreline and we would suffer much, much less.
In a season replete with dumb, knee-jerk moves, we really should've gone the full monty and capitulated officially, seeing as we already have in all things semi-official.
Please stick a fork (or a spoon; wooden) in us. We're DONE.
THE GOOD
One more hopeless and soulless display to swallow before this campaign ends… Knowing that this roster gets sent to hell, where it belongs, sooner rather than later… Say what you will about Herdman, and there is a LOT to dislike about how his tenure has begun, but he's here and the club is hiring actual support staff…
Terry Dunfield gets a much-needed and deserved vacation. Maybe it's time for a new hobby? Here's my zero-thought, knee-jerk recommendation: Take that sweet Interim Manager/Poisoned Chalice cheddar and go out and buy ALL the expensive LEGO sets. Picture this: Build a couch fort and spend 6 days on the $1,500/7,000 piece super-deluxe Millennium Falcon. Post pictures of the build on your socials. Do anything that isn't soccer or TFC-related. We thank you profusely for stepping up and you'll be back next year. Now go relax. This isn't a you problem anymore.
My club. We care about our own. I see zero vapes, merch collabs, or candid red carpet snaps below:
THE BAD
Everything. Everything's not just bad, it's worse. This is the worst TFC team in franchise history. It's not a debate. It's facts. 49th place in the adjusted 2023 CONCACAF Club Rankings seems high, if we're being honest.
THE UGLY
I'd ask someone to explain the logic behind the timing of the Herdman hire and whatever is happening now, but I already know there was zero logic and that specific 'someone' doesn't exist. Bodes REAL well for the future… MB4 at CB, it's just not the move. I'm here for deep-lying trequartista all. day. long. though…
This rebuild is going to sting in the extreme. Toronto FC is in the polar opposite of a position of strength. We are going to eat so much shit this offseason and most probably be a shell of a team for at least another year. Everyone knows this.
It's going to take some gumption for this fanbase to tough out a page-one rewrite that you can see the need for from outer space. Criswell Predicts it will be good (hey! Shiny things!) bad (the actual, no-asterisks, end of an era), and lots of ugly (how long do you have?)
Buckle up.
---
---