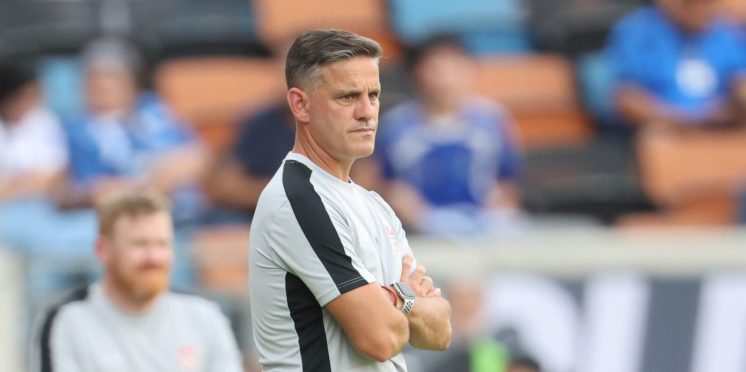 Toronto FC unveil John Herdman's new coaching staff, ex-CanMNT head coach's first TFC game October 21 vs. Orlando
It's October, which means Toronto FC is John Herdman's team now. At least in the office.
Toronto FC announced on Monday morning the addition of four new members on Herdman's First Team Staff. Eric Tenllado, Simon Eaddy, Robyn Gayle, and Alex Dodgshon will be joining the coaching staff in various roles.
The club confirmed that interim head coach Terry Dunfield will manage the club for the next two games, both of which are on the road. That means Herdman's first game in the dugout will be Toronto FC's last home game of the season against Orlando City on October 21.
Dunfield will continue to serve as an assistant coach under Herdman, giving the Englishman someone on the inside who knows what it was like before during and after Bob Bradley. Dunfield was a part of Herdman's CanMNT staff at the 2022 FIFA World Cup in Qatar, so he knows his new TFC colleagues very well.
"This group of people have experienced winning many times at BMO Field in the biggest moments for Canada in front of many of these fans and are highly motivated to experience that feeling with Toronto FC," said Herdman in a club statement. "We feel privileged to be able to work for the people of this city and will, as always, give our all to bring the success our fans deserve."
Tenllado brings extensive coaching experience at both the club and national team level and will serve as the assistant coach and Performance Lead. He previously spent over five years with Canada Soccer, where he was involved in major tournaments such as the FIFA World Cup and CONCACAF Gold Cup. Tenllado also has experience coaching young players, having worked as a Director of Coaching and Coach Development Manager for Toronto High Park Academy.
Eaddy has over 17 years of international soccer experience and will take on the role of Tech Co-ordinator & goalkeeper coach, replacing Jon Conway who had been in the job for the last 10 years. Eaddy has previously worked with Herdman coaching the national teams in New Zealand and Canada, coaching at various FIFA tournaments and Olympic Games. Eaddy also has experience at the club level, having served as a goalkeeper coach for Auckland City FC.
Gayle is maybe the most talked about person on Herdman's coaching staff. She is someone Herdman regularly praises and Canadian men's national team players regularly commented about an immeasurable impact she brought to the team. Gayle spent the past eight years working with both the men's and women's national team programs. Her role at TFC will be as the Performance and Wellness Coach and will focus on developing and monitoring the team's cultural framework and performance plans, as she did for both CanWNT and CanMNT. As a player, Gayle made 81 appearances for Canada and won an Olympic Bronze medal at the London 2012 Olympics.
Dodgshon joins the coaching staff as the Scouting & Analytics coach. He previously worked with Canada Soccer as the Lead Opposition Analyst for the Canadian men's national team. Dodgshon also has experience coaching young players and holds advanced degrees in sport science and chemistry.
What do you think of the team Herdman has assembled at Toronto FC?
---
---