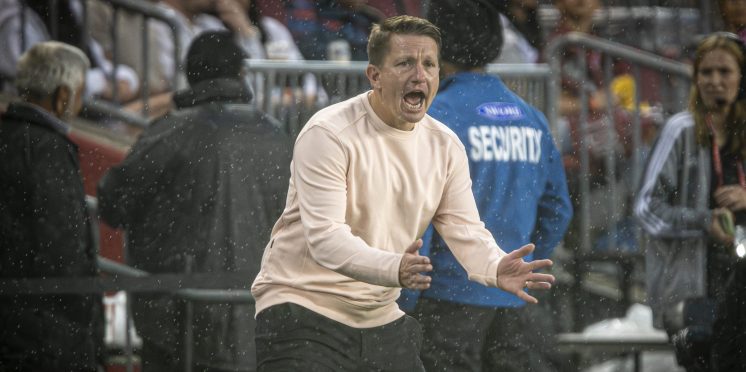 Dun and Dusted: retrospective analysis of the Terry Dunfield Era at Toronto FC
And just like that, Terry's time in the head chair at TFC has come to an end.
Terry Dunfield was to hand over the coaching duties to new hire John Herdman on October 1. It's unclear as to how things are going to look for the rest of the season and we'll find out the arrangements starting on Wednesday against Charlotte. So, what can be said about Dunfield's interregnum?
After Bob Bradley's dismissal, Dunfield was appointed on June 26th, after Bill Manning believed that "anybody expected to be in this position with the first team." Up until Bradley's firing, the team had a dismal record of three wins, 10 draws, and seven losses for a total of 19 points. It was clear there was a need for some sort of change. The coaching change coincided with the bombshell article at the end of May from the Athletic that the Toronto FC locker room was in complete disarray.
At the outset, Dunfield believed that "if we could get it right, potentially this could be the best story in MLS if we could turn it around." Dunfield's optimism was the hallmark of his interim coaching stint amidst a truly pathetic time in the club's history.
In his initial press conference, Dunfield wanted to emphasize bringing in a set of "non-negotiables" to the club "living above the line" as he referred to it. What does that mean? We're to speculate, but it means some rules to live by on how to be a professional. Certainly there was a lack of professionalism before Terry took over. He hinted at four of these criteria, but didn't elaborate on these details.
Interestingly enough, Dunfield mentioned John Herdman multiple times during his initial press conference, as if Dunfield was foreshadowing the future for the club. It's clear Dunfield respects Herdman immensely and will have a position on Herdman's staff.
Dunfield was given four matches as interim head coach. TFC promptly lost all four of those matches by a combined score of 7-0. Dunfield was given a bit more time to manage the team during the Leagues Cup. Toronto lost 5-0 to NYCFC and 1-0 at home to Atlas.
After crashing out of the Leagues Cup, Toronto FC had three weeks in between matches. It would have been a good time to put Dunfield out of his misery, but the club insisted on having him continue to manage into August and September. The first match back in August was a 401 derby match against CF Montréal. Another loss, but at least TFC scored!
Inexplicably, Toronto FC beat the Philadelphia Union by a score of 3-1 and looked like a half-decent club in doing so. Perhaps it was more of the case of the Union having an off-day rather than Toronto putting together a competent performance. Philadelphia's defence was horrible. Either way, it was the one and only positive aspect of Dunfield's managing career with the senior club. To quote Sick Boy from Trainspotting, the win over the Union was, "merely a blip on an otherwise uninterrupted downward trajectory."
Dunfield continued to manage into September after Herdman was officially hired as Toronto FC head coach. Including the latest loss against Cincinnati, Dunfield leaves the team on a four-game losing streak.
In 13 matches under Dunfield, TFC has:
1 win
12 losses.
0 draws.
Only 6 goals scored
31 goals Conceded.
3 points total.
So, how does Dunfield compare to other TFC coaches? In short, it's not good.
| | | | | | |
| --- | --- | --- | --- | --- | --- |
| Coach | G | W | D | L | Win % |
| Mo Johnston | 30 | 6 | 7 | 17 | 20.00% |
| John Carver | 36 | 11 | 10 | 15 | 30.56% |
| Chris Cummins | 31 | 12 | 8 | 11 | 38.71% |
| Preki | 32 | 11 | 10 | 11 | 34.38% |
| Nick Dasovic | 10 | 3 | 3 | 4 | 30.00% |
| Aron Winter | 64 | 18 | 21 | 25 | 28.13% |
| Paul Mariner | 28 | 6 | 8 | 14 | 21.43% |
| Ryan Nelson | 64 | 17 | 18 | 29 | 26.56% |
| Greg Vanney | 250 | 112 | 56 | 82 | 44.80% |
| Chris Armas | 15 | 2 | 3 | 10 | 13.33% |
| Javier Perez | 26 | 7 | 8 | 11 | 26.92% |
| Bob Bradley | 59 | 14 | 26 | 19 | 23.73% |
| Terry Dunfield | 13 | 1 | 0 | 12 | 7.69% |
Yep. The numbers speak for themselves. Worse than Chris Armas. Worse than Aron Winter's and Paul Mariner's time in 2012 for "The Worst Team in the World." It's historically bad for this club.
Seems like a lot longer than four matches, eh? What happened?
Manning mentioned at Dunfield's introductory press conference that they were looking at multiple coaching candidates at the end of June. It took until the end of August to announce Herdman. It's entirely possible that rumours of Herdman's hiring forced Manning and TFC's hand to announce a new head coach sooner than expected. The coaching arrangements are unclear moving forward, which is indicative of a club in disarray and pretty normal for the perpetual circus that is the Toronto Football Club.
Manning and Dunfield kept reinforcing the idea of a "culture change" at the club. Herdman also mentioned the idea during his first press conference after being named head coach. There has been no positive change in the on-field performance of the club and the team has regressed since Bradley's dismissal. While a lot of this issue can be placed, there has been no measurable improvement.
Admittedly, it is hard to get a feel for how the club culture is progressing or regressing if we're not privy to accessing the locker room or training facility. Perhaps that is all part of the club trying, once again, to control their own narrative. How's that going for you, Bill?
While it would be nice to believe that Terry Dunfield was hired to win some games and try to steer the club in the right direction, that certainly wasn't the case. In reality, Dunfield was more of a public relations move, shielding club management and the players from media criticism.
Many of Dunfield's press conferences took his optimistic tone, even after lopsided losses and embarrassing on-field performances. After losing 4-0 to Inter Miami, Dunfield said, "there's such variance amongst our squad. I feel like several players are almost perfectionists; it has to be perfect. When it doesn't come off perfectly, it's hard to take." There were a number of pregnant pauses, especially after "several."
Presumably, Dunfield was told to keep things positive and not to criticize the players. If one could read into this statement, it's evident that Dunfield is suggesting too many on the team give up. So, there needs to be some sort of recognition of accountability on the players' behalf.
There's no desire to put in a good performance. Players are often seen giving up on the pitch, especially when the team concedes a goal early in the match. Also, it's clear some players are using the excuse of being "injured" to avoid playing and being exposed as a fraud for demanding big contracts with little follow through on the pitch. Yes, I'm looking at Insigne and Bernardeschi. With only 10 goals and making around $15 million between them, there should be a bit of acknowledgement on the players' behalf of their underperformance. Petulance can be a good thing on the field; Giovinco was a perfect example. However, there were too many leaks from this club to suggest that Insigne and Bernardeschi are not the problem right now. Example:
That's only one example from two players. In typical TFC fashion, there was another mid-season roster turnover. Players like Mark-Anthony Kaye, Ayo Akinola, and Matt Hedges were shipped out of Toronto. Richie Laryea left for Vancouver. Clearly there's something
What about management? It's important to note that Jason Hernandez was appointed General Manager around the same time as Dunfield, so it's not prudent to include Hernandez in the conversation. While the on-field product is poor, the front office is a mess. If there's not an issue, why does the club lose people like Corey Wray, Jack Dodd, and Justin Morrow?
Dunfield was the sacrificial lamb for yet another lost season. Time's a tickin' Manning. 2017 was six years ago. Our collective memories of success at Toronto FC are fading. The shine of the Insigne and Bernardeschi signings have worn off. Herdman better get it right in 2024.
---
---