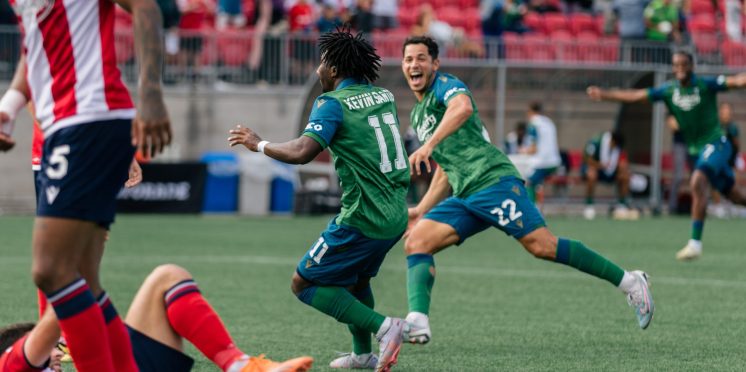 Canadian Premier League roundup: CPL Matchday 27 — York bury Atlético, Wanderers wash out Forge to clinch playoff spot
After four games on Matchday 27 in the Canadian Premier League, the table remains as it was a week ago. That being said, the penultimate round of the regular season provided a few fiery fixtures across the country with some teams toiling for playoff seeding while others just played for pride.
It's time now to review all of the action, highlighting the best of the weekend that was in the CPL.
Match of the Week: HFX Wanderers 2-1 Forge FC
I think it's safe to say that Halifax have got Forge's number.
A feisty contest which ended 2-1 in favour of the Wanderers meant that Halifax went undefeated against the three-time CPL champs, winning both of their matchups on the East Coast.
A dozen minutes into the game Massimo Ferrin headed in his seventh of the year after a marking catastrophe from Aboubacar Sissoko.
Twenty minutes later the marauding Rezart Rama and Manjrekar James pushed Forge forward in search of an equalizer. Woobens Pacius got the ball and potted his 10th of the campaign, as he makes a late push for the league's Golden Boot.
Daniel Nimick thought he found the game's third goal in the 42nd minute but a very tight offside whistle called the goal back. A bit unlucky for Nimick who had a goal disallowed for a ghost foul in Halifax's loss to Cavalry less than a month ago.
Fortunes changed in the Wanderers' favour not soon after though. Right after a Rama goal-line clearance, Alessandro Hojabrpour had a penalty called against him even though he didn't seem to make contact on a slide challenge on Ferrin. Nimick put away the spot kick with ease to send Halifax into the lead on the stroke of halftime.
Forge sent more bodies forward in the second half with Pacius getting a couple of decent looks in front of goal. Yann Fillion stood up tall in the Halifax goal though, sending the Wanderers to the playoffs with the 2-1 victory.
Player of the Week: Sergio Camargo (Cavalry FC)
Not for the first time this season, Sergio Camargo is your Player of the Week.
His exploits on Friday night earned Cavalry their seventh win in their last eight games, in a match that didn't mean too much with the brand new Canadian Premier League Shield already secured.
Camargo still sent Cavalry's fans home happy with a goal and assist in a 2-1 victory over Valour on a rainy night at Spruce Meadows. He put away Cavalry's equalizer after Walter Ponce got the scoring underway, slotting home a well-struck ball provided by Ali Musse.
Early on in the second half Camargo played provider with Gareth Smith-Doyle's winning goal. Camargo lofted a pass to the young winger who did the rest, slaloming in front of goal to notch his first in the CPL.
With six CPL goals to his name Camargo has tied his best scoring season. The transfer of Goteh Ntignee hasn't slowed down Cavalry one bit and Camargo has been a huge reason why.
The question remains still: can Cavalry get it done in the postseason for the first time?
Goal of the Week: Vasco Fry (Vancouver FC)
"Let me do it myself," Vasco Fry right before his winning goal against Pacific probably.
The Eagles got one over on their provincial rivals for the second time in a row thanks to a couple of first half strikes from Fry and Gabriel Bitar in a match that finished 2-1
Fry's was the best of the bunch with a cool hit bouncing off the turf and sailing past Emil Gazdov inside of the far post. Wait for the reverse angle on the replay for the best look at it.
After Forge's loss to Halifax earlier in the day this matchup provided a huge opportunity for Pacific to assume control of 2nd place in the table, but they let it slip in a disappointing effort at home. Still just two points behind Forge, they have the chance to claim 2nd spot, but they must win away to Cavalry next weekend to have any shot.
Stoppage Time
As is sometimes the case, the fixture that was circled on the calendar didn't quite live up to the hype. Well, not if you're someone who prefers a high-scoring affair.
It was a tense encounter between York United and Atlético Ottawa on Sunday afternoon with both clubs fighting for their playoff lives in what was the most pivotal regular season match of the year. For the third outing in a row a late goal sunk Ottawa and leaves them waiting for a miracle on the final matchday.
A disgruntled Nathan Ingham was brutally honest in his postgame press conference, telling reporters that his team didn't deserve another chance to clinch.
The odds are against Ottleti as they travel to face Forge needing a win while also hoping that Vancouver FC can avoid defeat against the Nine Stripes at home. Given Vancouver's form you wouldn't put it past Afshin Ghtobi's squad to nab a back-to-back win in front of their supporters. The thing is, an Ottleti win in Hamilton doesn't look likely these days, especially with Forge trying to lock down second spot.
But hey, stranger things have happened.
---
---