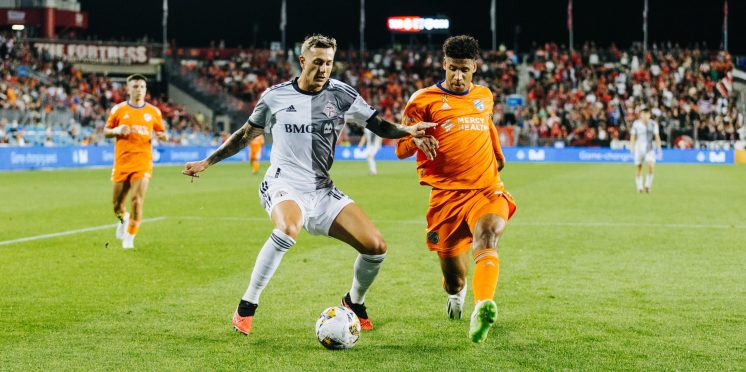 Toronto FC's first half comeback not enough to prevent FC Cincinnati from clinching Supporters' Shield
On Saturday September 30, 2017, Toronto FC clinched their first MLS Supporters' Shield at BMO Field. Exactly six years later, FC Cincinnati did the exact same thing, in the exact same place.
The team from Ohio captured their first trophy in club history as they defeated TFC 3-2 on Saturday night.
The match didn't start out positively for Toronto FC.
Interim head coach Terry Dunfield — who was supposedly managing his last game as a head coach — was forced to make a substitution 10 minutes in as Deandre Kerr went off with what appeared to look like a lower back injury and potentially an ankle injury after taking the brunt of a challenge from a Cincinnati defender.
Kerr was replaced by Hugo Mbongue who played up until the 77th minute.
"I thought Hugo Mbongue played with an edge when he came on, and those are three big centre backs that he's battling. He brings a different skillset to Deandre Kerr whose been excellent," said Dunfield.
Despite that, the home side played positively as they created chances while weathering the storm from Cincy.
"It was a bright start, there was a nice feeling in the changing room. Then we just get caught sleeping on a set piece, the marking is not great, you're one-nil down," said Dunfield.
Toronto FC were slow to react to the corner in the 28th minute as Brandon Vazquez got on the end of a cross from the left side, controlled the ball down with his chest before striking the ball past a helpless Luka Gavran in net.
Things would go from bad to worse just seven minutes later as Vazquez scored again. The American striker reacted first to Gavran's stop on Aaron Boupendza's shot which was not held onto by the 'keeper from Hamilton.
The Reds aren't known for coming back from two goals down, especially not this season. Jonathan Osorio would cut the deficit in half for his team in the 39th minute when Cincy goalkeeper Roman Celentano couldn't corral the ball from a Federico Bernardeschi strike. Osorio pounced on the opportunity and made no mistake.
The Brampton native recorded a brace of his own, scoring his second goal of the match just five minutes after the first one.
"I thought it was a fantastic response, we showed some nice football at two-nil down that we started the game with. Another solid performance from Jonathan Osorio. Even under the adversity we're going through, he continues to keep going. He keeps coming in every day and working hard – I'm glad his hard work is rewarded," Dunfield said of the TFC veteran.
The end of the first half was very positive for Toronto as they were able to get back into the game, but everyone in the locker room was aware of the opponent's quality and how quickly and easily they can punish you from making the tiniest mistakes. At halftime, Dunfield reviewed his team's goals and also told his squad about the threats that they pose coming from all areas on the pitch.
"[I told them] that they are going to get crosses into the box and to be tight with our man. Make sure we're not zonal and just marking space, and that we have a midfielder covering the player around the penalty spot as well. Then we reviewed the goals we scored, they came from being patient in the opposition half. We create nice 1v1 situations for Fede[rico] Bernardeschi and we take our two goals. We struggled to get into that rhythm and the first 15 minutes we were a little bit on the back foot. You just saw the energy of a championship team," Dunfield detailed.
Dunfield started his squad in a 3-4-3 formation with Sigurd Rosted, Michael Bradley and Aimé Mabika in the centre back positions before shifting to a 4-2-3-1 in the second half. Both formations worked to an extent as the team was determined to not let any more goals in.
"I think it was good. Obviously Cincinnati keeps their three attackers high, where they have the two No. 9's and then [Lucho] Acosta kind of floating in between. I thought the back three was good to be able to always have three defenders versus their three attackers. Once we were able to grow into the game in the first half, that's when we switched to four and that's when we were able to create a few more chances. I thought it gave us a good foundation to start the game with in both halves," said defender Aimé Mabika.
Gavran was called into action on numerous plays in the second half and did a solid job throughout the match, racking up 10 saves. In the 50th minute he denied MLS MVP candidate Lucho Acosta of a goalscoring opportunity before having to fully claim the ball again when it bounced off of Mabika.
On his first MLS start with TFC, Ghanian attacker Latif Blessing produced a respectable showing with bursts of energy moving forward and opening up space for teammates to create chances.
Unfortunately, Blessing was substituted in the 60th minute for a fear of a concussion he possibly picked up when he collided with Cincy defender Matt Miazga in midfield.
Four minutes after that substitution, Vazquez came very close to recording his second hat-trick this season (first of the MLS season), but Gavran denied him with safe hands.
Cincinnati would find the go-ahead goal in the 72nd minute through Boupendza – this would turn out to be the goal that clinched the Supporters' Shield for them.
"To lose 3-2 after coming back against a really good team, it definitely stings. The Supporters' shield exemplifies being able to do it from February all the way to October, they definitely deserve it but it's not nice to see someone celebrate on your field," Mabika summarised.
Although John Herdman officially takes the reigns as Toronto FC head coach on Sunday October 1 – it seems as though Terry Dunfield will coach the final two away games before Herdman is put in the driver's seat for the club's final match of the season – Saturday October 21 against Orlando City at BMO Field.
Dunfield touched on his feelings during his tenure as head coach after his final home match in charge of TFC.
"I think I've been saying this for the last 15 weeks, that I'm very fortunate to have had the opportunity. It has been tough for sure, but there has been some nice moments in there as well. I think I'm going to need a little bit of time to breathe and really go through it. I'm sure there's some stuff that we'd do different too, and some of our work, we'll be proud of as well," Dunfield closed.
TFC have little time to rest as their next match is on Wednesday against Charlotte FC, set for 7:30 p.m. ET.
---
---