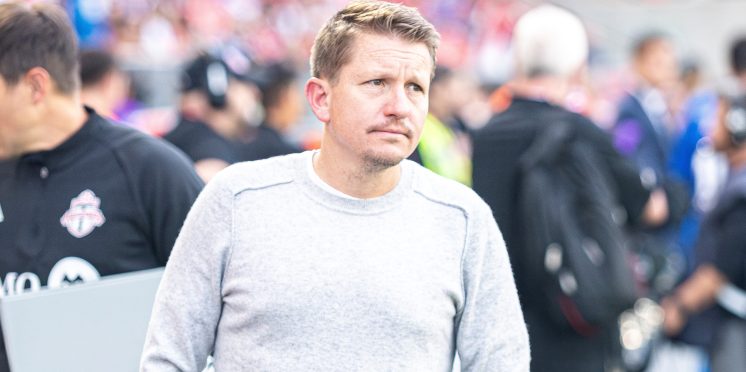 Will Saturday's visit from FC Cincinnati be Terry Dunfield's last game as Toronto FC head coach? Maybe not
When John Herdman was hired to be the new head coach of Toronto FC, it seemed pretty clear that his first day on the job would be October 1. Now, it's not so clear.
Ahead of Saturday's visit from league-leading FC Cincinnati on Saturday — a game that could seal the Supporters Shield for FCC — interim head coach Terry Dunfield gave a rather unclear answer when asked a very direct question by John Molinaro of TFC Republic.
At the time of writing, the club had not responded to Canadian Soccer Daily when asked Friday morning for confirmation on Herdman's first day at the office. By all accounts it will still be on Monday, but Molinaro reported Friday night that Dunfield would manage all but TFC's final game of the season, at home to Orlando City on October 21.
"It's been a pretty incredible ride these last 14 weeks and I'm really excited to work with John. I know he'll help continue to turn this around," Dunfield said after training on Friday. "We're too big to be in this position. As hard as it is right now, I'm excited to play a small role in helping the club get back to the top of the mountain.
"Really proud of the work that has gone on behind the scenes, the work of my staff," he said. "My role was to come in and hold the fort. It was supposed to be four games; it turned into half a season. I feel really privileged.
"It's been tough. There's been highs, there's been lows. We've started to think to the future, which is important," Dunfield said. "There have been some nice performances in there. We've been close most weeks and I've learned that in this league the margins are just so fine. Unfortunately, result wise, we've been on the wrong side of that, but we've continued to persevere and keep going."
In the immediate future, Dunfield and Co. have one game to focus on; against the best team in MLS. After a couple of confidence crushing losses on the road, the team is happy to be home.
"It's been nice to come back to the training ground after being away for five or six days,"said Dunfield. "We said at the start of the week that the objective is to not allow Cincinnati to celebrate on our pitch, in our house. We don't want that.
"We don't want that to happen in front of our families and in front of our fans, so there's real motivation there.
"We spoke about just being eight out of 10's. We don't have to be perfect, but just be an eight out of 10, on and off the field. If we are, with the talent we have, then we'll be good and maybe there's a performance like we had against Philadelphia for our home fans."
That rare W over the Union at the end of August, Dunfield's one and only victory, feels a lot more than a month ago. If they could muster a similar performance against Cincinnati, delaying Cincy's Supporters Shield celebration would be some consolation.
"It's simply an added piece of motivation to the motivation we already have: it's the first place team and we're at home – that's motivation in its own right," said forward Deandre Kerr. "But to know that they have the chance to lift that trophy at our place. We don't want that to happen."
TFC's last loss, a 3-0 demolition by NYCFC, mathematically eliminated the Reds from MLS Playoff contention. Even if it felt inevitable, it still stung.
"Take two days guys. Feel as sorry as you want for yourself for 48 hours," Dunfield told his players when leaving New Jersey. "But when you come back into the training ground on Wednesday, we'll review New York, go through our processes, and then on Thursday we start to prepare for Cincinnati."
It wasn't that long ago that FC Cincinnati were the basement dwellers. In their inaugural season in 2019 they finished dead last. The following year, with two more teams in the league, they finished dead last. Not even Jaap Stam could stop the club from a third straight wooden spoon. Now under Pat Noonan, their seventh manager since making the jump to MLS, Cincy are flying.
"They're, statistically, the second fastest team to get to goal. When they win it, they're very quick in transition, they're pretty direct with the ball," noted Dunfield. "And then you've got a really fluid front three. Each brings different qualities, but together as a three they're very good. They've got two wing-backs that love to join the attack, put early balls in the box."
"It'll be a nice challenge," he added. "We need to freshen things up, structure wise, personnel wise, so there will be some changes on our end as well."
---
---