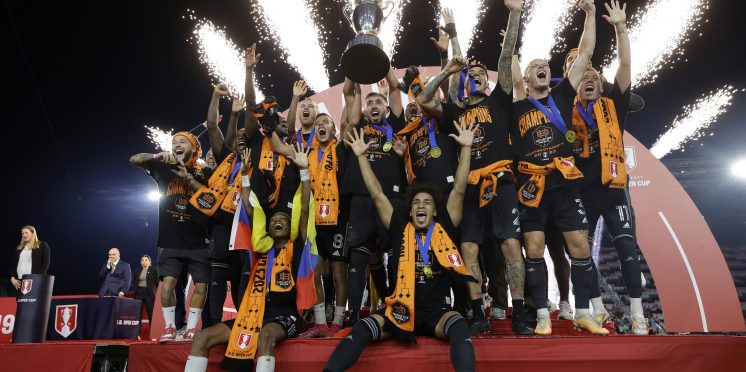 Ex-Toronto FC draft pick Griffin Dorsey scores screamer, Kamal Miller's Inter Miami lose U.S. Open Cup in Messi's absence
Some things just aren't meant to be.
It really was starting to look like Inter Miami would win anything within reach once Lionel Messi and Friends arrived. Leagues Cup, MLS Cup, the Lamar Hunt U.S. Open Cup, the Stanley Cup. With Messi, Miami looked unbeatable.
Messi couldn't play on Wednesday, and Miami got beat.
"It wasn't prudent for him to play. Not even for a minute," Inter Miami head coach Tata Martino said post-match, through a translator. "Yes, he will play before the league is over."
A month-and-a-half after winning their first trophy in club history, the inaugural Leagues Cup, Inter Miami had the chance to add the U.S. Open Cup to the brand new trophy cabinet. The well-oiled Houston Dynamo had other ideas.
Without Messi and Jordi Alba in the lineup, Kamal Miller and Sergio Busquets' Dudes in Pink dug themselves a first-half hole that they simply couldn't climb their way out of. Despite some late pressure, and a stoppage-time goal from Josef Martinez, Inter Miami fell short on Wednesday, losing 2-1 in Fort Lauderdale.
"They were missing a player or two, but I don't really care," said Houston Dynamo head coach Ben Olsen.
"All year we've been trying to build something, and we've got a long way to go…but this helps, this speeds up some things."
A 33rd-minute penalty, scored by Amine Bassi, sealed the deal for the Dynamo. Former Toronto FC MLS SuperDraft pick Griffin Dorsey kicked things off for Houston with an absolute rocket.
Anyone else feel like TFC could've really used that right foot this season?
"I thought it was a very exhausted team, really. That's the reality of things. Some could see that we are not doing well physically or tactically, even. The reality is that we were going to feel the effects of all the games we've been playing."
The internet does believe that since signing for their new clubs, Messi's Miami and Cristiano Ronaldo's Al-Nassr play every single day. It has felt that way for Miami's older players.
Of course, Inter Miami games bring out all the celebrities. At least NBA superstar James Harden was cheering for the other team, because he co-owns them.
The 34-year-old couldn't orchestrate a trade out of Philadelphia this summer, but he certainly could get himself on camera Wednesday night.
Canadian men's national team defender Kamal Miller played all 90 minutes for Inter Miami in the losing cause.
After a couple of miserable seasons, Houston will enjoy being the answer to a Messi trivia question. The U.S. Open Cup — just their second in franchise history — was a validating moment for Houston as an organization, where former Canadian men's national team goalkeeper Pat Onstad serves as general manager.
The Dynamo are currently fifth in the MLS Western Conference. Feeling a little envious that they've got their hands on a trophy AND a playoff spot? Yeah, us too.
---
---