CanWNT's 2-1 win over Jamaica attracts new record crowd for a Canadian national team in Ontario
We knew this already, but Tuesday night was evidence Canada loves women's soccer.
Who'd have thought that the Canadian women's national team's first competitive home match in eight (yes, EIGHT) years would have resulted in a packed house? Well, yes, everyone.
CanWNT's 2-1 win over Jamaica at BMO Field on Tuesday night, which booked their spot as defending champions at the Paris 2024 Olympics, was officially attended by 29,212 supporters. That number is a record for a Canadian national team game in Ontario, men's or women's, eclipsing the mark set in March 2022 when the men's team qualified for the FIFA World Cup by also beating Jamaica.
Put simply, Toronto showed up.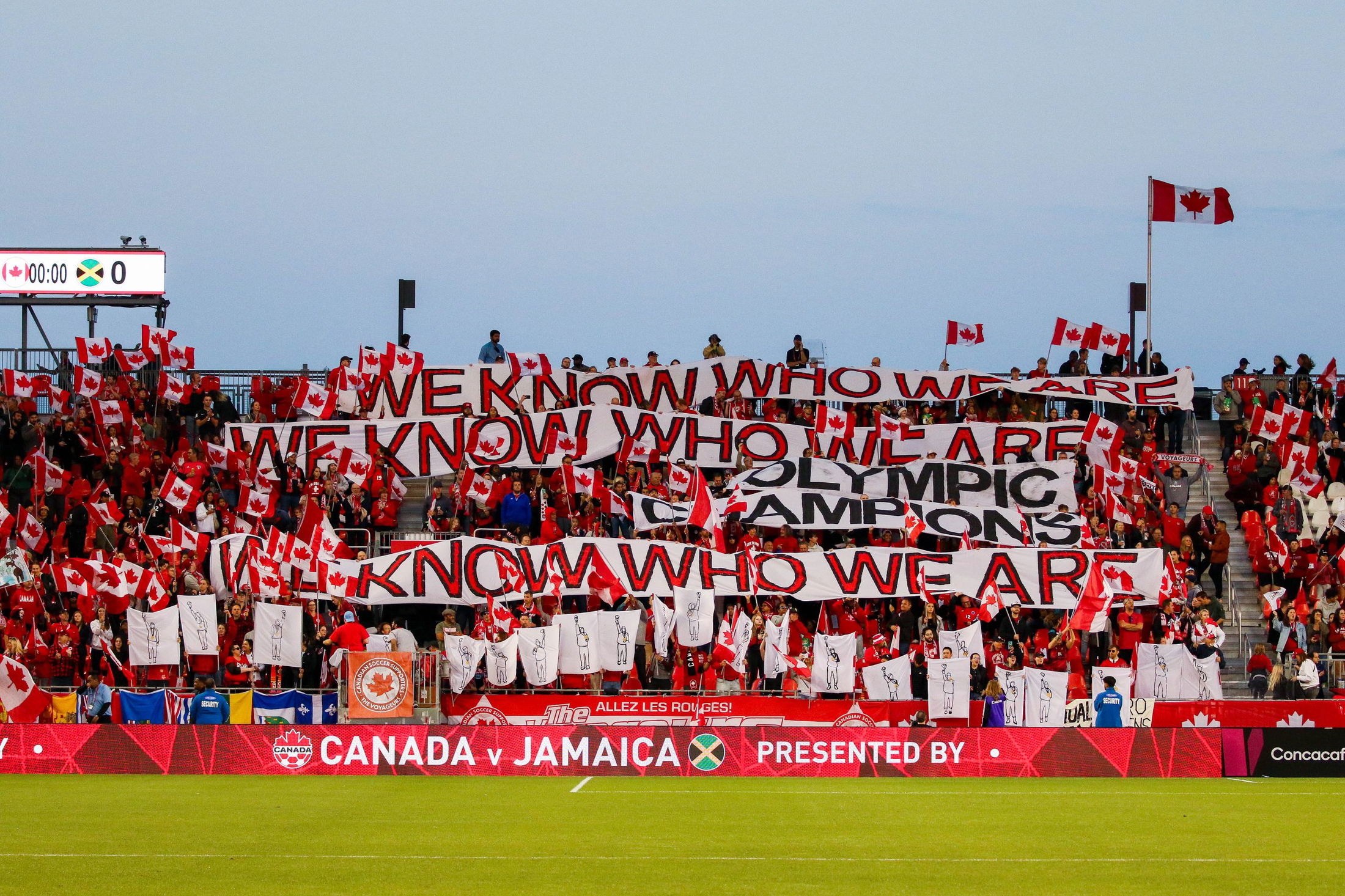 BMO Field — a site which Toronto FC fans won't mind anyone saying has been a hive of discontent and displeasure through 2023 — was a joyous hub of red, a vocal and passionate cauldron of positivity and support for this women's national team which has been through so much on and off the field this year.
"I thought the crowd tonight was unbelievable and they kept pushing," said head coach Bev Priestman after the win. "There were some hairy moments, but it was the crowd that got us going again."
No wonder the support was so vociferous. It's been a farcically long time since Canadians have been able to watch this team in person in their own country.
The last time CanWNT had played at home in any game at all was 15 months ago, a 0-0 friendly draw with South Korea at BMO in June 2022. Their last competitive game on home turf was back in 2015, the 2-1 FIFA World Cup quarter-final defeat to England.
It's been a long time coming, and everything about Tuesday — the build-up, the atmosphere, the performance, the result, the celebration, and the meaning of it all — was the perfect return to Canadian action for this team.
"Getting that home crowd, a sold-out BMO, it definitely was the 12th man," noted goalscorer Cloé Lacasse, whose family were in the crowd having travelled all the way from Sudbury, Ont. "It gave us that extra boost until the very end of the game… It was extra special. My mom, bless her heart, always cries but today she was crying a little extra hard."
Given the explosion of love and joy on Tuesday night, one can only imagine the scenes that would have greeted the team had a home send-off match been arranged before this summer's World Cup, and how that might have impacted the players' morale heading into the tournament on the other side of the world.
Alas, there's no use in looking back with what-ifs.
Priestman said earlier this month that CanWNT and Canada Soccer "are finalizing plans" to be active in all FIFA windows and that they hope at least one of those games will be at home. She added on Tuesday night postgame that there are some "exciting" plans in play for the October and November window.
Getting at least one home game booked should be a priority for all involved. This team's relationship with its fans is symbiotic; passion and support for the team, while always present, is at its greatest when the team is right there in front of its supporters, and playing in front of fans, friends, and family is an integral component of these players' mental health. Not to mention that Tuesday night only underscored the fact that when CanWNT icon Diana Matheson's professional women's soccer league arrives in 2025, there's going to be a hungry and passionate fanbase waiting to be there from day one.
But for now, this is all about CanWNT. While off-field strife will unfortunately remain a raincloud overhead for the time being, with Olympic qualification and CONCACAF W Gold Cup qualification secure and more games promised this autumn, it's time for this team to look forward to brighter times with the nation fully behind them.
---
---