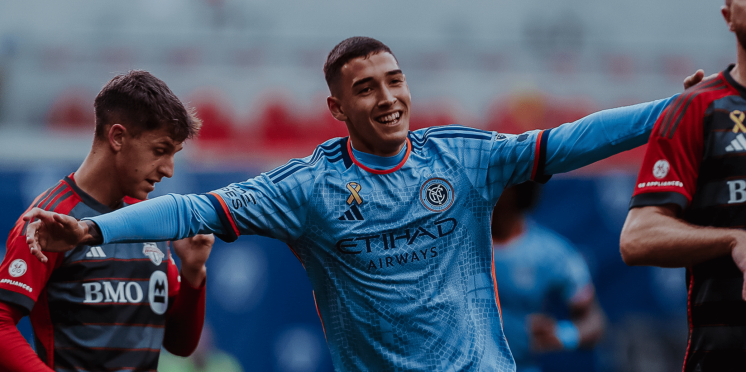 Anatomy of a Goal – NYCFC's Julián Fernandez vs. Toronto FC
"The First 48." It's not a television show, but the number of goals Toronto FC have conceded in 30 matches in 2023.
48 goals conceded, tied for the highest in the league with Colorado Rapids. After Sunday's loss, Toronto FC was officially eliminated from the playoffs and is tied with the Rapids for last place in MLS. However, Colorado has played one less game than TFC, so the race to the bottom is something to watch for the rest of the season!
After all of the waterworks issues from Saturday, Toronto FC and NYCFC kicked off at a rare 1 p.m. start in the middle of a rainstorm. How poetic. The deluge of goals started early, with TFC conceding in the 2nd minute. NYCFC's Julián Fernandez added a third and final goal after a dismal defensive display in the first half.
Here's Fernandez's 55th minute goal:
The Build-Up
While TFC conceded two goals in the first half (including a saved penalty from Luka Gavran), NYCFC only had six shots on net. In the second half, NYCFC had 11 shots on target. It was clear that TFC had no interest in playing defence on Sunday. The goal build-up was no different.
After the throw-in restart, NYCFC had acres of space to move the ball around the pitch: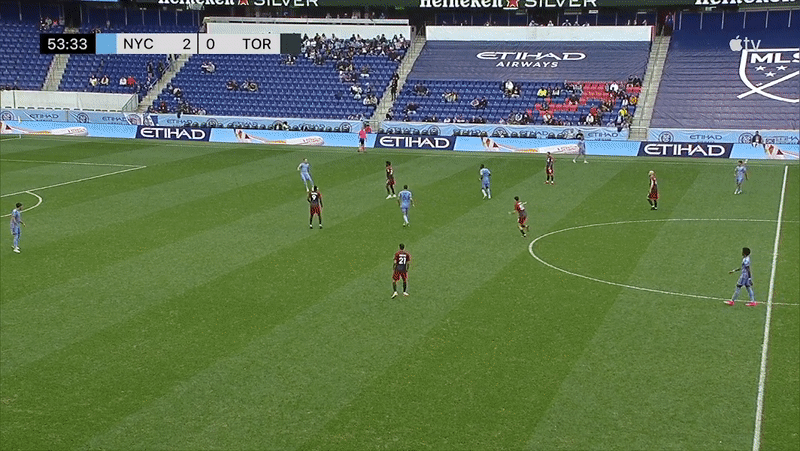 They continued with little resistance, making TFC look silly, especially with Talles Magno's move:
A bit more magic from the training ground sprung Fernandez on the wing:
The Goal
Fernandez embarrassed the TFC defence with his speed:
With space around him and the TFC defenders not closing in, Fernandez calmly slotted the ball home with a curling left footed shot:
What Went Wrong
The whole 90-minute performance was brutal. There was zero desire to play any type of football at all. It's clear the season was a write-off after Bob Bradley's firing. However, there is no fight left in this team.
Watch how long TFC players stand around after the throw-in:
It's around 10 seconds.
TEN. SECONDS. OF. STANDING. AROUND.
TFC's lack of movement might be understandable if they're playing the low block, or "Park the Bus". They're not. Toronto was 2-0 down and they should have been pressing the NYCFC defence. Toronto's defenders were playing a high line, which made no sense. The press didn't happen and created too much space for Fernandez to run.
Look how high TFC's defensive line is in this photo: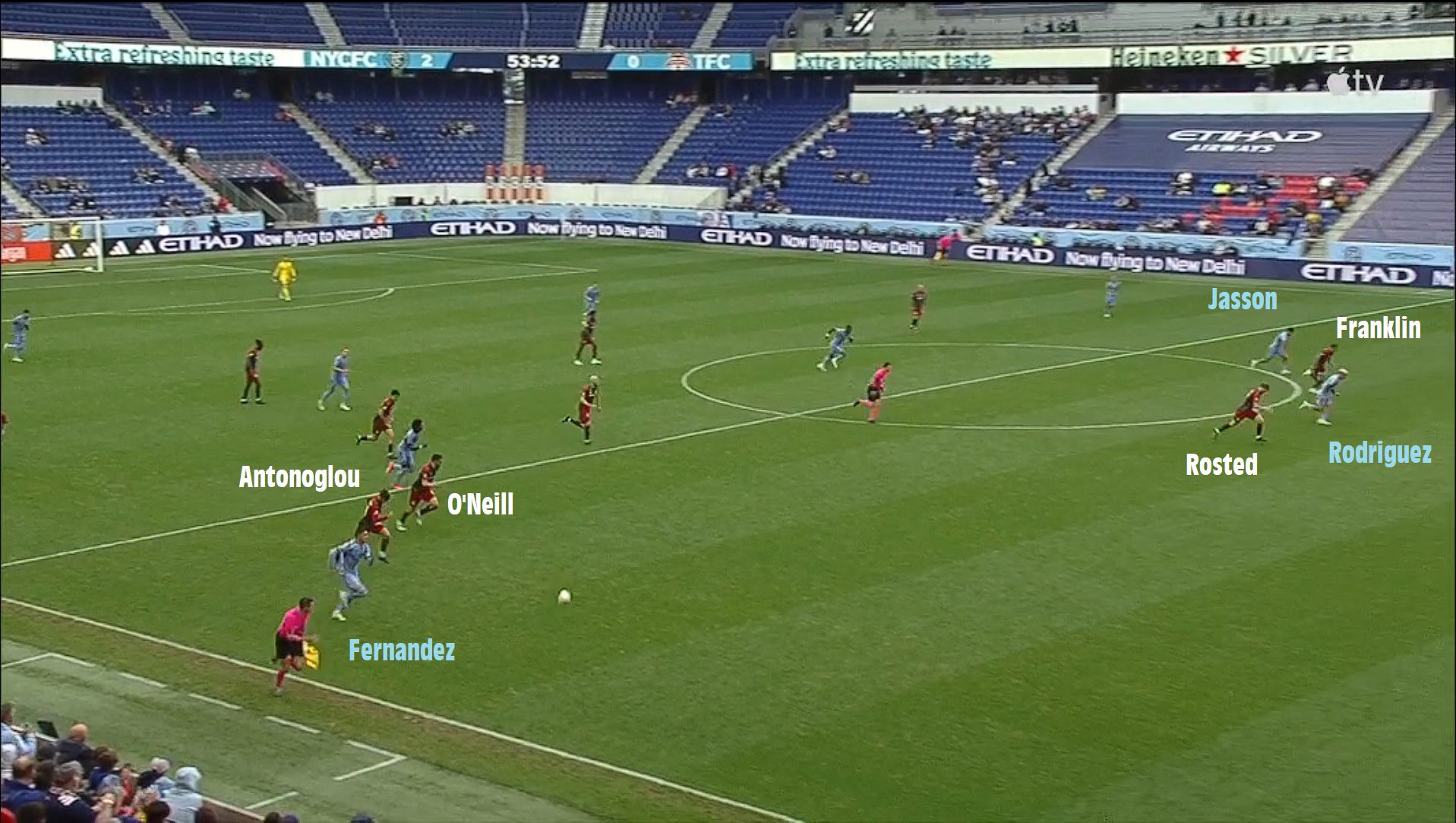 There's no way anyone is getting back to defend, especially when Fernandez has a step on the centre-backs. Normally you would encourage a team to play a flat line in their own 18-yard-box, not around the centre circle.
What Needs to Happen Next
We're all Luka Gavran right now:
We thought it couldn't possibly get worse. Well, it did.
Take your pick of who you want gone. Nobody is safe after that performance. Is there a stronger word than embarrassing? Mortifying? Shameful? Ignominious? Yep. Ignominious works.
Toronto is at home against Cincinnati on Saturday night. There will be plenty of goals, just not from TFC. Lucho Acosta will probably score if you're a betting person.

Also, thanks for your service Terry. It wasn't easy working as "Chief Turd Polisher" for the past few months. Mercifully, you won't have to figure out creative ways to spin these poor performances again. Perhaps John Herdman will be able to spin a yarn of positivity for the last three matches.
---
---