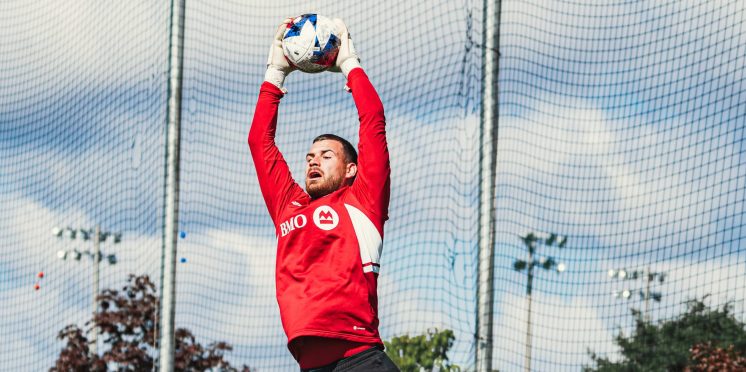 'We don't see the good things we do because of the poor things we do more often': Toronto FC goalkeeper Luka Gavran
There have been a lot of poor things. But, one of the good things this heartbreaker of a season has allowed for is opportunities for guys in the Toronto FC pipeline that have earned senior team minutes.
Goalkeeper Luka Gavran has been a rock between the sticks for TFC II for a season and a half. The big club signed him on August 20, because of injuries to Sean Johnson and Greg Ranjitsingh, and on Sunday Gavran made his much anticipated first MLS start. Unfortunately for the 24-year-old, TFC faced an New York City FC side that's desperate for points and rounding into playoff form.
"A tough one," is how Gavran described his first start. "Right away when you put yourself down in the first minute, it's not going to be easy, especially with the second goal coming in the last minute. We really put ourselves in a tough situation, but I really feel that we don't see the good things that we do because of the poor things we do more often."
Gavran makes a good point. But, there sure have been a lot of poor things this season. For TFC fans it really stacked up on Sunday at Red Bull Arena.
Interim head coach Terry Dunfield has had a lot of obstacles and speed bumps in his way since taking over from Bob Bradley at the very end of June. Injuries and availability have been a major one.
"With the amount of games Tomás [Romero] has had in recent weeks, the travel with El Salvador, it was in the plans to give me a game and really see what I could bring, what I could do for the team," Gavran said. "There's instances in the game where I can manage better, whether to play short or to play long, the older guys on the team are going to let me know and that's going to come from experience."
Sunday certainly was an experience for the TFC II grad. Playing in sloppy conditions, in an empty stadium that is not the home ground of the host team, and facing a penalty kick was one hell of a way to make your debut.
"Honestly, when VAR started I had a real good feeling that they were going to give the penalty. I knew right away," said Gavran. "I was already mentally prepared – this is a moment where a lot of things can change if you come up big for your team."
"As a goalie you can tell whether he's going to wait for you or pick a side," Gavran continued. "I watched his run up and I was going to fly to the one side. He hit it low and luckily I got my foot there."
Now that Gavran has his foot in the door at the big club, he may have caught the eye of incoming head coach John Herdman, who takes over on October 1, a day after Toronto FC host league leading FC Cincinnati at BMO Field.
---
---