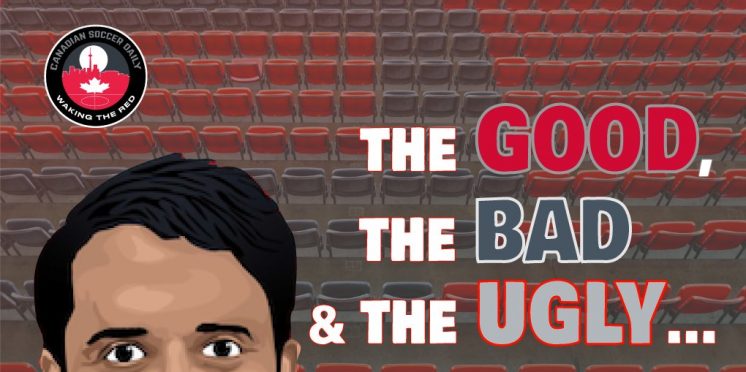 The Good, the Bad, and the Ugly — NYCFC 3-0 Toronto FC
It's insane how terrible this TFC team is. It really is.
To say this campaign has been difficult to endure, especially considering the woeful past two seasons and the unbridled excitement at the outset, is the understatement of the year. We bet big and lost big, but even that perfectly encapsulated statement doesn't do the experience justice. Nobody expected THIS.
Absolutely everything went wrong. The wheels fell off the cart mid-motion and we just kept going, grinding the transmission until it too failed, and still kept on, trying to carry the pieces of this broken club up the mountain.
Gosh, I really, really hope this here is rock bottom. It has to be, right? Right?
THE GOOD
Kobe Franklin is at times the only player on the pitch who looks like he wants to be there. Credit to the kid, he puts his head down and gets to work whilst everything around him burns. That's the kind of player you want on your team… I didn't break VV:
New Jersey-area Emergency Plumbing Repairs, we thank you for your service… Luka Gavran's penalty save:
THE BAD
Uh, everything? This team doesn't want to be here, and now that we're properly eliminated from the playoffs, again, for the third year straight, they don't have to be for much longer. Shame about the games still unplayed, though. That has to complicate holiday plans and golf bookings.
THE UGLY
All three NYCFC goals. Wow. Could we at least, I dunno, try out there?… Another loss, another round of inane post-game platitudes from all involved, can we just not do pressers for a bit? Oh, and also, can we just forfeit the balance of the season? Losing the rest of the games 3-0 may in fact be a better option than "playing" out the string… Worst single season in franchise history, with the highest payroll, what a sick joke… The inescapable fact that we have eyes, and the eye test reveals this team hates each other, hates being out there on the pitch, hates this, hates that. There's no love for the game on display, no love for the spirit of competition, no beauty in the beautiful game. It's painful to watch:
---
---