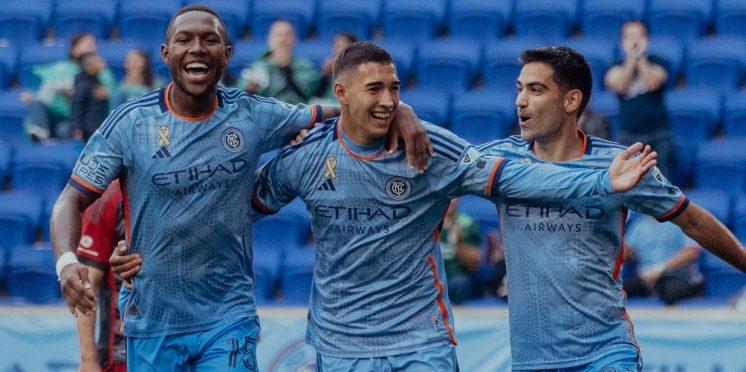 Toronto FC mathematically eliminated from MLS Playoff race with 3-0 loss to NYCFC
Just when you thought the water main break was the biggest leak at Red Bull Arena, Toronto FC found a way to let in another deluge of goals in their Sunday showdown with NYCFC.
The football gods made us wait an extra day to witness the inevitable, TFC's mathematical elimination from the MLS Cup Playoff race. Toronto FC faced an uphill battle from the very start at Red Bull Arena.
Disaster struck less than two minutes into the match as an unmarked header found the back of the net, and TFC found themselves trailing 1-0.
"It was hard defending our box, it just wasn't good enough," said TFC goalkeeper Luka Gavran, who made his first career start for the senior side.
"I need to watch it back to see what happened, but the defending needs to be much better. Maybe on my part, being at a good, better position to come out on the cross initially."
As the game progressed, TFC struggled to break down New York's defense and create meaningful opportunities. Although NYCFC had their chances, nothing too worrisome troubled the TFC defense. The urgency to move the ball quickly was evident, but execution proved challenging.
VAR entered the equation, with a potential handball in favour of NYCFC under scrutiny. The referee ultimately pointed to the spot, awarding a penalty to the home side. However, in a moment of brilliance, TFC's young goalkeeper, Gavran, made a spectacular save, offering a glimmer of hope.
"As a goalie, you can tell whether he's going to wait for you to pick a side," said Gavran. "I watched his run up a bit and I just, I was going to fly to the one side, and he kind of hit it low, and luckily I hung out my foot there. I think maybe he might have meant to put it down the middle, but it all happens in a split second."
With Gavran's heroics, TFC had an opportunity to turn the tide. Deandre Kerr displayed skill in collecting the rebound and feeding Jonathan Osorio in stride, but the resulting shot lacked the necessary finesse, heading straight into the keeper's waiting arms.
"I thought we reacted well to going 1-0 down and handled the punch to a degree," stated interim head coach Terry Dunfield in his post-game media conference.
Just before halftime, NYCFC managed to extend their lead, with Andres Jasson easily weaving through the defence and then slotting the ball into the bottom corner from the heart of the 18-yard box.
"In key moments, we weren't able to execute," said Dunfield. "We knew New York City had quality and they punished us for two really difficult turnovers. I think what made the second goal difficult was the turnover in midfield where there was a pass to play it forward and now New York City are down our necks."
Halftime arrived with a sense of frustration for TFC fans. The team's struggles with man-marking continued to haunt them, and their offensive creativity was lacking. Kerr's earlier chance to level the score highlighted a desperate opportunity.
"At halftime, there was some great leadership from Michael Bradley," said Dunfield. "He did most of the speaking and then I got into a couple of good details tactically. We spoke about not letting this get away from us. The guys went out for the second half and were professional."
There was little for TFC to do from the ongoing pressure from New York City to start the second half. In the 54th minute, Julián Fernández, who was subbed on at the half, came waltzing into the box, weaving his way through the TFC defence with a perfect shot that found the back of the net.
"The group kept going," said Dunfield. "We were naïve in certain moments for sure. I'm disappointed in the result and I still think that those difficult moments at the start of the first half and the end of the second half – we have to find the game. In between, there was some nice football and I think that's how you can paraphrase my tenure."
The match concluded with a 3-0 victory for the hosts, but the scoreline could have been far worse if not for Gavran's impressive debut performance.
"I thought Luka was excellent today," said Dunfield. "His presence and profile helps on the penalty save. I thought his distribution was good. I think he can be proud of his performance. Unfortunately on his debut, you want to be leaving the change room with a nice feeling and three points but, he worked his ass off for that opportunity and has been patient as well. We've just been waiting for the right moment to give him his debut."
"I guess it was just in the plans to give me a game, just really see what I can bring, what I can do for the team," said Gavran.
"There are instances in the game I can manage it better, whether I play short, whether I play long. The older guys on the team are going to let me know and that's just gonna come from experience. I had a few days to prepare mentally for the game."
So, as the curtain falls on Toronto FC's 2023 playoff chances, the faithful fans cling to the belief that a brighter future awaits. After all, in the world of soccer, there's always another season, another chance, and another opportunity to rewrite the story.
"Right now, we're in the fight," said Dunfield. "We're trying to recover from games, preview the next game, set up for success and then go and compete and that's the process we're living right now. But it's difficult when you concede the types of goals that we concede; maybe not as clinical as when the opportunities do present themselves."
Toronto FC return home next Saturday as they welcome MLS MVP candidate Luciano Acosta and FC Cincinnati. Kick-off is scheduled for 7:30 p.m. at BMO Field.
---
---