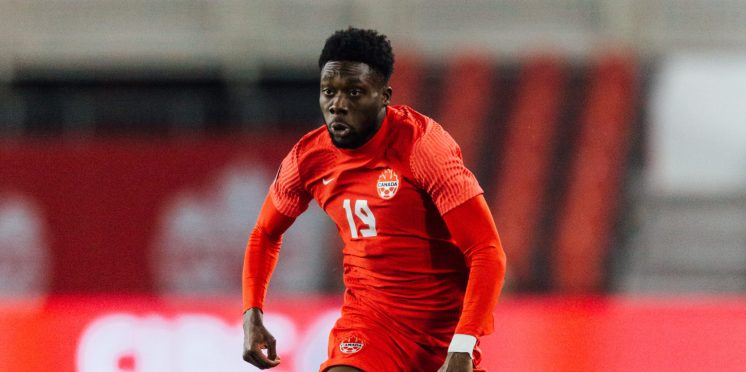 CanMNT superstar Alphonso Davies is the most influential Canadian athlete according to new study
Alphonso Davies may only be 22 years old — and not a hockey player — but he's already the most influential Canadian sports star, according to a comprehensive study conducted by online gambling company PlayOJO.
The study analyzed various Instagram statistics, including the number of followers and engagement rates, to determine the rankings of the top 10 Canadian sports stars.
Davies, with an impressive following of over 5.4 million on Instagram, boasts a remarkable engagement rate of 3.2 percent and an average of 173,000 likes per post.
"Phonzie, especially, is a wonderful news story, both in terms of his upbringing — coming in as a refugee — growing, in terms of the Canadian soccer community, and going and playing for Bayern, is awesome," said Gilles Prefontaine, a marketing instructor at NAIT's JR Shaw School of Business.
The study also estimates that Davies has the highest potential earnings per sponsored post, raking in an estimated $87,176 per post and $113,424 per reel.
"Being Canadian, we often think of hockey, and that's because it's part of our culture, it's part of our DNA. But we also have to remember that many of these athletes are going to draw from international groups. And so many of the sports that have much larger international volumes will naturally have a bigger impact in terms of that number of followers," said Prefontaine.
However, with great power comes great responsibility, emphasized Prefontaine.
"When someone with that kind of notoriety can change behaviour and turn around and influence potentially whole generations of individuals to consume something or do something very different, there is a certain amount of accountability," he said.
In second place is retired MMA fighter Georges St-Pierre, now aged 42. The former UFC champion has amassed over 4.4 million followers on Instagram. Although GSP has a lower engagement rate of 0.6 percent, his popularity remains undeniable.
Brampton, Ontario's Tristan Thompson, known to sports fans for his 12 seasons in the NBA and winning a championship in Cleveland with LeBron James, and to much of the rest of the world as Khloe Kardashian's ex, is third on the list. Thompson has a following of over 3.9 million on Instagram and receives an average of 170,000 likes per post.
"If we're really thinking about a social media influencer, we're thinking about someone who is using their platform, their notoriety to change other people's behaviour," Prefontaine said.
Rounding out the Top 10 were Canada Basketball star Shai Gilgeous-Alexander, former tennis star Genie Bouchard, NBA champion Andrew Wiggins, WWE wrestler Adam Copeland, 2022-23 NBA champion Jamal Murray, Toronto Blue Jays fan favourite Vladimir Guerrero Jr. (who was born in Montréal) and RJ Barrett of the New York Knicks.
Born in a refugee camp in Ghana to parents who had fled the civil war in Liberia, Davies' journey is widely recognized and admired. He arrived in Canada at the age of five. At 15 years old, he left his home in Edmonton to pursue in a professional soccer career, signing with the Vancouver Whitecaps and making his MLS debut before his 16th birthday. He was later sold to Bayern Munich in a record-breaking MLS deal, solidifying his status as a rising star in the soccer world.
Davies' impact extends beyond the pitch. At the age of 16, he made his senior debut for the Canadian men's national team, becoming the youngest CanMNT player ever. Now the face of the men's national team, Davies has a significant presence on social media, with millions of followers on TikTok, Instagram, Twitter, and Twitch.
Davies is also a global goodwill ambassador for UNHCR, the UN Refugee Agency, using his platform to raise awareness and support for refugees worldwide.
---
---