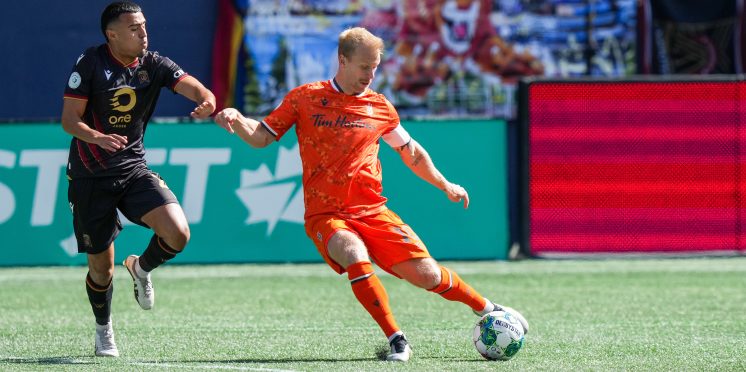 Canadian Premier League roundup: CPL Matchday 25 — Cavalry within touching distance of trophy, Forge grab vital late win
One down, two to go.
Expansion club Vancouver FC became the first team to be eliminated from playoff contention after falling to the league leaders in Calgary as the Cavs kept up their fine form. With only a few weeks to go in the regular season York United and the Wanderers suffered their own defeats that could set them back in the race for the top five playoff spots.
Match of the Week: Valour FC 2-3 Forge FC
Anything less than three points in Winnipeg would've been a disaster at this stage of the season for Forge against the team second from the bottom.
It came close to ending in a draw but Forge just about came away with a much-needed win to help them put one foot into the postseason.
A Rayane Yesli gaffe in the opening minutes gave the visitors an early lead but Kian Williams saved his keeper's blushes with an instant response on the other end.
Overall, it was a positive start for Valour who were looking to secure back-to-back wins after surprising York United on the road last Friday. Williams narrowly missed a couple of other first-half opportunities that could've made it a much different game.
It remained tied up heading into the second half and it was Valour who kept pushing after the break. A controversial goal put away from Matteo de Brienne put the hosts ahead 2-1, with Forge players and Bobby Smyrniotis arguing that Triston Henry had control of the ball before De Brienne shot on goal.
The away side used their frustration with the call to their advantage, sending bodies up the pitch in search of a crucial equalizer. And they got just that after a nice bit of passing ended up with Woobens Pacius scoring his eighth goal of the campaign into the back of the net.
At this point, if either side was going to escape the match with all three points it looked like it would be the Hammers. Kyle Bekker and Aboubacar Sissoko both had decent attempts stopped by Yesli, with Valour's Jared Ulloa getting a good look on the other end but having his shot from close range denied by Henry.
Armed with a dangerous free kick opportunity in the 84th minute, Forge's midseason signing Béni Badibanga put the match to bed with a knuckleball free kick which fooled Yesli and sent the Hamiltonians home with a smile on their face and all three points in their pocket.
The crushing loss didn't mathematically eliminate Valour from playoff contention, but it might as well have. They sit nine points below York United in sixth and although they have a game in hand, time is running out for them to put together a string of winning results.
Player of the Week: Ali Musse (Cavalry FC)
Cavalry won two out of two this week to essentially put one hand on their first-ever trophy.
At the heart of their success in attack this season, and throughout the club's existence has been winger Ali Musse. Musse was the difference-maker out in Halifax on Tuesday when the Cavs narrowly beat out the Wanderers 2-1. His assist from the corner flag to defender Daan Klomp was the winner in that one, with Musse threading three other key passes on the day and winning six out of his eight duels.
Just four days later, Cavalry hosted Vancouver FC, beating out the Eagles in a game that was closer than expected for a match involving the two clubs on opposite ends of the table. Musse was in the thick of the action once more, winning a penalty for Myer Bevan to convert, and recording two key passes for his teammates in what ended as another 2-1 win for his team.
Since the transfer of Goteh Ntignee to France's second tier, Musse has been called to be at his absolute best during Cavalry's stretch run and he's been just that. With five goals and three assists to his name in 2023, Musse continues to come up big for the Cavs when they need him most.
Goal of the Week: Renan Garcia (Vancouver FC)
It ended up being nothing more than a late consolation for the now-eliminated Eagles, but Renan Garcia's thunderbolt of a strike against the league-leading Cavs on Saturday deserves its moment to shine.
After a tidy backheel assist from Mikaël Cantave, Garcia unleashed his left-footed effort from far out, fooling Cavalry's Marco Carducci who was no match for the shot.
A couple of free kicks deserve an honourable mention here as well.
The aforementioned Badibanga banger was a real contender for taking the Goal of the Week title for Matchday 25, as was this Maxim Tissot set piece equalizer scored against Pacific in a 1-1 draw on Wednesday night.
Stoppage time
The tilt between HFX Wanderers and Atlético Ottawa was pushed back to Monday due to the presence of Hurricane Lee on the East Coast. That one will see Patrice Gheisar's fourth-placed Wanderers try to end their three-game winless run, having lost their last two matches at Wanderers Grounds. With York United ominously one point behind both teams, three points would go a long way for either side if there ends up being a winner.
York themselves have been limping to the finish line and look to be the team that will narrowly miss out on the fifth and final playoff position. The Nine Stripes were outclassed by Pacific on their own turf, losing 4-1 on Sunday evening.
The good news for York fans? Two of their remaining matches are at home. The bad news? They've lost their last two home games and welcome Cavalry to North York in their next one.
---
---