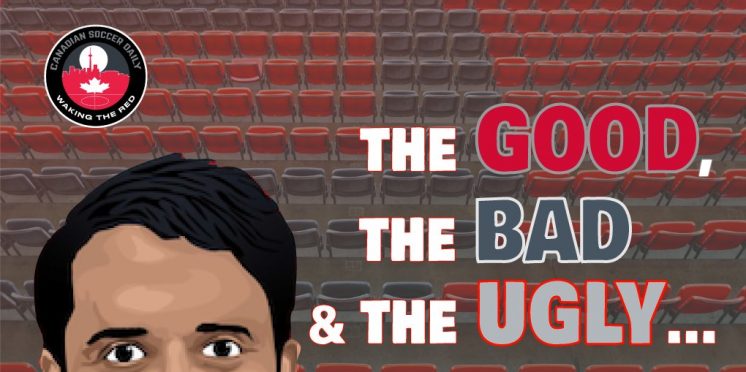 The Good, the Bad, and the Ugly — Toronto FC 1-2 Vancouver Whitecaps
WELP. Y-I-K-E-S.
OK, honesty time. Is anyone REALLY that surprised? Are some of you secretly OK with this? I mean, this turgid campaign deserves more infamy than just an internal "worst season in Toronto FC history." We deserve the wooden spoon and recognition from the league proper for the levels of ineptitude on display.
THE GOOD
One of the best tifos ever seen at BMO to honour one of the best, if not the outright best, servants to the badge:
302 appearances. 296 of them starts. That's BONKERS.
Expected a hail of Boos to greet Richie Laryea's lineup announcement; I heard plenty of cheers mixing in with my own.
Despite stacking VWFC with CanMNT/Toronto-adjacent talent, we still showed Tos some love:
That was a perfectly weighted pass from Lorenzo Insigne to find Deandre Kerr alone in on net. And Kerr buried it for two goals in two games. You'll never see me go full monty on breakaway goals because they are like empty calories, but that one was at the very least really sweet. Plus, when this team finishes chances, any chance, it's cause for some celebration:
Kobe Franklin's ascent into a inked-in starter continues… Raoul Petretta and Sigurd Rosted at least look like soccer players again… The second half was immeasurably better than the second. Thought TFC were hanging on for dear life a good bit of that first 45'… Coming around on that Energy kit…
This week's TTID is gonna. be. lit.
Victor Vazquez's 10-minute garbage time cameo…
THE BAD
VV consistently getting those 10-minute garbage time cameos. He changes the game instantly for the better. Why is he seeing such limited time? GB&U readers wanna know!
Tomás Romero needs to figure out some combination of control/coral/lasso/force pull on those rebounds, man. Was it every shot? 90 percent sure felt like it… MB4 at CB has always shown flashes of "could work", and then we get a play like this:
Sure, learning a new position is hard, doubly so in the twilight of your playing career, but his positioning is so wrong, deputizing in central defence and not marking Brian White(?) on a run into your box(?!). You hate to see it, but he made that goal look so easy for them. At least on the broadcast angle… JMR's continued use in different positions. It's comedy at this point…
We could be going from great-kumbaya tifo to burn-it-all-down no-fans tifo in record time:
THE UGLY
Regression is too kind a word for what has happened to pretty much every player on the roster at one point over this woeful campaign. When one Phoenix rises, at least another crashes in flames… Can we honestly look at this team play and blame "tactics"? I see none when they play and you can't tell me it's not discussed and drilled, it has to be. It just all evaporates into vapour once the whistle blows and we get the same disjointed, zero trust in your teammates, emphasis on wide play and/or hero ball as always, compounded by terrible body language and a sliding scale of lack of desire/effort. It's hard to watch…
TFC haven't won two games in a row since LAST AUGUST… I don't like repeating myself and I was only just quasi-goaded into another Jeffie Pretentious Twi(X)er thread on the ugly DPs, so forgive the copypasta:
Next game up? Yup, Inter Barcaloniami FC. Without the GOAT (because would YOU start him against this team?), getting molywhopped by their U-22's and Jordi Alba.
This season cannot end soon enough.
---
---