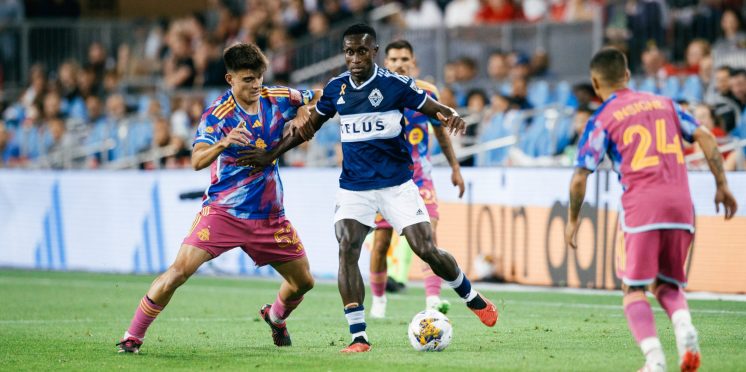 Richie Laryea gets last laugh as Vancouver Whitecaps come back to beat Toronto FC in CanMNT star's return to BMO
Richie Laryea got the last laugh.
In an all-Canadian clash at BMO Field on Saturday night, Toronto FC conceded two second half goals in the span of 10 minutes en route to a 2-1 defeat to the Vancouver Whitecaps.
After a scoreless first half, the Reds opened the scoring in the 50th minute through Canadian attacker Deandre Kerr. The Ajax, Ontario native was composed as he dribbled toward Vancouver keeper Yohei Takaoka and slotted the ball into the net with his weaker left foot.
But, the Whitecaps would go on to score two unanswered goals which ultimately resulted in their fourth road victory of the season.
The ball from Ryan Raposo's in-swinging corner in the 56th minute was met by TFC defender Sigurd Rosted and 'Caps defender Mathías Laborda but snuck past both of them. Tristan Blackmon wasn't expecting his header to bounce in, but it did, cancelling out Kerr's opener.
The Whitecaps scored their second goal (another header) in the 66th minute courtesy of Brian White. Scottish attacker Ryan Gauld freely drifted into space before launching a pinpoint cross that found the head the American who did the rest.
Very poor defending by TFC as they outnumbered White in this play, but no one even challenged the header.
"I think Vancouver are a really well organized team, they don't give you a ton," said interim Toronto FC head coach Terry Dunfield. "I thought we just edged it in the first half, it was close. Just looking at our organization, it's not quite right. Reviewing the second goal, we maybe could have gone tighter to [Ryan] Gauld, we decided to drop off, protect what's behind us. There's one player in the box versus our six and it's in the back of the net. Up until that point of the goals, I thought it was a nice performance against a good side."
Dunfield's assessment of the first half was spot on. Both sides had chances to take a lead into the halftime break.
TFC captain Michael Bradley played centre-back again, and was honoured alongside his family with a pre-match ceremony for having made his 300th appearance for the club. Bradley made a crucial block in the 11th minute in his own six-yard box on a shot taken by Gauld.
Italian winger Lorenzo Insigne tested Takaoka in the 25th minute when his shot was tipped over the bar by the Japanese 'keeper.
Salvadoran goalkeeper Tomás Romero waited in the wings for a long stretch this season and he has shown some impressive moments when called upon. On Saturday night he made six total saves, and made three important ones within 10 minutes.
First, he got down low in the 30th minute to parry away a shot from White. Two minutes later, he showed his reflexes yet again, this time denying Raposo. He also had to stretch to save and hold onto a shot from former teammate Richie Laryea.
Thanks to Romero's efforts, he was able to keep the visitors scoreless, and gave Kerr a moment in the spotlight early on in the second half.
Dunfield and Romero spoke highly of his efforts to reporters after Saturday night's match.
"I thought in the first half, he pushed that back three back, opened space for others. It was a little bit selfless at times. In the second half, it was an amazing bit of quality from Lorenzo [Insigne], that's what he can do on the half turn. You just see the athleticism, composure and technique of Deandre Kerr come out 1v1. As soon as he's through you know it's a goal," Dunfield said.
"I actually have no idea how it [the goal] started out but then I just saw him running in," Romero summarised. "DK's good enough to take that chance and he did, so I'm happy for him. He's a very talented player, I think he has a bright future ahead of him and if he just keeps training hard, he'll do well."
Kerr detailed his point of view on his goal post-game.
"I think Raoul [Petretta] cleared it, and as the ball was in the air I just saw there was a lot of space in front of me. Just a quality pass from Lorenzo [Insigne] to find me and then I just tried to keep my composure in front of goal and just put it in the corner so I was able to do that."
On the heels of the club's 14th defeat this season, a tough week lies ahead. This Wednesday it's a trip to Florida to take on Lionel Messi and Inter Miami, before facing New York City FC at Yankee Stadium next weekend.
"It's going to be a big game for everybody, all the eyes are on that type of game. As a player it's a high pressure game and when everyone's watching you, you want to do your best and preform as a team and as an individual. I think if we can go into that game with that mentality, we'll make it as hard as possible for Miami. Following that, we'll see how the result goes on Wednesday then we'll focus for Saturday," said Romero.
"It's just kind of our luck right now – we're going to play a rested Messi. I'm sure the guys will be looking forward to going down to Inter Miami and we'll train there for a day or two and head to New York," Dunfield closed.
TFC will battle Inter Miami in Fort Lauderdale on Wednesday. Kick-off is set for 7:30 p.m. ET.
---
---