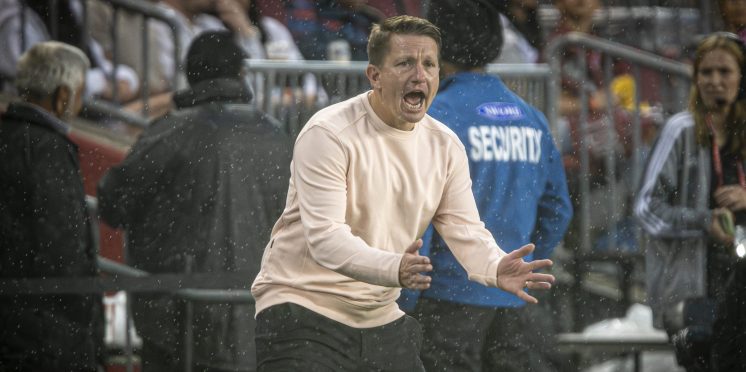 'You want to be the best in Canada' says Toronto FC's Terry Dunfield ahead of visit from Vancouver Whitecaps
Terry Dunfield's tenure as interim head coach at Toronto FC sure has been a baptism by fire.
After finally winning a game for the first time since taking over the Reds when Bob Bradley was sacked at the end of June, the international break forced Dunfield and Co. back to the training pitch, which he doesn't seem to mind really.
Saturday night Dunfield will face his former team, the Vancouver Whitecaps, for the very first time as a head coach. It also brings the return of Toronto FC fan favourite Richie Laryea, who will play against TFC for the first time since joining the club in 2019.
"You want to be the best in Canada," Dunfield said. "When I was in Vancouver, you're fighting for that, and the same here… Since I played, the rivalry has grown. There's something there," continued Dunfield. "[Sartini] has built a nice team, a nice core, and added some really nice pieces to their squad. It'll be a fantastic game. [Ryan] Gauld and [Brian] White are a handful up top. It's a class rivalry."
It will become a serious rivalry if Laryea torches TFC. The Whitecaps have really become "Canada's team" this summer, quite literally. In addition to signing Laryea, the Whitecaps acquired fellow CanMNT full-back Sam Adekugbe on a transfer from Turkish club Hatayspor and most recently announced the signing of Canadian forward Junior Hoilett until the end of the season. Hoilett will be at BMO Field on Saturday but Adekugbe did not make the trip.
This is the fourth stop on a seven game road trip for the Whitecaps, the longest in their MLS existence.
"The way the schedule has played out is there's been a fury of games and then a bit of a breather," Dunfield said during his media availability on Friday. "The first four games came really quickly. We were pretty pragmatic; organized the team as best we could.
"From there we almost went into a mini bootcamp, a tactical, physical, cultural, bootcamp once the Leagues Cup had finished," he continued. "What's been cool is we're eight weeks in now and we've seen some nice growth throughout that period."
Toronto FC put an end to their 10-game losing streak in style on Wednesday night, stunning the Philadelphia Union 3-1 at BMO Field on August 30.
"We're enjoying that win because that was a very good win," said defender Sigurd Rosted. "Hopefully, we can keep going."
Though Toronto FC have taken 22 points from 27 matches this season and sit dead last in the MLS table, there were many positives to take away from the win over Philly as the squad counts down to John Herdman's takeover on October 1.
"The feeling internally throughout has been 'we're making progress,'" relayed Dunfield. "Philly was a great benchmark, a nice positive sign that we're moving in the right direction and our hard work on the training ground is beginning to pay dividends.
"After the game, the feeling was there could have been more and we could have played better," Dunfield said. "Our next opponent being Vancouver is perfect. They're in the 99th percentile for aggressive actions. They don't stop, they just keep coming, and that teed up that training has got to be above a certain level and there's been a real intensity to our work for the last two-and-a-half weeks."
"When we first took over, everyone kept saying, 'It's impossible. You can't do it, it won't work.' And every day we just kept coming in, getting better each day, sharing with the players that you can do it, believe, and it is going to come together," Dunfield said about the last few months. "There's still more to come, but against Philly you started to see that there's so much quality in [the locker room]."
"Our role as coaches was to bring out some of that potential," Dunfield continued. "Against Philly it was great to see it come together. There were six or seven personal bests in that game and that third goal was a 15-pass move."
Saturday's visit from the Whitecaps will be the beginning of a busy stretch before Herdman's arrival. The Reds travel to Miami to face Lionel Messi and Inter Miami on Wednesday, followed by a trip to New York to face off against NYCFC next weekend.
"A lot of breaks," said Rosted, who described TFC's "weird summer" because of the changes in this year's calendar. "We had a break in June, then a little break before the Leagues Cup, and then when we went out a long break there, and now a break again.
"We've really pushed hard and trained hard. Some days off, of course, but when we trained, we trained really hard, so it has been like a mini pre-season."
With just seven games left in a hugely disappointing regular season, taking three points off your domestic rival who is chasing a playoff spot is at least a really good way to send the fans home happy.
---
---