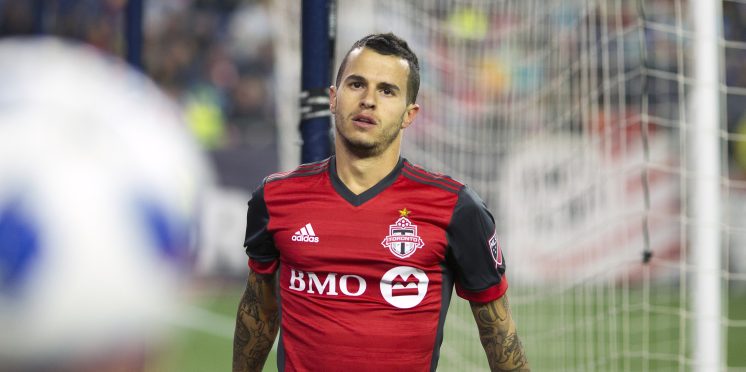 Toronto FC decide against re-signing former MVP Sebastian Giovinco
Sometimes, one goodbye is enough.
After talk from both inside and outside Toronto FC that the club may re-sign Sebastian Giovinco, the MLS Cup winner, former league MVP, and the man generally considered to be the best player in their history, the club instead elected not to do so ahead of Friday's MLS roster freeze deadline.
So, the fun's over.
Per Michael Singh, interim head coach Terry Dunfield said that while TFC probably could have pulled the trigger on signing the Atomic Ant for sentimental reasons, the feeling was that the Italian was two or three weeks away from being ready to actually be included in a matchday squad.
"My thoughts are that if we were just looking for a nice moment, a nice feeling for our fans, for Seba, we probably could've pulled the trigger on a deal," Dunfield said. "But in my opinion, that's not Seba. I think Seba wants to come back and be impactful and really make a difference. At this stage, he's probably, realistically, two or three weeks away for roster selection. Unfortunately, this year we've run out of time."
When there are only six weeks left of the season, and a change of head coach is coming in three weeks' time, that didn't really make much sense.
Would signing him have been fan service? Yes, very much so. But, honestly, in this annus horribilis, there was a significant portion of the Reds' fanbase that were probably thinking "why the hell not do it?" There's not been much else to shout about this year, after all.
Just under five years after making his last appearance in a TFC shirt, the club icon had rejoined team training last week after several weeks of working out alone at the BMO Training Ground facilities. He will continue to train with the club despite not signing a contract.
Dunfield added that the four-time All-Star and TFC's all-time record goalscorer will keep training for the rest of the season, with the hopes that he'll be close to 100 percent by the time John Herdman takes over on October 1. That would give the new head coach the chance to assess Giovinco up close ahead of 2024.
Toronto face their domestic rivals the Vancouver Whitecaps on Saturday.
---
---