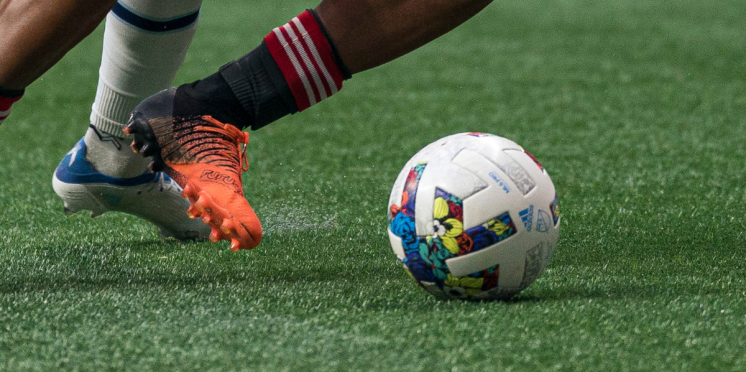 Could Aaron Rodgers' Achilles injury bring the end of turf fields in MLS?
Remember when BMO Field was a plastic green carpet?
If not for a 2009 visit from Cristiano Ronaldo's Real Madrid, Toronto FC may have played on turf for many more years. The fear when the CFL's Toronto Argonauts moved into BMO in 2017 was that MLSE would reinstall a turf pitch to make it more convertible and manageable to play both brands of football between June and November.
Thankfully that didn't happen. There are many vocal fans in the WTR comments section and in the south end who feel the pitch is greatly compromised by sharing it with a tenant that, despite playing in the most populated city in the country, is the smallest market team in the CFL. But despite that, the pitch at BMO Field is much better than most of the multi-sport surfaces you'll find anywhere.
Of course, multi-sport is not the only reason that artificial turf is still so prominently used across North America.
The earning potential for a multi-purpose, venue, even in a place like New Jersey, which could easily upgrade to a Tottenham Hotspur Stadium or Santiago Bernabéu-style rapid pitch transition — albeit at a grand renovation cost — is too much for owners to pass up. The NFL's Las Vegas Raiders and Arizona Cardinals have already implemented retractable field systems.
The recent injury to NFL superstar QB Aaron Rodgers — if somehow, you haven't heard, he ruptured his Achilles at MetLife Stadium on Monday Night Football, four plays into his New York Jets career — has sparked a renewed discussion in the NFL about the use of natural grass versus artificial turf fields. The NFLPA is now pushing the league to adopt a FIFA-style "no turf" mandate.
The evidence overwhelmingly supports the fact that natural grass is safer, which is a major reason that women's players were so angered by FIFA's tolerance of the use of turf surfaces when the Women's World Cup was played in Canada in 2015, long before the frequency of devastating injuries to high profile, women's players became the epidemic that it currently is.
Ironically, artificial turf was actually developed with better health in mind. A military study conducted in the 1950s revealed that young people living in urban areas were less physically fit than suburban Americans. The Ford Foundation attributed this disparity to the lack of natural grass in major cities and invested millions in developing synthetic solutions for urban playgrounds.
The sports industry quickly adopted artificial turf, with Major League Baseball's Houston Astros the first team to install it as a professional playing surface when they opened the Houston Astrodome in 1965. Numerous professional and college stadiums followed suit, and across the pond English clubs including Queens Park Rangers installed turf in an attempt to keep a more consistent playing surface regardless of the usually miserable weather. Former NFL commissioner Pete Rozelle predicted that artificial turf would be the norm in all stadiums within a decade.
Today 16 of the NFL's 32 teams play on artificial turf in their home stadiums, including some of the biggest teams in the league like the New York Jets and Giants, the Dallas Cowboys, the Buffalo Bills, and the LA Rams and Chargers. Six MLS clubs currently play on synthetic grass.
Atlanta United made it clear when Lionel Messi signed for Inter Miami in June that they had no intention of switching to a natural-grass pitch when the Argentine star visits Mercedes-Benz Stadium on September 16th. The Argentine is doubtful to play this weekend, after picking up a knock while away on international duty with Argentina.
So why do half of the NFL owners insist on artificial turf fields? Money.
Artificial turf companies have long touted the cost-saving benefits of their product, claiming that it eliminates the need for extensive maintenance, in addition to its ability to withstand various weather conditions, that typically plague more northern venues.
Turf venues like BC Place, Gillette Stadium (home of the New England Revolution), Mercedes-Benz Stadium in Atlanta, and SoFi Stadium (though not home to an MLS club) allow owners to host some of the biggest and most lucrative concerts in the music business.
NFL players have been voicing concerns about artificial turf fields since the 1970s. As Joe Pompilano pointed out on Twitter on Wednesday, NFLPA President JC Tretter wrote an open letter to the NFL last year stating that artificial turf is significantly more taxing on the body than natural grass. Tretter supported his claim with data from an independent study, which revealed that players have a 28 percent higher rate of non-contact lower body injuries on artificial turf. The study also found that players have a 32 percent higher rate of non-contact knee injuries and a staggering 69 percent higher rate of non-contact foot or ankle injuries on turf compared to grass.
Men's and women's players have complained about playing on turf in North America for years too. The MLSPA had bigger priorities during previous collective bargaining negotiations; like raising the minimum salary from $12,000 USD when Toronto FC entered MLS in 2007.
But with a major push by NFL players to make artificial turf a thing of the past, MLS and NWSL players could benefit in the near future and potentially for years to come.
---
---