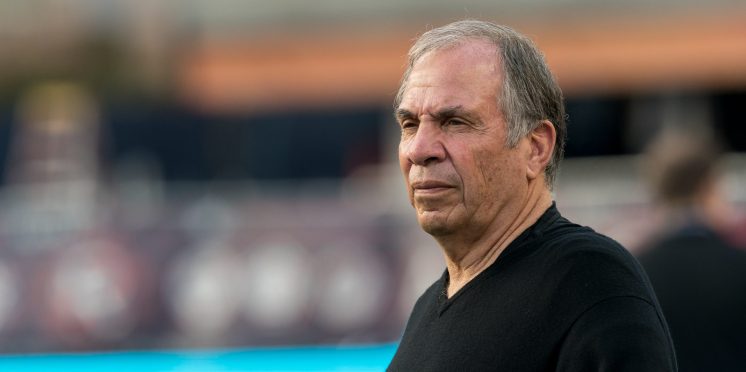 Bruce Arena resigns 6 weeks after MLS put New England boss on leave for 'insensitive and inappropriate remarks'
Bob Bradley isn't the only former U.S. men's national team head coach to not see out his MLS contract this season.
Bruce Arena resigned as New England Revolution head coach and sporting director on Saturday, he announced in a joint statement with the club.
The 71-year-old was placed on administrative leave on July 30, pending a league review into allegations that he made insensitive and inappropriate remarks. MLS did not detail the allegations, nor the extent of their investigation.
Arena's resignation statement read:
The investigation has been a hard and difficult process, for me and my family, but hearing from so many who have been part of my career truly has been gratifying and has helped make this decision easier.
I know that I have made some mistakes, and moving forward, I plan to spend some time reflecting on this situation and taking corrective steps to address what has transpired. And while this has not been an easy decision, I am confident that it is in the best interest of both the New England Revolution organization and my family that we part ways at this time."
The former USMNT boss took charge of New England in May of 2019, steering the Revs to 60 wins, 31 losses and 42 draws.
Known for his strong personality and outspoken nature, Arena's influence can be seen throughout MLS coaching staffs and front offices. Many notable figures who have worked with or played under Arena include Bob Bradley, current USMNT head coach Gregg Berhalter, and FC Cincinnati's Chris Albright and Pat Noonan.
MLS released the following statement regarding Arena's decision:
As a result of the investigation, which confirmed certain of these allegations, should Arena wish to pursue future employment within MLS, he must first submit a petition to the Commissioner.
MLS is committed to safe and welcoming work environments and expects all employees of the League and its clubs to conduct themselves appropriately in the workplace.
Arena won five MLS Cups across 14 seasons as an MLS coach, winning the first two titles in league history with D.C. United back in 1996 and 1997 and three with the LA Galaxy in 2011, 2012 and 2014.
Interim coach Richie Williams, who has been Arena's assistant for years, will keep hold of the role. Curt Onalfo will remain as the interim sporting director.
New England acquired Canadian midfielder Mark-Anthony Kaye in a trade with Toronto FC for Latif Blessing nine weeks ago. Kaye admitted he was excited to be on a team competing to win trophies. The Revolution currently six second in the Eastern Conference, nine points back of league leading FC Cincinatti.
The Revolution beat TFC home and away this season, first with Arena getting the better of his former student Bradley 2-0 at BMO Field, in what was the Reds' first loss at home… And then with the Revs topping Toronto 2-1 in Foxborough last month.
---
---