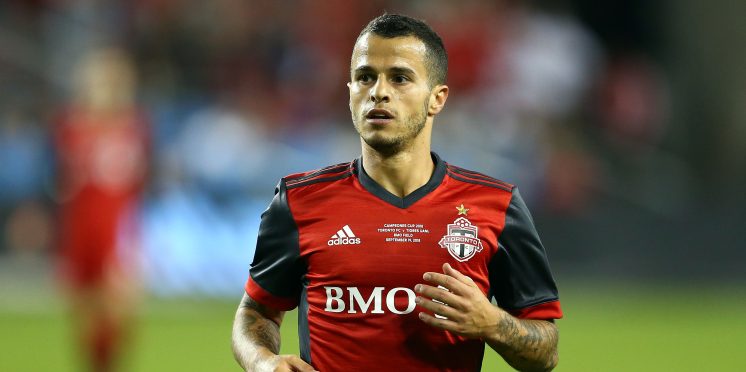 Sebastian Giovinco joins full team training at Toronto FC
Could this actually be happening?
Just less than five years after making his last appearance in a Toronto FC shirt, club icon Sebastian Giovinco is back training with the team as of Friday, according to the latest report from TFC Republic's John Molinaro.
After first showing up to BMO Training Ground to train on his own, Giovinco is now taking part with Terry Dunfield's squad and has been for the entire week of September 4, Molinaro reported early Friday.
Dunfield remarked last Tuesday that Giovinco was 'trending well' and that the hope was the 'Atomic Ant' would be ready for group training following the Labour Day long weekend. So here we are.
"It's not just a farewell, he's all business," Dunfield added.
Giovinco trained with the Reds prior to the 2022 MLS season but did not end up on last year's roster, instead signing a short-term contract with Serie A club Sampdoria. His last professional appearance was on March 12, 2022, during Sampdoria's 3-1 loss to Juventus, another one of Giovinco's former teams.
The Italian international played in just two matches for the Genoa-based club and largely struggled to see the pitch because of a lingering calf injury. Not having played since his time in his homeland, TFC supporters will be wondering what kind of impact Giovinco might have if he does in fact end up securing a deal with the Reds.
With John Herdman set to take over first-team duties in three week's time it is also worth wondering how his arrival has influenced a potential deal getting done.
"TFC is a winning club, there's an expectation to win in this city…" Herdman said during his introductory press conference last Tuesday.
"We know the size of this club, the potential of this club. We know what it means to players like Jonathan Osorio to bring it back to that glory of what we experienced with the [Sebastian] Giovincos. I think everyone knows what that felt like."
It's important to note that the clock is ticking on Giovinco's potential TFC reunion. According to the 2023 MLS Roster Rules and Regulations, there is to be a roster freeze for all MLS teams on September 15. On that date, clubs must submit a final 30-man roster which can not see any changes until the end of the 2023 playoffs.
With Toronto's next matchup being a home tilt against domestic rivals Vancouver Whitecaps on September 16, there is a non-zero chance that Giovinco is at least on the substitute's bench for that game if he is in fact added to the team before the roster freeze deadline.
So, what do you say? Should Giovinco get his second chance with the Reds? Let us know in the comments!
---
---