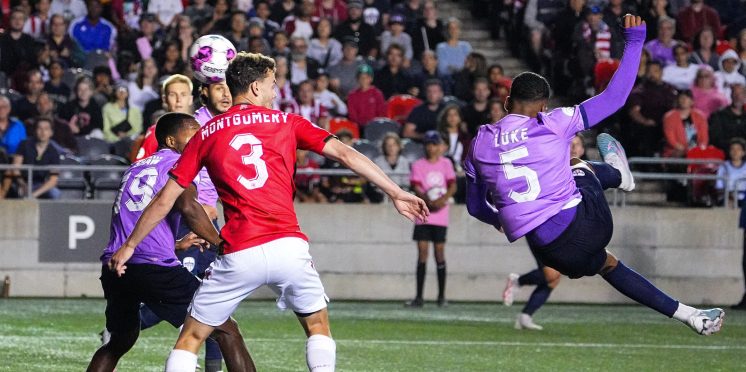 Canadian Premier League roundup: CPL Matchday 22 — York United silence Halifax, Cavalry steal late win in Ottawa
Drama. That's the word that best describes this past weekend in the Canadian Premier League.
Three of the four games on Labour Day long weekend were decided by one goal with two away sides grabbing really vital wins on their travels. With the CPL Playoffs on the horizon, results are getting more important by the week and we're seeing that come to life on the pitch.
Match of the Week: Atlético Ottawa 1-2 Cavalry FC
This one promised to deliver and it certainly did.
League-leading Cavalry FC rode out to the nation's capital on Saturday looking to maintain their four point gap over Pacific FC after the Tridents beat Valour earlier in the day. Tommy Wheeldon Jr's side got off to a positive start, controlling the tempo from the first whistle, seemingly not really missing Ali Musse or the recently sold Goteh Ntignee.
Sergio Camargo drew first blood for Cavalry at the end of the first half, neatly finishing past Ottleti keeper Nathan Ingham from inside the box, just as Atlético thought they could regroup at halftime with things still tied up.
The hosts grabbed hold of more of the ball in the second but didn't find enough ways to trouble Cavalry's three-man defence. Striker Sam Salter would come close to equalizing just before the hour mark but sent his shot too high over Marco Carducci's goal. Ottawa would be rewarded for their efforts in the 88th minute through an incredible Luke Singh volley off a corner kick and it seemed like things would end in a draw.
But not so fast.
Cavalry weren't about to settle for a point and instead kept their foot on the gas in the final seconds of the game. Following a Shamit Shome corner, William Akio would send a snap shot past Ingham, shocking the home crowd and giving Cavalry a third successive victory, winning all three by just one goal.
We've seen higher scoring matches in the CPL this season but perhaps none more thrilling than this one. An intense duel on the pitch made it seem like the playoffs arrived early in Ottawa and Cavalry's late winner was just the thing to take an already great match and turn it into one of the best games of the season.
And to make the occasion even sweeter for the Cavs? This was their first-ever win in Ottawa. Cavalry can now consider that demon exorcised, and what better time to get one over their bogey team than just over a month out from a potential playoff showdown.
Player of the Week: Woobens Pacius (Forge FC)
Woobens Pacius made this award his own this week recording a hat trick in Forge FC's 3-0 win over Vancouver FC.
After a decent start by the Eagles at home, Pacius got the game going with a header off of a Rezart Rama cross. Pacius aimed the ball to where VFC goalkeeper Callum Irving could not reach and put a great amount of power on the effort once he made contact.
The 22-year-old added another before the break after strike partner Terran Campbell played him through to beat Irving once more, this time with his foot.
And just minutes into the second half Pacius would notch his third of the afternoon from the spot after Campbell was taken down in the box by Rocco Romeo in the first action of the second period.
The three goals brought Pacius to seven on the season, almost doubling his tally in one match. He is now all of a sudden just three goals behind Golden Boot leaders Campbell and Atlético Ottawa's Ollie Bassett.
Goal of the Week: Luke Singh (Atlético Ottawa)
No debate here this week.
Scissor kick? Half volley? Volley? Whatever you want to call it, one thing is certain. This goal from Singh was gorgeous.
The strike gave Ottawa a short-lived equalizer, but the goal itself will go down as one of the season's best.
Stoppage Time
Pacific pulled out a result in the nick of time against seventh-placed Valour FC on Saturday. Like he always seems to do, Ayman Sellouf was the hero Pacific needed off the bench after a Matteo de Brienne leveller in the 77th minute cancelled out Adonijah Reid's first-half finish.
It looked like Valour would hold on to the surprising result but Pacific outclassed their visitors in the end, with their quality available off the substitutes bench ending up as the difference maker. Just about staying alive in the regular season title hunt, Pacific will probably need another three points in their upcoming coastal clash against Halifax if they are to keep up with Cavalry's impressive pace.
It might not have been the Match of the Week, but maybe York United's 2-1 win away to HFX Wanderers can be dubbed the result of the week.
Austin Ricci continued his hot form to close out the first half after Toronto FC loanee Jordan Perruzza scored his first CPL goal for HFX Wanderers.
Later on, York captain Roger Thompson put a header onto the post and past Yann Fillion to give York a lead to edge them over Halifax in the end.
Even though the Wanderers have enjoyed a tremendously successful season by any standard, that loss now has them sitting behind York and narrowly outside of the playoff picture since they have fewer wins than Martin Nash's squad.
It's going to be an absolutely wild end to the season so be sure to hold on tight and check back here for these weekly updates!
---
---