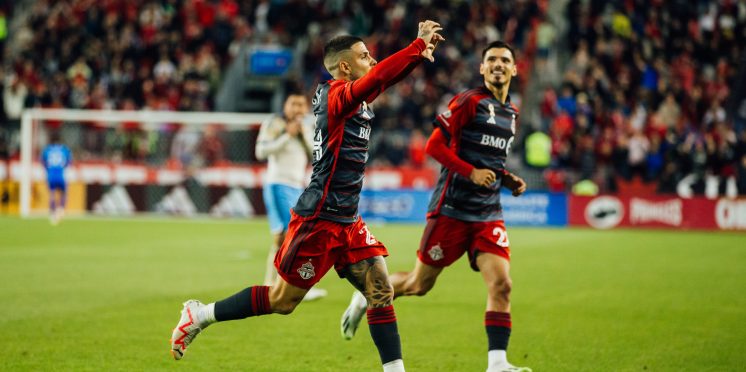 FT: Toronto FC 3-1 Philadelphia Union – Game thread, preview, how to watch
Live Thread:
FT – And that's that from BMO Field! TFC pull out a remarkable 3-1 victory over the Union!
90′ – Bueno is shown a red card instead of yellow for kicking out at Petretta.
90′ – The VAR booth has spotted something here. The referee is checking for a possible red card for violnent conduct.
90′ – Things get chippy in stoppage time with yellow cards shown to Bueno, Martinez and Insigne.
90′ – Glesnes is issued a yellow card after stopping a potential TFC counter attack.
90′ – Servania replaces Ibarra as TFC look to kill off the game.
89′ – Bernardeschi fluffs his shots after running through on goal! He's lucky TFC are already up by two because that was a big chance missed.
81′ – Torres enters the field in place of Gazdag while Donovan replaces Carranza.
80′ – Kerr receives a standing ovation from the BMO Field supporters after coming off the pitch for Vazquez.
80′ – The Union get a few good looks in front of Toronto's goal after a header from Elliott dings off the crossbar. Nothing comes from it in the end.
78′ – Vazquez is getting ready to come on for TFC.
76′ – Ibarra picks up a yellow for tugging down Gazdag. Philly with a free kick opportunity from the left side of the field.
69′ – Philadelphia are falling apart so they make a double change. Sullivan and Bueno enter the game for Bedoya and Uhre.
67′ – Kerr goes on the break and fires his shot off the post! TFC are buzzing.
65′ – Nearly a fourth from Bernardeschi! He puts Elliott on skates but his shot from inside the area just misses the near post.
63′ – GOAL TORONTO FC. Make that 3-1 TFC! Kobe Franklin crosses it into Osorio who heads in the goal.
58′ – GOAL TORONTO FC. After setting up Insigne in the first half, Kerr gets a goal himself in the second! Bernardeschi sets up the play down the right flank for the Canadian. Toronto take a 2-1 lead!
55′ – McGlynn takes one on from distance for Philly. The ball soars too high though.
49′ – Union midfielder Martinez receives treatment early on in the second half but looks set to carry on.
46′ – We're back underway after the break with things standing at 1-1.
HT – Drop your thoughts on that first half in the comments below!
HT – The halftime whistle blows with the score at 1-1.
45′ – Bernardeschi lets fly but his shot travels straight to Blake in goal.
45′ – GOAL PHILADELPHIA UNION. Carranza is at the far post to equalize for Philly. The goal stands after a check for offside.
42′ – Elliott gets another header off but it goes wide of the mark.
37′ – Bernardeschi crosses to Insigne who troubles Blake with his header. Corner TFC.
34′ – Philly make the game's first substitution as Flach exits the pitch for McGlynn.
29′ – Now the goalscorer Kerr goes down in a heap.
26′ – The game is put on pause as Insigne goes down in pain but he looks set to carry on here.
24′ – GOAL TORONTO FC. TFC take the lead through Insigne as Kerr feeds him inside the box!
21′ – Toronto's best chance of the game so far falls to Bernardeschi! He cuts in to shoot on his right from inside the box after being played in by Coello but sees his shot put out for a corner.
19′ – The balls rolls invitingly to Philly's Martinez but his powerful shot sails too high!
15′ – Bernardeschi drifts in from the right flank to take on a shot but his effort is deflected into the path of Blake in the Philly goal.
14′ – TFC will get their first corner kick opportunity of the match after a cross from Petretta is deflected over the goal line.
8′ – Carranza gets a shot off after getting on the end of a lofted through ball but he can't find the finish from close range! Another corner for Philly to come.
5′ – A free header for Elliott goes above the crossbar! Close call early on.
5′ – Carranza wins another corner for the Union as Bradley does some more defensive work inside TFC's penalty area.
3′ – A chance at the near post off another Philly corner. It goes out for a goal kick according to the match official though.
2′ – Some early pressure from the visitors as Gazdag wins his team's first corner of the game.
1′ – And we are off from BMO Field!
7:30 pm – Some more pregame snaps from Sean!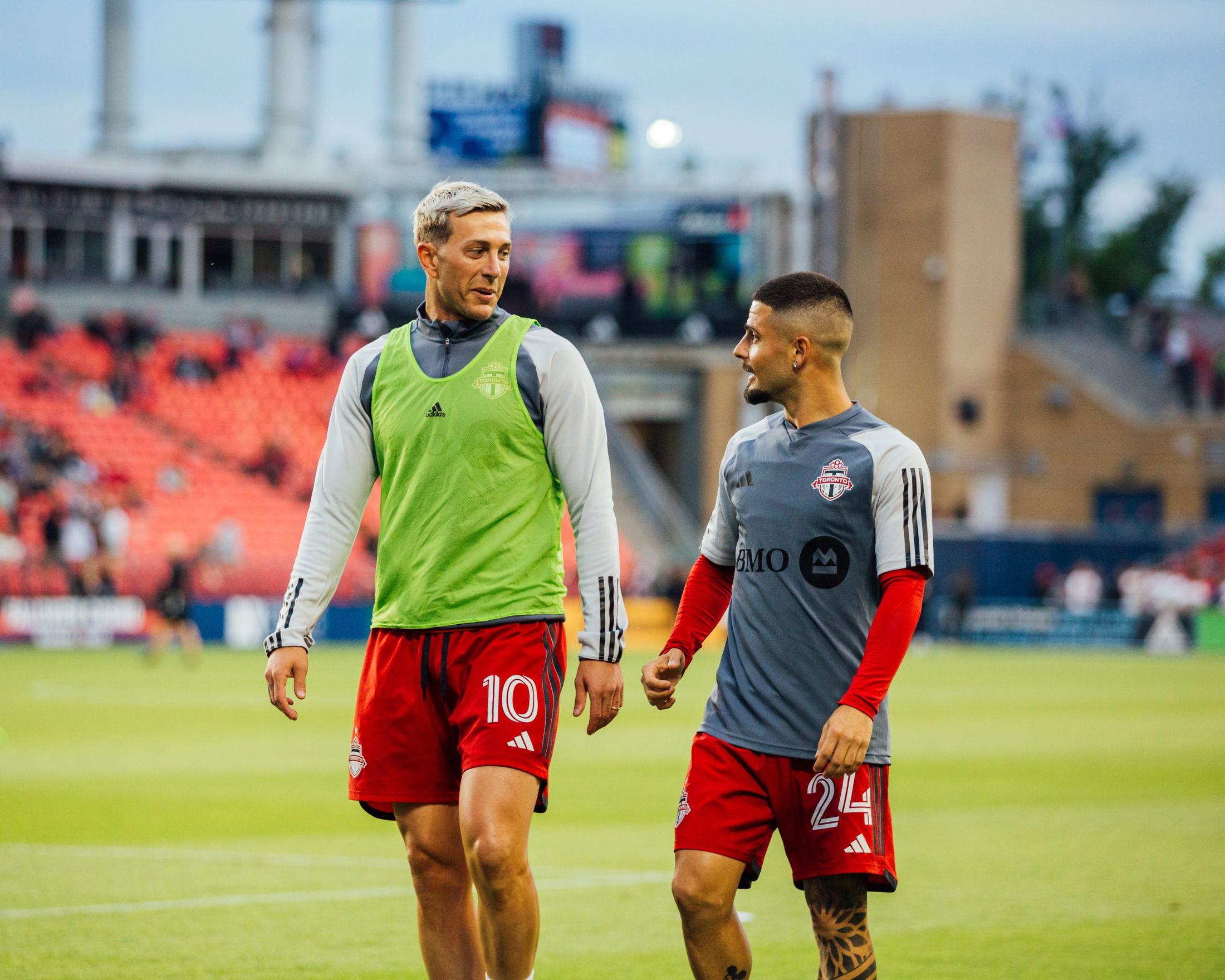 7:00 pm – John Herdman is of course in attendance for tonight's match, but just as a spectator. We'll have to wait a few more weeks until he mans the touchline.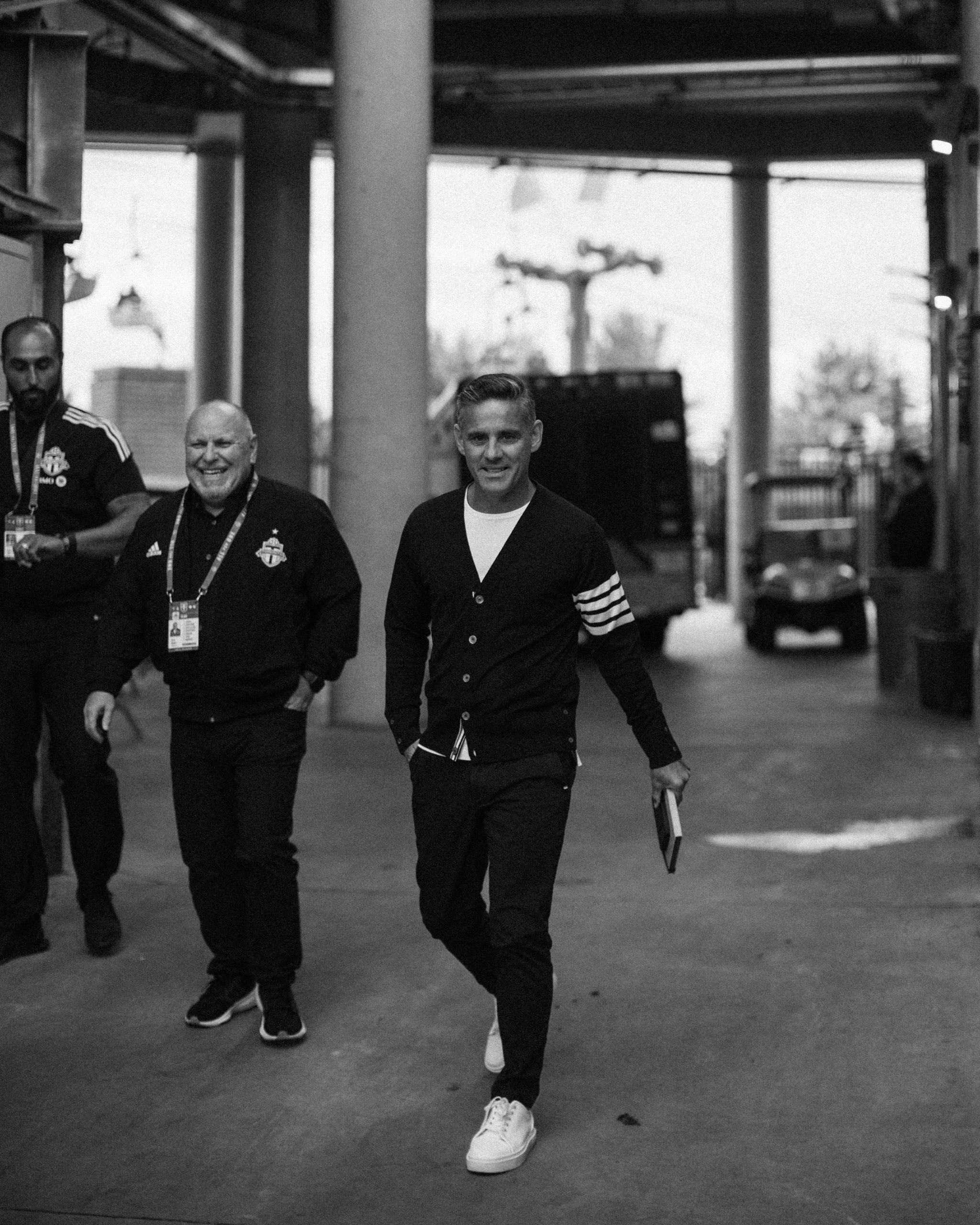 6:50 pm – Lineups are in! Bradley will line up in defence again while Kerr will play in-between the two Italian DPs. Osorio, Coello and Ibarra will make up the midfield three tonight.
Andre Blake starts between the sticks for the visiting Union with club captain Alejandro Bedoya starting in the middle of the pitch. Uhre and Carranza form the front two.
6:40 pm – Get those score predictions in here before kickoff! I'm going with a 3-1 loss but hey, anything can happen right?
6:35 pm – A Herdman-led era is on the horizon but for now, Toronto FC and interim head coach Terry Dunfield have a tough midweek matchup with the Philadelphia Union. Can the Reds end their 10-game losing skid against one of the league's top sides?
---
Starting XIs:
Toronto FC: Romero; Petretta, Bradley, Rosted, Franklin; Osorio, Coello, Ibarra; Insigne, Kerr, Bernardeschi
Philadelphia Union: Blake; Wagner, Elliott, Glesnes, Mbaizo; Flach, Martinez, Bedoya; Gazdag; Uhre, Carranza
---
Match Preview via Tomas Karageorgos:
Toronto FC are back home on the shores of Lake Ontario on Wednesday night to play the second-best team in the Eastern Conference, Jim Curtin's Philadelphia Union.
After TFC's 10th straight defeat on Saturday night, the Reds were very lucky to leave Columbus with only a 2-0 loss considering the Crew amassed 31 shot attempts.
TFC continues to make history for all the wrong reasons this season, and with eight games remaining, it isn't crazy to say that things may get worse.
On Monday, it was announced that John Herdman has been hired as Toronto FC's new head coach, though he won't take charge of the team until Sunday, October 1 — which would mean his first game at the helm would come against Charlotte FC.
Interim head coach Terry Dunfield will manage the squad for five more matches until Herdman, the former coach of both the Canadian men's and women's national teams steps into his first club management role.
Dunfield will have Raoul Petretta available for selection this week after the Italian defender served a one-game suspension for a red-card offense against CF Montréal which occurred on Sunday, August 20. German striker Prince Owusu and fellow new signing Cassius Mailula will not be available due to lower-leg injuries.
The Philadelphia Union are currently in the midst of yet another consistent season and will most likely finish top five in the Eastern Conference. Philly's defence is as solid as usual with captain and goalkeeper Andre Blake recording eight clean sheets so far this year, and the Union have only conceded 27 goals in 24 league matches. With left-back Kai Wagner typically on set piece duty, Philadelphia is always a threat on corner kicks and free kicks with centre-backs Jack Elliott and Jakob Glesnes who both stand over six feet tall.
The Union have won four of their last five games in all competitions, including an impressive Leagues Cup run that culminated with them beating CF Monterrey 3-0 in the third-place match, after running into Lionel Messi's unstoppable Inter Miami in the semi-final.
Philly's three Designated Players are meeting, maybe even exceeding, expectations as midfielder Dániel Gazdag, and strikers Julian Carranza and Mikael Uhre have scored 28 of Philadelphia's 42 MLS goals. Although TFC have only conceded one penalty in 2023, Gazdag is the Union's penalty kick-taker, and he is yet to miss a spot kick.
The team from the City of Brotherly Love was victorious this past weekend as they defeated D.C. United 3-1 in the nation's capital, with Gazdag and Uhre on the scoresheet.
This battle between TFC and the Union will be the second and final one of the season. The reverse fixture took place on Saturday, April 22 at Subaru Park where the hosts came out victorious by a score of 4-2. Goal scorers that night were Lorenzo Insigne and Richie Laryea.
---
Match Details:
Opponent: Philadelphia Union
Kickoff: 7:30 pm
Watch: TSN, Apple TV (free)
Stadium: BMO Field, Toronto, Ont.
---
---