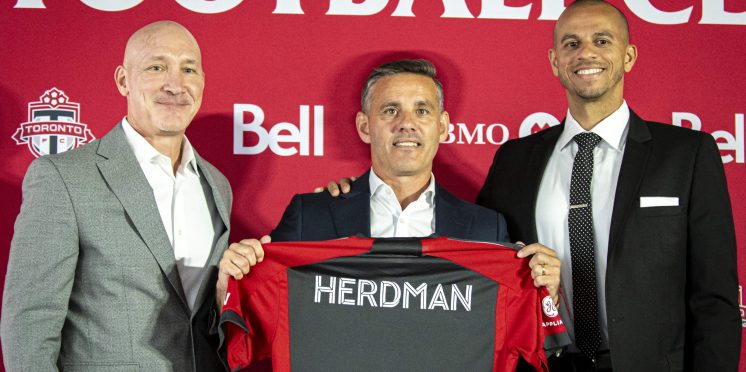 Nesker: John Herdman exactly what Toronto FC needs right now. Worry about the afters, after
I cannot believe I'm referencing this CanCon gem, repurposed as the opening theme of "Bachelor In Paradise: Canada" for what must be the 17th time this calendar year, in a soccer op-ed, no less. But it's been a weird one, so here we go:

What can I say? The tune is a banger and it speaks to me. Facts.
Let's face some more facts; it hasn't been a "good time" around Toronto FC for a "long time". Certainly, before the world changed forever as a consequence of a global pandemic, there were signs of trouble. An aging TFC roster on player-friendly and inflated deals is never a good thing, and there was little talk of any kind of succession plan.
A magical and unexpected run to the 2019 MLS Cup Final AND an equally surprising almost Supporters Shield in the first truncated Covid campaign of 2020 did much to eclipse these issues, but they were there, priming to explode. And then they did. All at once. Because of course.
Toronto FC finally crashed into the brick wall we could all see coming for years.
Since then, it's been a steady stream of big swings and huge misses, as the soul of our club slowly slipped away into darkness. Now, we find ourselves at (hopefully) rock bottom, taking another big swing.
Big swings is what we do. We are TFC. It's a huge part of our DNA and something that puts this club in rarified air. We should take some comfort that even here, at our lowest, we still have that in the locker. It may seem like it, but this, THIS, is positive proof that all is not lost.
That's why this John Herdman move makes sense. TFC doesn't do subtle. They have no inside voice.
Of course it's a bad look for Canada Soccer. Of course Herdman, ever the shrewd operator, is thinking for himself, Of course it's a PR move. Of course the cynics will see this as a hail-mary by Bill Manning to save his job, because it is. Of course.
That doesn't mean the move is unilaterally negative. Many things can be true at once.
What's beyond doubt is this team needs a reset, emphasis culturally. Funny enough, this is the one skill that John Herdman has proven himself to be elite. Forget about the rest of the noise, stop multitasking, and bask in the warm glow that the single most important factor in getting this club back on track has been addressed with the single best candidate in a crowded field.
Will Herdman be the guy to lead this club beyond this reset? Who knows? I don't even think the man himself has thought that far ahead. No doubt he'd like to, but, to his credit, this is a man who likes to live in the now.
Right now, he has an action list based on immediate challenges and, lucky for us, the skill-set and self belief to get it done, as he has before. What happens after that is both conjecture and gravy.
I know it's difficult, but I'm going to try to adopt that same bite-sized view as this team attempts to climb out of the basement of its own design. Baby steps.
John Herdman may not end up being here for a long time, but all signs point to at least a good time. Let's do our level best to enjoy the ride.
---
---