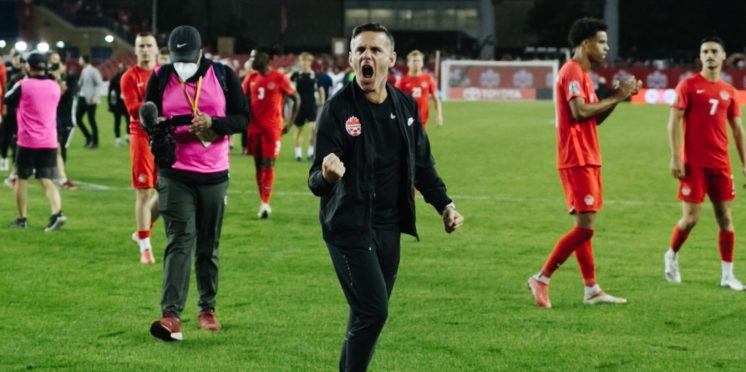 Toronto FC embarks on John Herdman era with TFC desperate for a culture reset
It's official. John Herdman is the new head coach of the Toronto FC. Let that sink in.
Herdman left his post as head coach of the Canadian men's national team and is set to take on the head coaching duties at TFC on October 1, before TFC play Charlotte and New York Red Bulls away and finish the season off at home against Orlando on October 21, when he'll get to meet the TFC faithful at BMO for the first time.
What does this mean for Toronto FC? Judging from the importance Herdman places on team culture, it means a complete paradigm shift for this team. Apart from the 2014-2020 Greg Vanney Era, TFC's history has been coloured by abject failure. What will this team look like under Herdman?
A New Ethos
Before the Vanney era, TFC had burned through eight head coaches in seven years. If nothing else, this team is looking for stability and thrives under it. Vanney would talk to the media for hours and was approachable. He assumed the "nice guy" role at the helm of the club and earned the moniker "The Gregfather". While his coaching style was somewhat predictable (65th-minute subs), it was consistent. Also, it needs to be said that winning often solves all of the problems seen in a locker room. Three MLS Cup Finals, one MLS Cup, a Supporters' Shield, a CONCACAF Champions League final, and three Voyageurs Cups melted away any issues.
Bob Bradley had a significantly different attitude towards the media. While he didn't have another "Get Lost, Get Lost!" moment with any journalists in Toronto, there was certainly an undertone of derision towards the concept of press conferences. The dysfunction was widely publicized before Bradley's departure. His relationship with his players seemed often adversarial.
Will Herdman's team look like the Canadian men's national team? Herdman built the concept of "Team Culture" into the mandate of the team. One of the hallmarks of his CanMNT was keeping "character" players around the team to ensure cohesiveness — players like Milan Borjan, Atiba Hutchinson, and Doniel Henry. While the results were not there at the World Cup, there was a clear identity with the national team. Herdman went as far as having a sword engraved with the Latin phrase 'Nihil timendum est', (Fear Nothing). Perhaps a talisman like this sword will be in TFC's future.
Toronto's team culture has been widely criticized for being full of cliques, divisive, and dysfunctional. The club's motto, "All for One", has all but disappeared from the team vernacular. "All for themselves" seems like a more appropriate phrase to describe the personalities on the team. Herdman will have to tiptoe the fine line between Authoritarian and Confidant, which is not easy. It requires a buy-in from the players, which might not be possible with the current roster construction.
New Personnel 
It's already started. Newly promoted General Manager Jason Hernandez has been tasked with a clean out and tear down of the roster, which has a distinctive youth movement with recent signings Cassius Mailula and Prince Owusu and offloading Matt Hedges and Mark-Anthony Kaye. MLS has evolved and is not a league built on just high-priced talent combined with marginal MLS talent. Ali Curtis and Bob Bradley, under the supervision of Bill Manning, tried to make it work with the old philosophy. It clearly didn't work.
What will John Herdman be allowed to do with the roster? One would hope that Herdman will have a significant amount of input into the upcoming rebuild of Toronto FC. Something to consider – Herdman is plugged into the young Canadian Soccer International pipeline and has the connection to many Canadians currently playing overseas. For instance, how easy would it be for a player like Derek Cornelius or Theo Corbaenu to return to Canada to play for a familiar face like Herdman? With the allure of a World Cup being in Toronto in 2026, it is not out of the realm of possibility of stacking the TFC roster with a bunch of Canadian internationals. Vancouver and Montréal have been stockpiling Canadians for a while, so why is it not Toronto's turn?
New Connections with the Supporters
Make the team fun again! Ensure the fan experience is not about the losing culture and the dark cloud hanging over the stands. Herdman needs to lead from the front and not follow whoever is in charge of this club. Push the club to spend a bit of money for giveaways before and after the match. Who doesn't want a toque at the last match of the season? These things matter to supporters. Try to connect with the fans to make them feel wanted. There's a lot to be said about watching Herdman sprint around BMO Field jubilantly after qualifying for the 2022 World Cup with a statement win over Jamaica. He's a gregarious individual and should be allowed to be out and about with the supporters to make that connection. 
Will another big-name coach work? Maybe – but Herdman has his work cut out for him. Not everyone believes he's the right person for the job. Herdman has never coached at a senior club before. 
This team has been rudderless for a long time now. Perhaps Herdman is what this team needs; a strong personality to be a leader while not isolating players. He found that magic with the Canadian national teams and his record backs up this claim. It appears that Bill Manning's job security is tied directly to the ability of John Herdman to turn Toronto FC into a winning franchise once again. Many supporters are hoping this arrangement works out, as it might be impossible to recover from yet another rebuild in two years.
---
---