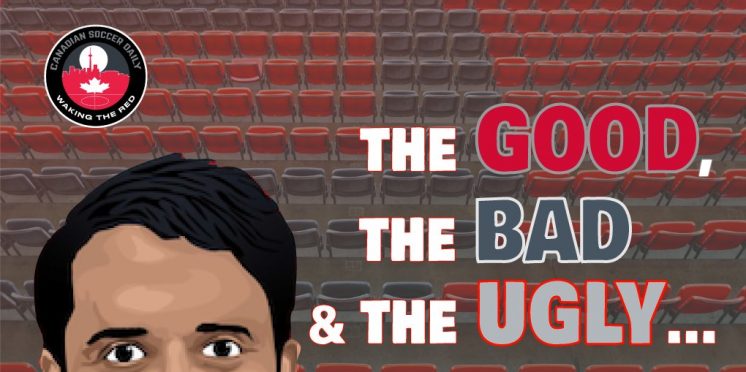 The Good, the Bad, and the Ugly — Columbus Crew 2 – 0 Toronto FC
Another L = LMAO. LMFAO. LOL.
"Rock bottom" is a myth, because we all know that UNDER those jagged rocks is a layer of muddy sediment under pressure. Are we there yet?
This club, man. What a ride.
THE GOOD
Cassius Mailula. Kid's RAPID and looks electric out there. Already feel bad for him… Seeing Rudy Camacho on the C-Bus starting lineup (in his debut, no less) gave me a sly smile; he's usually good for a massive error that leads to a good chance for us, maybe even one of those own goal thingamajigs, alas… MB4 at CB; made some good clearances and was generally our best central defender out there, which is so weird because we've done this before. We've done this a lot:
Darlington Nagbe. What a player. Love watching him cook. Diego Rossi, this week's example to the Reds that you. play. to. the. whistle. and stop. giving. up. on. plays.
Wilfred Nancy is a superb coach, so yes, they do exist… Terry Dunfield is really leaning into his "hoodie-man" persona… At least the toxic sludge in the sub-basement that is all that remains of our brief run as an actual soccer club allows us to generate tweets like this one:
MB4, Mr. 300:
THE BAD
Oso's disappearing act… Comical regression in skills and soccer smarts from the entire team… Not that I'm complaining, but what happened to Raoul Petretta and Sigurd Rosted?… LOL, add another new striker to the pile of "What/Where/How/Ahahahahahaha"… More backroom drama and no, it's not a giant conspiracy by the Athletic to destroy us, we do it to ourselves, we do, and that's what really hurts… MB4 at CB was EASILY our best central defender, and had the best engine on the pitch, which is beyond hilarious. The man just returned from a long injury and he has more in the tank?… Tomás Romero isn't the guy. Not even close… Sure, we generated some good looks but with finishing like that, does it matter?…
Complete, utter, hopelessness:
The DPs refusing to even try to play with anyone else…The team selection, game plan, and substitutions. Bring VV on but take Lorenzo off? OK, boss.
THE UGLY
Breaking all the wrong records:
TFC cast-off scores the dagger; becoming commonplace. Come on down, Jacen Russell-Rowe, you're the next contestant on "Pain and Regret":
Wooden Spoon, HERE WE COME:
How does the lion's share of this club's staff still have a job? This is WOEFUL. The "Energy Kit" is cursed, y'all:
This exchange from the WTR/CSD Slack chat:
JPN: "This Roster is so badly constructed AND Injured"
ANON: "This Roster is so badly constructed AND Injured – Bob Bradley's legacy"
---
---