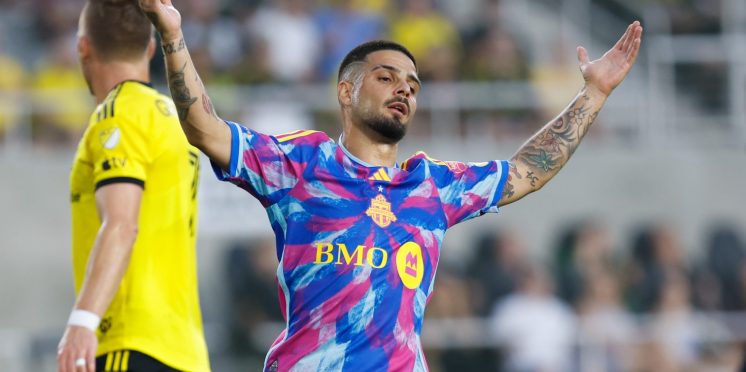 Toronto FC can't bring the 'energy' in Columbus, lose 10th game in a row
Toronto FC made some club history on Saturday night in their 2-0 loss to the Columbus Crew, for all the wrong reasons.
The Reds have now lost 10 matches in a row, and are winless in their last 13 matches.
TFC faced a barrage of shots throughout the 90 minutes, as Columbus registered 31 attempts with eight of them hitting the target. The scoreline flatters TFC, as they could have lost by a much larger margin considering the number of quality cracks at goal Columbus produced. Colombian striker Cucho Hernández and his partner up front, Christian Ramirez took combined for 19 shots alone.
"It was another difficult result. Again, a similar story to our previous matches," said interim head coach Terry Dunfield. "The goals we conceded were unnecessary and we're better than that in those moments. I thought tonight, against a very good side in Columbus, we created five or six very good opportunities and we should score one or two."
The one or two chances that Dunfield referenced both occurred in the first half. Just five minutes in, CJ Sapong was through on goal but the American striker could not convert on the golden opportunity. Lorenzo Insigne — who started Saturday night, despite reports of a bust up with Dunfield at training on Thursday — struck the ball convincingly with force but the woodwork stood in its way, Crew goalkeeper Patrick Schulte stood no chance of saving that one had it gone in.
Four minutes prior to the Insigne chance, Columbus opened the scoring through Diego Rossi. The former LAFC man opened his account for his new MLS club by reacting quickest to a parried save by TFC 'keeper Tomás Romero.
Captain Michael Bradley made his 300th appearance for the club on Saturday and spent it playing centre-back with Shane O'Neill. It was definitely an unconventional pairing, and some miscommunications between the two anchors and Romero led to many attempts on net from the Crew. Bradley has played centre-back for the club many times over the years, but it was not the role TFC fans would've expected to see him in on his milestone night.
"He's one of the best players to play in MLS. He led TFC to the top of the mountain when we were there for three years. What stands out to me about Michael is that it's never about Michael, it's always about the club. He's just such a top professional and leader," said Dunfield. "I think his skillset suits the position at certain moments. I thought he brought us stability on the ball, the way he reads the game helps us."
On the other side of the spectrum, Dunfield is giving numerous opportunities to young players during his time in charge. Kobe Franklin, Alonso Coello and Themi Antonoglou all started, while Deandre Kerr and Kosi Thompson made substitute appearances.
"I think with each play they make, they start to earn trust, not only with themselves but trust and credit with their teammates," Dunfield said. "I thought today in particular Themi and Kobe were excellent at fullback. They never shied away from making a play, with and without the ball."
Dunfield made a double substitution in the 64th minute, taking off Insigne and Coello for Victor Vázquez and debutant Cassius Mailula.
"I thought in transition [Mailula] was excellent. He protects the ball when he receives it. I think the more training he gets under his belt, the more sharpness we'll see in and around the box. I thought he worked hard to step out and press defensively at times. It was a pleasing debut," Dunfield summarised.
Mailula showed moments of promise and positivity when going forward and pressing the opposition in a collective effort with his teammates.
"First of all I'd like to thank the club and the coach also for giving me the opportunity, it felt great to be out there and to play away because I know it's always tough," Mailula said.
The South African came very close to scoring his first goal with the team on his first touch of the game. As the second half elapsed, he found himself interchanging with attacker Deandre Kerr amongst the front three.
"I always give myself a chance by being in the right positions," said Mailula. "I am able to play anywhere in the front three, I feel comfortable. I actually saw that in this game that we needed someone who was going to hold the ball for us up front because when we kept the ball we were doing much better. I feel like we could've done better in the second half by scoring at least one. It's a process, it's not easy but we will get there."
Toronto FC's new German striker, Prince Owusu, made his debut against CF Montréal last weekend but was not in the squad Saturday night in Columbus. Dunfield confirmed post-match that Owusu was dealing with a lower body injury and was being assessed.
Canadian striker and former TFC Academy product Jacen Russell-Rowe put the final nail in the coffin late in the second half. The Reds fell asleep at the back as a long ball from Schulte bounced into the final third and over the defenders – JRR was able to score the much-needed insurance goal for the Crew.
As is his character, Dunfield continued to look on the positive side of things during arguably the worst season in club history.
"My message after the game was 'thank you for your efforts.' I thought our boys worked their asses off, as we have done for the past nine weeks. If we keep creating opportunities like that, we're going to start scoring."
"The biggest thing that gives us hope right now is that collectively we're becoming difficult to beat. The goals that we give up right now are individual errors. I'd say as a team, we're organised defensively, we're now becoming a threat in transition. I think consistently from where we were nine weeks ago, we're creating five, six good chances that we need to take," Dunfield added.
TFC will have very little time to lick their wounds as they welcome the Philadelphia Union to town this Wednesday at BMO Field. Kick-off is set for 7:30 p.m. ET.
---
---