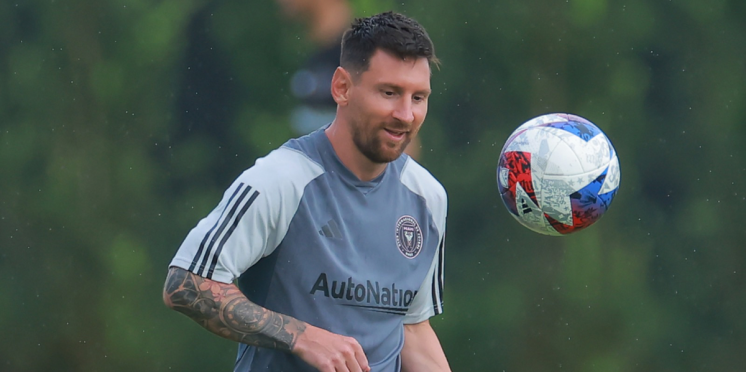 MLS clubs refuse to install natural-grass pitch for Lionel Messi's Inter Miami visit
There was a time when our beloved Toronto FC played on artificial turf. If not for a 2009 visit from Cristiano Ronaldo's Real Madrid, TFC may have played on the green plastic for many more years.
Lionel Messi's unexpected, and still surreal, move to Inter Miami sparked a million questions when the Argentine superstar verbally committed to David Beckham's MLS project. One of the biggest was, will he play on turf?
The simply answer seems to be, "f*** no."
When the Inter Miami superstar does step onto the pitch in America, it won't be on artificial turf, according to MLS insiders.
Sucks for any Vancouver Whitecaps fans that were hoping to see Messi at BC Place next season, should the fixture list makers bless the club made famous for selling Alphonso Davies to Bayern Munich with a match against Major League Soccer's most talked about club.
Messi's official stance on playing on artificial turf undisclosed. He has refrained from explicitly stating his position. Since his arrival in the States, he has not engaged in any interviews with local or national media outlets.
Atlanta United, one of the six MLS clubs that play on synthetic grass, has no intention of switching to a natural-grass pitch when the Argentine star visits Mercedes-Benz Stadium on September 16th. The downtown Atlanta venue has never embraced grass throughout its six-year existence.
Charlotte FC, scheduled to play at Bank of America Stadium on October 21 against Inter Miami has no plans to install natural grass for the contest either.
"All of our Major League Soccer matches are scheduled to be played on turf," a Charlotte FC spokesperson said via email to The Charlotte Observer, "and there is no plan to change to natural grass."
"When I was first taken to BMO Field and saw the pitch from afar, I couldn't believe how green it was. It looked like Wembley!" TFC legend Danny Dichio said on a 2020 episode of Footy Prime the podcast with Craig Forrest and James Sharman. "As I got closer and emerged from the tunnel, I couldn't believe it. I turned to [the handler] and yelled 'is that f***ing turf?!?!' Mo [Johnston] conveniently left that out of our conversation when I signed."
Turf has been a sticking point for European based players for years, and the reality is in North America with the climate and range of weather in some markets during the course of a full season, it will be impossible to ever eliminate turf completely.
---
---