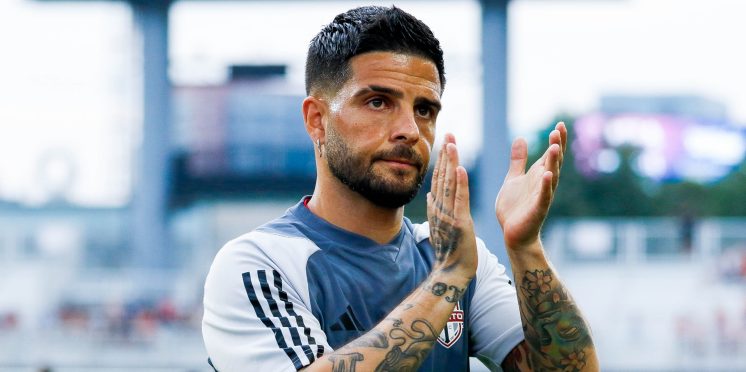 Toronto FC star Lorenzo Insigne signs with new big-name agency amid reports of mutual Saudi Arabia interest
Published: July 3, 10:05 a.m. ET
Updated: July 4, 11:49 a.m. ET
Is Lorenzo Insigne looking for a way out of Toronto FC? It's been one of the hotly debated off-field questions at TFC in 2023 (along with the many questions posed by what's been happening on the pitch).
We still don't really have a clear answer.
The noises from Insigne's camp and from other folks connected to the club have been that the Italian is happy at BMO Field. But of course that's the party line. We're not saying that means it's not true, but we're also not saying that means it is true, either.
So, what should we make of the news, reported by the sleepless and omnipresent Fabrizio Romano, that Insigne has changed representation, leaving his previous agent Vincenzo Pisacane of Gev Sport & Management and signing with large agency firm CAA Stellar?
CAA Stellar are one of the premier agency firms for soccer stars worldwide. Led by names you may recognize like Jonathan Barnett and David Manasseh, just some of the top-tier plays on their roster include Manchester City and England pair Jack Grealish and Kalvin Phillips, Real Madrid midfielder Eduardo Camavinga, Manchester United and England left-back Luke Shaw, Liverpool centre-back Ibrahima Konaté, and many more.
They're also already pretty active in Major League Soccer, representing mostly young talents. The likes of Real Salt Lake's Pablo Ruiz, Portland Timbers' Paraguayan international Cristhian Paredes, LAFC playmaker Mateusz Bogusz, and many more are on CAA Stellar's books. There are also some names that will be very familiar to TFC fans: Insigne's Reds teammate Deandre Kerr, former TFC winger Jacob Shaffelburg, and Vancouver Whitecaps star Julian Gressel.
But what does it all mean? It's difficult to know for sure at this point. As we said, the party line from both Insigne and TFC has been that it's all chocolate boxes and roses.
After a report emerged in Turkish media in March that Insigne was unhappy with life in Toronto and would toy with the idea of following in his former Napoli teammate Dries Mertens' footsteps by moving to Galatasaray amid reported interest from the Turkish giants, a TFC front-office figure branded the talk "just silly rumours." Then-head coach Bob Bradley came out swinging just days later, asserting that "when rumours pop up — and nobody really does much to check sources and stuff like that — that's just not stuff that we usually think about or talk about."
At that time, Insigne was sidelined with an early-season injury issue that rumbled on and on for weeks, and there was undoubtedly a great deal of frustration from all corners — for Insigne, for Bradley, and for the fans.
Then, in late May, amid the public airing of dirty laundry between Bradley and Insigne's compatriot Federico Bernardeschi, Insigne told the media in a rare public address that "I'm very happy with the club, I've always been happy with the club." He added that he was also happy with Bradley and did not argue with his head coach. Whether that part was true or not, well, it doesn't really matter anymore, does it?
Insigne, who had been handed the captain's armband for the win over D.C. United that day, stressed that his family are also happy in Toronto, despite admitting that "I didn't expect MLS to be as difficult as it is."
So, it sounds like all's well. The only spanner in the works is that you don't ditch your current agent and sign with one of the world's leading firms if you're entirely happy with your situation, do you?
Perhaps it's simply a case of money. CAA Stellar are well-known for their ability to get their clients a big payday. Just look at, say Kalvin Phillips, who gets paid a whole lot of money for going for the occasional 10-minute stroll on the Etihad pitch. Insigne may want his financial situation addressed, given that he is no longer the highest-paid player in MLS and is thought to be earning roughly half of what he was making in 2022.
Or, maybe it's something more. We may find some clues over the coming weeks; CAA Stellar have the kind of influence that can lead to leaked lines to media and the fueling of the kind of media frenzy that eventually earns their clients (and the agents themselves) a big payday.
For what it's worth, another Italian transfer reporter, Nicolò Schira, is now reporting that Insigne does indeed want to leave Toronto, and is in talks with a club in Saudia Arabia to become the next big name to suddenly become very interested in the Middle Eastern soccer landscape. It's getting to the point where many TFC fans would suggest it could be a match made in heaven; or, at the very least, a welcome case of out of sight, out of mind.
TFC fans and coaching staff have already had to get used to life without Insigne for much of his time in Toronto since he officially arrived last summer, and it's well-known that the cap space taken up by him and his Italian compatriot Federico Bernardeschi leaves the Reds with little room to manoeuvre financially, even with Insigne's trimmed salary. You can only go by the evidence in front of your eyes and ears. Despite the public cries of contentment, be honest: would Insigne exiting at some point in the coming weeks really surprise you all that much?
For now, from their own perspective, the TFC brass have more pressing transfer matters to attend to. Bill Manning is working in the background trying to get a deal done for CanMNT and veritable BMO Field fan favourite right-back Richie Laryea to stay on the lakeshore. The president told Luke Wileman on Saturday that TFC will try to get a deal done in the next 72 hours or move on. Since then, more than half of that timespan has elapsed without a public update.
---
---