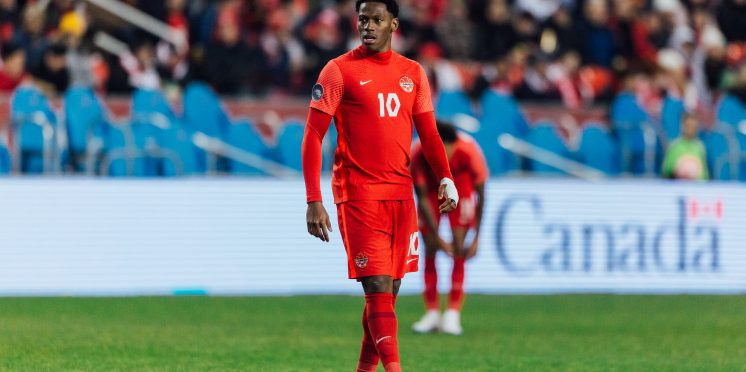 Breaking down the Canada squad for the Nations League Finals
With just eight days to spare John Herdman dropped his 23-man roster for the Canada's upcoming CONCACAF Nations League Finals campaign. Should Canada prevail against Panama in their semi-final, they would face the winner of the other fixture between the United States and Mexico on June 18, 2023. The core of the CanMNT from the past two years is here, as expected.
But it cannot be said Herdman strictly stayed loyal to his trusted veterans when he has three uncapped players in the squad – Tom McGill, Dominick Zator, and Victor Loturi. Conversely, one cannot say a youth movement is afoot when Atiba Hutchinson, Junior Hoilett, and David Wotherspoon are included.
There are no shocking surprises sprung by Herdman in this roster. In other words, there are no new names to add to the CanMNT pool that were not called up previously. All three uncapped players, the aforementioned McGill, Zator, and Loturi, were involved in the recent March camp.
Three players who have worked hard to impress Herdman over the past year are Cornelius, Zator, and Loturi. These three players are deserving of their call–ups after finding new European clubs to showcase their abilities.
No one should be surprised or disappointed that Aidan Morris has taken a pass on his CanMNT invite. Unlike other actual or would-be prospective CanMNT players, there was little excitement emanating from Morris since his inclusion on Canada's preliminary 53-man Gold Cup squad. This is not to say he may have a change of heart in the future.
Morris is just 21 and many past and present dual nationals, such as Junior Hoilett and Steven Vitoria took some time to arrive at their decisions. But in all likelihood, Morris will be cap-tied by the US for the Gold Cup that quickly follows the Nations League. As John Herdman stated in Wednesday's media availability, "we've had long conversations with Aidan… He understands the Canada opportunity but his heart is with the USA "
The inclusion of midfielders Jonathan Osorio and David Wotherspoon may have raised a few eyebrows this time around. When healthy Osorio easily slides into the team and is arguably the CanMNT's best attacking midfielder. But Osorio has been injured with a knee ligament issue and although back to training with Toronto FC last week he has not seen a competitive minute since April 23, 2023.
Wotherspoon has been back to playing, albeit sparingly, since recovering from his ACL knee injury last fall. However, the left-footed midfielder has no goals and a single assist in his last 38 matches for club and country covering the past two seasons. Wotherspoon's contract with Ross County expires at the end of the month.
There were several notable omissions to this roster. It has been quite a while since a healthy Mark-Anthony Kaye has not been called into squad. Kaye has been somewhat of a lightning rod for disaffected fans of his struggling club Toronto FC. However, his numbers tell us a different story. For example, Kaye currently leads MLS in tackles won with 46. His next closest competitor in this statistic, Aidan Morris, lags behind with 37 tackles won. Yet many CanMNT fans lament Morris not committing to Canada when no one knew he was eligible until last month, and celebrate that Kaye was not selected to the team.
For many supporters, it was disappointing that CF Montreal midfielder Mathieu Choinière was again overlooked by Herdman. Choinière has been an effective, versatile player for his club over the past three seasons playing anywhere from left wing-back, left midfield, and now returning to his more familiar role as a central midfielder. Named to the MLS Team of the Matchday on a couple of occasions this spring, Choinière may be a more likely candidate for the upcoming Gold Cup squad.
Four familiar names missing in today's announcement are midfielder Samuel Piette, winger Liam Millar, and strikers Iké Ugbo and Ayo Akinola. Piette has been out with an injury for most of the current season but the other three have been out of form for an extended period of time.
From this roster, it can be deduced that Herdman is looking at deploying a three-man back-line with a midfield trio and dual wingers and strikers for the two games. Expect Milan Borjan to start in goal, with Vitoria at centre-back and Alistair Johnston at his accustomed right-sided centre-back.
Goalkeepers Dayne St Clair and McGill are not likely to see any Nations League minutes. Zator appears to be the stand-in for Johnston, should the latter's late-season injury issue re-appear. Sam Adekugbe and Richie Laryea, full-backs who love to attack on the wing, will see action off the bench wherever or whenever Herdman feels a tactical adjustment is required.
Who will get the nod as the left-sided centre-back beckons a debate between Kamal Miller, Scott Kennedy, and Derek Cornelius over who claims the role. Kennedy is healthy again and played well despite his club Jahn Regensburg being relegated. Miller had been experiencing a dip in form this season but has been better since his move to Inter Miami earlier this spring. Cornelius has been a rock for new club Malmö FF in Sweden's Allsvenskan and deserves a look but came out injured in the 25th minute in his last game a few days ago.
There is no debate that the strike pair will be Jonathan David, who finished his season scoring 26 goals for Lille OSC in all competitions, and Cyle Larin, whose heroic winter move to Real Valladolid almost saved his club from La Liga relegation with his eleven goal contributions in 19 matches. If healthy, and word is they are recovered from recent injuries, the wingers will be Tajon Buchanan on the right and Alphonso Davies on the left. Lucas Cavallini rounds out Herdman's striker contingent and will likely be deployed off the bench when necessary.
Like the back line, Canada's midfield has two spots pencilled in for Stephen Eustáquio and Ismaël Koné. Osorio would often occupy the more advanced midfield role but it remains a mystery as to whether he is well enough to play, let alone start. Nominally a winger, Hoilett could take the role as he has become a positional jackknife of sorts for Herdman. Including a couple of World Cup starts in Qatar, Canadian legend Atiba Hutchinson has only started and gone beyond 45 minutes three times since October 2022, and has been on the bench for all but one minute since February. This leaves Wotherspoon who has not enjoyed much success since his own return from injury, and Loturi who is yet to be capped.
John Herdman and his CanMNT squad are coming in to these Nations League matches confident and eager to bring home silverware for the first time since the 2000 Gold Cup.
---
---