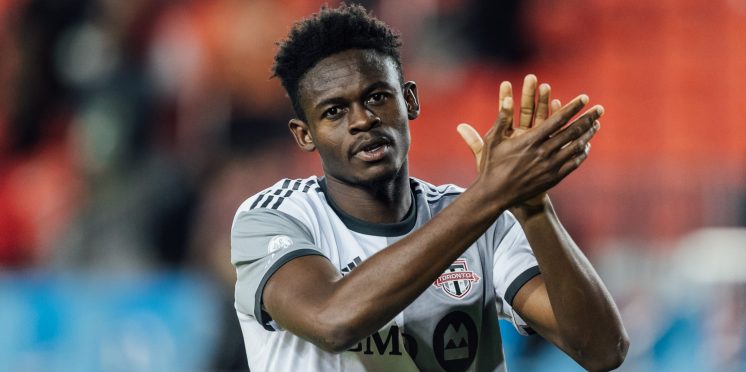 Toronto FC concede 89th-minute goal in Minnesota to remain winless on the road
If you are a glass-half-full type of person, you are probably somewhat content with the past few matches that Toronto FC have played. The Reds extended their unbeaten streak to three with a 1-1 draw away to Minnesota United on Saturday night after conceding yet another late goal.
"When you work that hard, you want to take the three points, especially when you consider the tough stretch we've been through," TFC head coach Bob Bradley said post-match. "On that end, there's real disappointment there tonight. It's just a matter of dealing with some plays, they're sending numbers forward. Our ability to either stop a cross, defend a little bit better when the first ball got cleared, that kind of thing. It allowed them to keep the pressure on. Yeah, tough one."
Lorenzo Insigne put Toronto FC in front just before the hour mark with his second MLS goal of this season, and who else but CanMNT wing-back Richie Laryea was there to provide the assist.
But just like in Austin two weeks ago, the Reds dropped points yet again on the road. Minnesota Midfielder Kervin Arriaga was substituted into the match in the 65th minute and would score the tying goal with just two minutes to spare in regular time.
Moments before Arriaga's equalizer, Aimé Mabika made his second goal-line clearance of the match. One of his many impactful actions on the night for his side – if it weren't for him, Toronto would have most likely left the Twin Cities with zero points to show for their efforts. TFC failed to get the ball out of their own end, Sean Johnson made a marvellous save off a header only to see the ball go to Arriaga who sidestepped two defenders and benefited from a deflection to put Minnesota on the scoresheet.
"Aimé has shown that he is a real competitor – he's smart, he picks things up very quickly. His presence on the field and his commitment, just the way he's been able to make defensive plays over and over. Whether it's tracking a guy, whether it's covering behind him or whether it's winning some balls in the air. All these things, he has done really well," Bradley of the Zambian defender's efforts.
Bradley opted to start C.J. Sapong in between Insigne and Bernardeschi and made two substitutions to begin the second half: Brandon Servania and Deandre Kerr checked in for Jahkeele Marshall-Rutty and Kosi Thompson. Federico Bernardeschi moved into the centre of the park and Kerr was put on the right wing.
"Kosi and Jack have put in a lot of minutes lately," Bradley said. "I thought that we needed to also get Brandon [Servania] in so that he could work a little deeper with Mark [Anthony-Kaye]. In the first half, [Franco] Fragapane was following Mark a little bit and I thought that we'd have greater success with two [defensive midfielders] there. I thought that it would be positive to get Federico [Bernardeschi] underneath C.J. [Sapong] a little bit more, he's also played a lot of minutes. I tried to see if we could get him in some positions where he could either get us a real chance to score or make the right pass. I was hoping that Deandre [Kerr] could give us a little speed and threat on the right side."
When asked if Bernardeschi being moved to more of a central position could turn into a permanent thing, Bradley briefly divulged his thought process.
"I think we like to have some tactical flexibility. Sometimes when you have injuries, your ability to do different things is limited. It's important that we continue to have some different ideas. We certainly know that our ability to create more chances is important, and you look for all the ways that we can improve in that regard," said Bradley.
After the tough result at Allianz Field, Mabika thoroughly explained his thoughts on the performance, and the recent stretch of games.
"I thought we worked really hard, the team did really well and didn't give too much away. It's an MLS game on the road, a point isn't the worst thing ever – it's three games unbeaten now. For anyone that's watching, you can see the semblance of what looks like a team in my opinion."
TFC withstood a barrage of Minnesota chances in stoppage time as the hosts looked determined to find a match-winning goal. Instead, TFC left the North Star State with their league-high ninth draw of the season.
"When you look at our points compared to our performances, I think there's a lot of points that we've left on the table, we're not the only team that has happened to. That little missing touch on the road, we lead for 88 minutes of the game and drop two points. At the end of the day, we do have to be disappointed in ourselves because I don't think we play for draws. In terms of the performances, I think if we keep going on this road, it's more sustainable," said Mabika.
In the 57th minute, Matt Hedges limped off with some sort of injury. His replacement was Sigurd Rosted who made his first appearance since suffering a rib injury on May 9th.
"With all the games, he has had a bit of a lower leg issue. Obviously at a certain point in a game depending upon how it is going, it might start to limit him. That's why he felt he needed to come off," said Bradley about Hedges.
Defensive errors costing the team points seems to be a theme this season for Toronto FC, and the team absorbed tremendous amounts of pressure for the final 30 minutes of the match.
"Ideally when you go up a goal, you want to keep doing everything that you had been doing before. As the game goes on, the other team starts sending numbers forward and they leave some spaces in behind. Unfortunately we weren't able to capitalise on some of our transition moments when we were 2v2 or 3v3. We knew at some point in this game we were going to have to dig deep," Mabika said.
"We made a couple of fouls in bad positions. When we got the ball, we needed to find a way to play up the field and move out. They kept us deep, and so the set pieces add up. That leads to a lot of pressure that we dealt with late," Bradley said.
Toronto FC does not have much time to dwell on failing to pick up all three points, as they host the second-best team in the league, Nashville SC at BMO Field next Saturday.
This will be the first time back at BMO for Canadians and former TFC players, Jacob Shaffelburg and Lukas MacNaughton.
"They're on a great run, they've been one of the better teams in the league. They have the reigning MVP [Hany Mukhtar]. They have really good players, but so do we. We expect a really good game," said Mabika.
The battle against the boys from Tennessee is set for kick-off at 7:30 p.m.
---
---