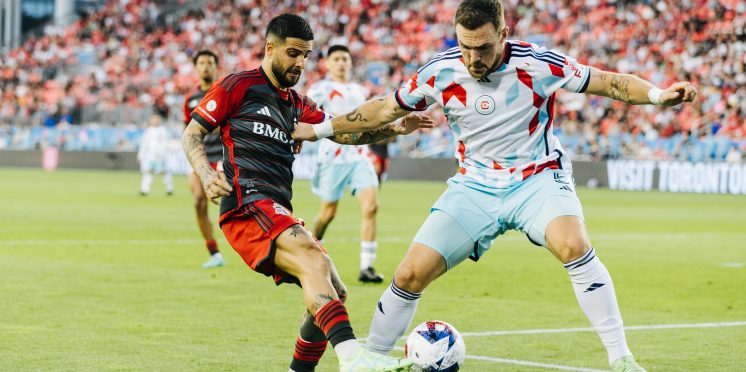 FT: Toronto FC 0-0 Chicago Fire – Game thread, preview, how to watch
Live Thread
FT – Final score 0-0.
90+4′ – TFC on the counter-attack as Insigne makes an excellent run down the left, but is unable to find anyone in the box to put away his cross.
90+1′ – Five minutes of stoppage time!
90′ CHICAGO SUBSTITUTION – Young international Jairo Torres comes in for midfielder Maren Haile-Selassie.
85′ TORONTO SUBSTITUTION – Federico Bernardeschi recieves a thunderous applause as he's brought out of the match for Hugo Mbongue and Jahkeele Marshall-Rutty makes way for Jordan Perruzza.
82′ – Insigne has his shot blocked by Alonso Aceves who is knocked down and the ref stops the play so Aceves can receive treatment.
80′ – Truth.
79′ – Federico Bernardeschi on a counter-attack is unable to create anything.
76′ CHICAGO SUBSTITUTION – Alonso Aceves and Fabian Herbers come in to the game for Gastón Giménez and Miguel Navarro.
64′ CHICAGO SUBSTITUTION – The dangerous Kacper Przybyłko comes in for Kei Kamara who appeared to be handled most of the evening by the Toronto defence.
60′ TORONTO SUBSTITUTION – Brandon Servania and C.J. Sapong come into the game for Kosi Thompson and Deandre Kerr.
59′ – TFC lacking creativity in the midfield. Laryea runs with the ball inside before laying it off to Insigne who then crosses it into the box with no one on the end.
53′ – Marshall-Rutty is denied yet again by Richey thanks to an excellent build-up from Bernardeschi.
46′ CHICAGO SUBSITUTION – Gastón Giménez comes in for forward Georgios Koutsias.
HT – Halftime thoughts: who will score first? Let us know in the comments!
45+4′ YELLOW CARD – Mark-Anthony Kaye picks up TFC's first caution after a challenge on a Chicago player.
44′ – Spencer Richey gives it away in his own half and Marshall-Rutty's shot on net is swiped away by the Fire goalkeeper.
43′ – Kosi Thompson manages to find some space thanks to a through ball and whips it into the box to find Kerr, but is unable to find the back of the net.
35′ – Bernardeschi's free kick is passed back to Insigne who is picked apart by Fire attackers who quickly find themselves on the counter-attack.
34′ – Richie Laryea earns himself a free kick just outside the box.
30′ CHICAGO SUBSTITUTION – Fire goalkeeper Chris Brady leaves the game with an open wound after a collision with Deandre Kerr in front of the net. Spencer Richey will be Fire's new goalkeeper.
24′ – Kosi Thompson's header from a Jahkeele-Marshall Rutty pass is kept out by Fire goalkeeper Chris Brady who takes a knock from a collision with Deandre Kerr.
23′ – With an excellent run down the right and a swift cut in to dodge a Fire defender, Federico Bernardeschi takes a shot but is unable to find the back of the net.
11′ – Down at the other end, Lorenzo Insigne takes a shot on net and misses just wide of the goal.
10′ – Richie Laryea brings down Georgios Koutsias just outside the box. Xherdan Shaqiri's free kick is aimed perfectly for the back post to find Kendall Burks who heads it wide.
1′ – We are underway at BMO Field!
---
7:30 pm ET – A roar of boos ring out from the fans as Bob Bradley's name is introduced over the speakers.
7:25 pm ET – Igniting the field for a blazing encounter with Chicago Fire.
7:10 pm ET – Both Toronto FC and Chicago Fire come into this one not having drawn in each of the last four matches. We could be in for a goal fest tonight with both Lorenzo Insigne and Xherdan Shaqiri in superb form. And TFC will try and keep Fire leading goalscorer Kai Kamara off the scoresheet.
6:45 pm ET – After a "coach's decision" left Federico Bernardeshi out of the matchday squad over the weekend, Toronto FC's designated player earns himself a start a long with Deandre Kerr starting up top.
6:30 pm ET – Toronto FC welcome Chicago Fire at BMO Field for the first time since May 2022. The two sides played twice last year with each team splitting wins in their respective home venues. Don't forget to get your predictions in!
---
Starting XI's
TORONTO FC:
Sigurd Rosted and Brandon Servania return from injury and both feature on the bench and Federico Bernardeschi returns to the squad after Bob Bradley left his designated player out of Saturday's match due to a "coach's decision." All eyes will be on captain Lorenzo Insigne and he looks to build on his impressive form from Saturday.
CHICAGO FIRE:
Defender Rafael Czichos captains the squad with goal-scoring threat Kei Kamara leading the frontline. One to keep an eye on his Swiss international Xherdan Shaqiri who will be looking to continue his form this evening.
---
Match Preview via Adam Palemro
Well, last week was fun, wasn't it?
A last-minute loss in Austin, a disheartening postgame plea from star man Federico Bernardeschi, a player-coach feud between he and Bob Bradley, and a jaw-dropping report on the dressing room drama all occurred in the span of seven days.
Toronto FC then followed it up by getting the better of D.C. United at home, surprising plenty in the process.
With a quick turnaround, the Reds will look to make the most out of a rare positive momentum boost as they look for back-to-back wins at BMO Field against the visiting Chicago Fire on Wednesday evening.
Back in the mix for the midweek contest will be Bernardeschi, who missed out on Saturday's 2-1 victory due to a coaching decision. Lorenzo Insigne stepped up in his absence, assisting both Deandre Kerr and Kosi Thompson in what was one of his best performances in a red (onyx?) shirt since joining the club last summer. With pressure mounting on he and Bernardeschi in recent weeks, fans will expect to see the very best from the two Designated Players against a leaky Chicago defence.
Game Notes
Toronto FC have lost just once in their last 15 meetings with the Chicago Fire (11-1-3)
Only Federico Higuain (12) has scored more goals against Toronto FC than Fire striker Kei Kamara (11)
---
Match Details
Opponent: Chicago Fire
Kickoff time: 7:30 pm ET
Watch: MLS Season Pass
Stadium: BMO Field, Toronto, Ont.
---
---