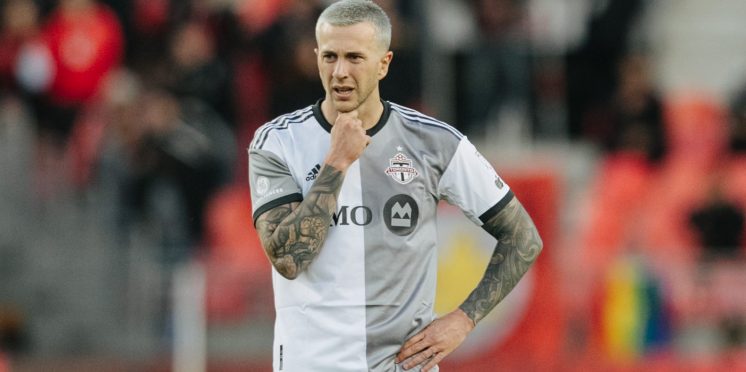 Could Federico Bernardeschi return to Italy this summer?
When it rains, it pours.
A win against D.C. United this past Saturday helped take away some of the negative attention Toronto FC received last week from both The Athletic's article on the team's dysfunction and when Federico Bernardeschi complained about Bob Bradley's tactics and training, ultimately leading to a one-game absence for the Italian star.
However, that win has done nothing to stop transfer rumours, especially for Bernardeschi.
It's important to note that none of these rumours are from reliable sources yet and are merely speculation. But, after changing agents back to the one who helped him get his transfer from Fiorentina to Juventus, Bernardeschi has now been linked with potential summer transfers to a host of Italian clubs. Most notably, Salernitana (tweet above) and AC Milan and Lazio (tweet below).
Despite no reliable sources linking Bernardeschi with a move away this summer yet, there is some credence to this speculation. Outside of Bernardeschi's public criticisms of Bradley, he was also a specific focus of The Athletic's article.
The piece highlights Bernardeschi's rumoured tension with Lorenzo Insigne. Moreover, that tension seems to stem from Insigne receiving the captain's armband, in pay differences, and from Fede's compatriot having more marketing opportunities than him.
The article also mentions that Bernardeschi may be developing a fractious relationship with the team after incidents with using a vape pen on the team plane and at the team's training facility, undermining Michael Bradley's position as team captain because he's the coach's son and also calling Mark-Anthony Kaye, "Bob's other son."
Adding potential fuel to this fire was Insigne having his best-ever performance for TFC this past weekend when Bernardeschi was absent. Gone was the visible frustration with teammates and the unwillingness to track back to defend. He looked like a man on a mission who was dedicated to helping the team win in any way possible.
Of course, all of this could just be speculation and using different data points to create a story. Bernardeschi's salary may be too much of an obstacle to get a move away from TFC. He may also be happy in Toronto and winning may help to cure the pent-up frustration that spilled out publicly.
The only thing that is certain is what happens next in this ongoing TFC drama will be popcorn worthy.
As Julian de Guzman said this week in a TSN Radio interview: "This is TFC. There will always be drama."
---
---