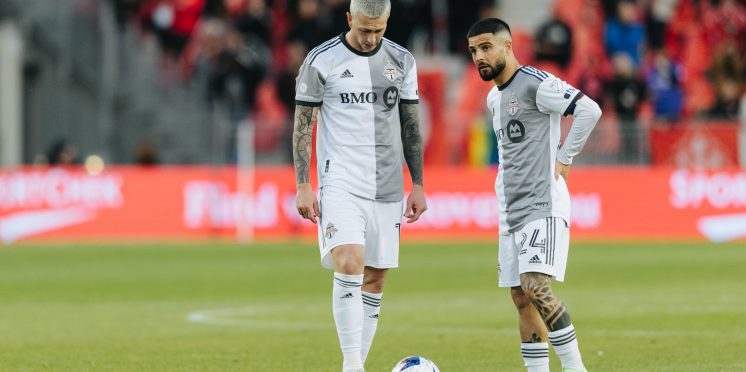 Ex-Toronto FC DP Julian de Guzman calls on Lorenzo Insigne, Federico Bernardeschi to step up
"This is TFC. There will always be drama and some type of fire to put out."
Julian de Guzman is not wrong, unfortunately.
The last 10 days have ignited one of the biggest fires of all. But things took an upswing on Saturday as Lorenzo Insigne put the team on his back for the first time in 2023, notching a pair of assists in a match-winning, MLS Team of the Matchday-recognized performance to lead the Reds to a vital 2-1 win over D.C. United and quell the blaze that has been raging through the club in the last week-and-a-half.
It was a long-overdue performance from both the team and Insigne. With the club's other star Italian Designated Player Federico Bernardeschi sidelined by a "coach's decision" — no need for us to explain again — his compatriot stepped up big time.
De Guzman told Canadian Soccer Daily's Director of Content Brendan Dunlop on TSN 1050's Game Play that it's time for the 31-year-old to show he can do this on a regular basis.
"Insigne steps up finally in one game but it's a question of him being able to step up in every game, and that's the same for Bernardeschi," said the TSN pundit, who spent three years with TFC between 2009 and 2012. "It's gonna come down to consistency."
De Guzman is well-placed to comment.
The first Canadian DP in Major League Soccer history, the midfielder knows better than most the pressures of performing with those two letters attached to your name. Insigne and Bernardeschi have both had great careers in Europe, but as one man (albeit, particularly in Insigne's case, a standout star) in a top-level team.
In MLS, everything is different, from the culture to the travel to the status of players of their stature.
De Guzman believes Insigne and Bernardeschi, the latter of whom will return to the TFC matchday squad this week, are acclimatizing to those changes, but he called upon the former Serie A stars to begin further embracing their roles as on-field leaders.
"The league itself is a brand-new lifestyle or experience that they're going through, there's a lot of adjustment," he told Dunlop. "Being a DP too is another pressure. If the team doesn't do well, it's not just the coach but the DPs as well who are the first people who are pointed at. I've experienced that myself… everyone looks to you to come up with the answers.
"If they can get over that and get their head around them being just as important as the head coach, as Bob Bradley, and coming together collectively and playing a more important role in that leadership team, then you can start to do well. TFC are definitely one of the best teams on paper, but it comes down to your DPs… These are the new hurdles and obstacles they are learning in their careers.
"Those are the two guys who need to be healthy if TFC want any success. I think they're finally starting to understand the North American culture of playing, recovering, travelling, time zones, etc… If [Insigne] has the energy he showed against D.C., not just on the ball but off the ball, the entire team will follow that and believe in that."
In Insigne's performance last weekend, TFC fans have a glimpse of what is possible if their stars can step up. The season is slipping away, on the cusp of the halfway stage, but given the expanded postseason format, put a run of confidence and better results together, and there's no reason TFC can't be in the conversation come September.
Meanwhile, De Guzman also addressed his past comments on Bob and Michael Bradley's father-son dynamic at the club. A couple of months ago, the former Canadian men's national team veteran made headlines when he foreshadowed a potential issue with the dynamic created by the presence of both Bradleys.
"I kind of put myself in the shoes of the players when you're in that environment," he told Dunlop. "It's not always going to go well and the best place to vent and open up is always in that locker room. You're going to have words about the coach or a player but I think players can't express themselves in that type of environment with that set-up and that father-and-son relationship. It could restrict the entire group from being themselves, and that's where you're meant to be yourselves, in that locker room.
"If you're in a situation where you're restricted to have those conversations openly, it kinda relays onto the field."
Whether that purported dynamic has indeed been having an effect on results is something we may never know for sure. What is certain, though, is that TFC need to build on a positive step against D.C.
The games come thick and fast for TFC. They're back in action on Wednesday night, hosting the Chicago Fire at BMO, before travelling to Minnesota on Saturday night.
Many eyes, of course, will be on the starting XI. Insigne will be there, but will Bernardeschi?
---
---