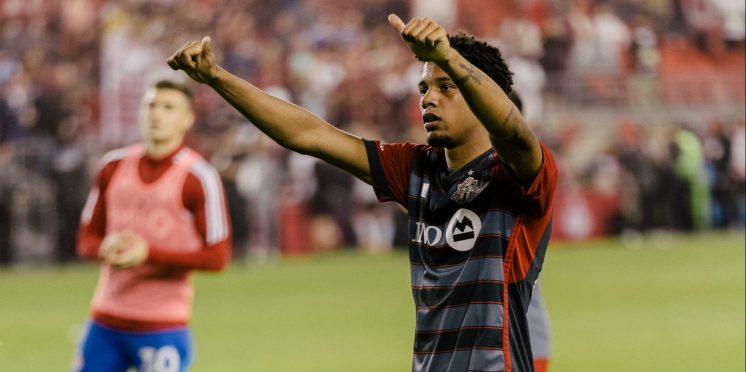 Anatomy of a Goal – Kosi Thompson's Toronto FC match-winning goal vs. D.C. United
Does this game change minds about Toronto FC's season?
Sports fans, especially Toronto sports fans, are a fickle bunch. Like a pendulum, they can sway from wild optimism to abject nihilism in a matter of days. Perhaps there's an ever-widening chasm between the two opposing sides of the Toronto FC faithful. Alternatively, there might be a quite vocal minority (not *that* Vocal Minority – shout out to Kristin, Mark, Duncan, and Tony) of supporters that might be garnering too much attention regarding their negative opinion of team management.
Regardless, Saturday's match was a pleasant surprise after this week's turmoil in the world of TFC – including a perceived rift between players and coaches. Amid this chaos, Lorenzo Insigne had arguably the best game of his Toronto FC career. Kosi Thompson was the beneficiary of Insigne's hard work on Toronto's second goal:
The Build Up
What else can be said about Insigne's performance? Rather than write about it, here are some highlights.
The Set Pieces:
The Open Play:
The goal was nothing different – Insigne's hard work created the goal scoring opportunity. From the outset of the play, Insigne was linking up with the defense and midfielders with quick passes:
The Goal
After Insigne found a bit of space, he picked out Deandre Kerr at midfield.
Rather than admire his pass, Insigne made a run from midfield off of the ball, which put him in a position to make a play:
Insigne had a choice to make – use his signature move of cutting into the box on his right foot and attempt a shot, or look for a pass. His first touch is with his left foot – a one-touch pass.
Insigne finds Kosi Thompson at the top of the box and Thompson side foots the ball past Tyler Miller.
What Went Right
Here's Lorenzo Insigne's Heat Map (Thanks to former Waking the Red managing editor Michael Singh):
What is most noticeable is how much deeper Insigne was playing in Toronto's defensive zone. Part of the success of the 4-3-3 formation is having the forwards run all over the pitch, including tracking back on defense. In essence, Bob Bradley's tactics require midfielders and forwards to spend 90 minutes running up and down the pitch.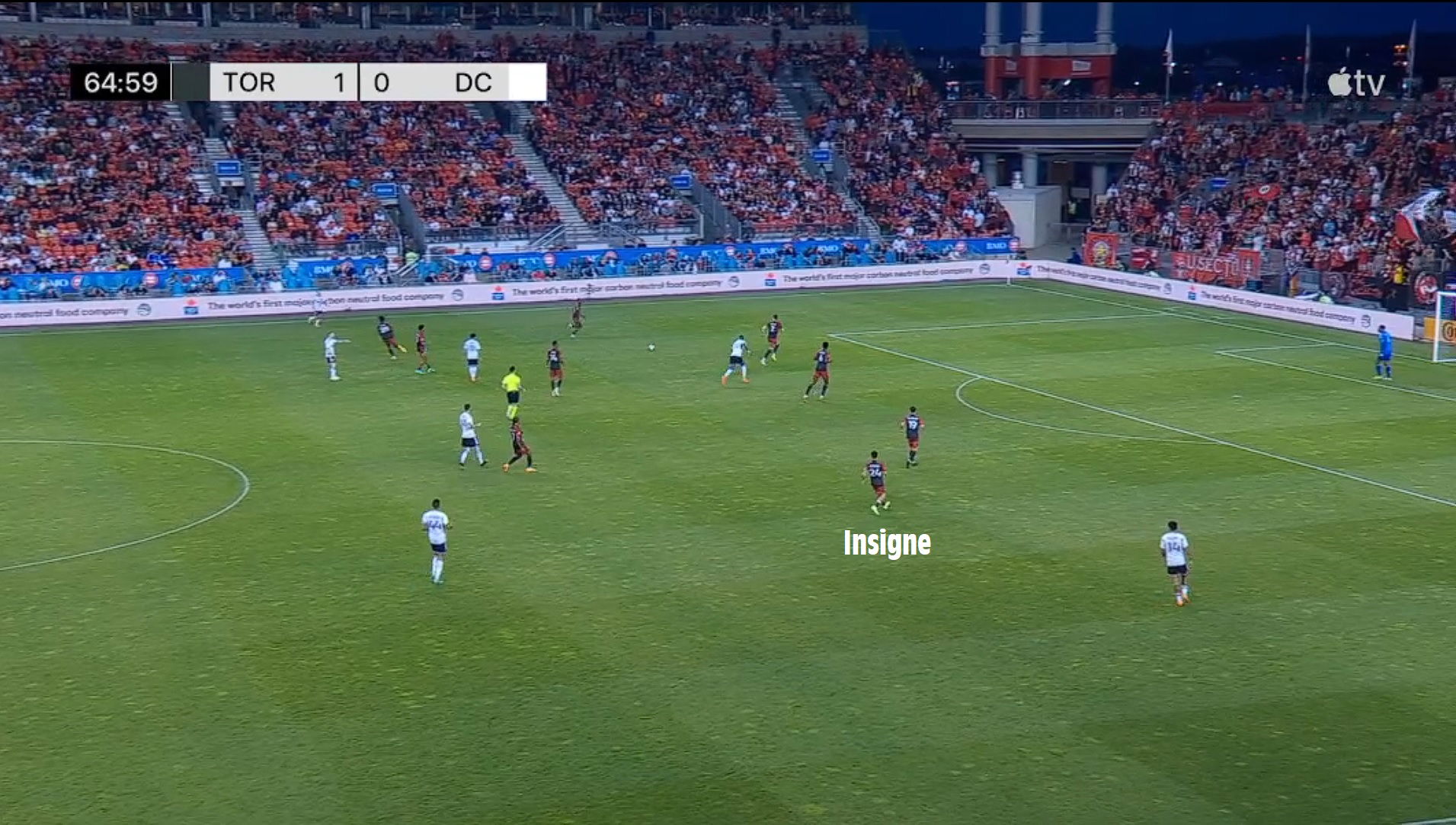 In this instance, Insigne is almost playing level with TFC's back line. This positioning is a departure from earlier in the season, where Insigne was playing higher up the pitch and not tracking back on defense. It was almost like Bob Bradley challenged Insigne to play a more comprehensive game like he's done before.
What Needs to Happen Next
Lorenzo Insigne and Federico Bernardeschi have played together for a total of 536 minutes. That's roughly 1/3rd of the season minutes so far, meaning the majority of the time played this year has been without their 2 Designated players.  Here's another consideration – of those 8 matches that Insigne and Bernardeschi played together, Toronto FC have only 2 wins, 1 draw, and 5 losses. That's not a great record when a team has their marquee players featuring together. So, what can be done?
It was noticeable that the play was clearly going through Lorenzo Insigne during the match against DCU. What will happen when Federico Bernardeschi returns to the lineup? Will the team revert back to its insistence of feeding the ball to both Designated Players? Will there be enough of the ball to be shared between the players, or will Toronto FC struggle once again to develop a cohesive attack?
One thing to note from Saturday's game was the lack of offensive involvement from No. 9 C.J. Sapong. He was playing much deeper in the formation, where his role was more like a Central Midfielder than a striker. It was quite comical on Thompson's goal, as Sapong basically played the role of statue to avoid getting hit by the ball. It was clear the play was through the outside of the pitch, thus negating the need for a hold up striker.  
Can Bob Bradley change the formation from his favoured 4-3-3 to a 4-4-2 and put Insigne and Bernardeschi up top together? Can Berna play with Sapong as the two forwards, allowing Insigne to be an attacking midfielder on the left and Richie Laryea to be on the right?  
Let's see what Wednesday night brings. Chicago is not a good team, and presents another opportunity for a victory.  Hopefully this new-found enthusiasm translates into a positive change on the pitch.
---
---