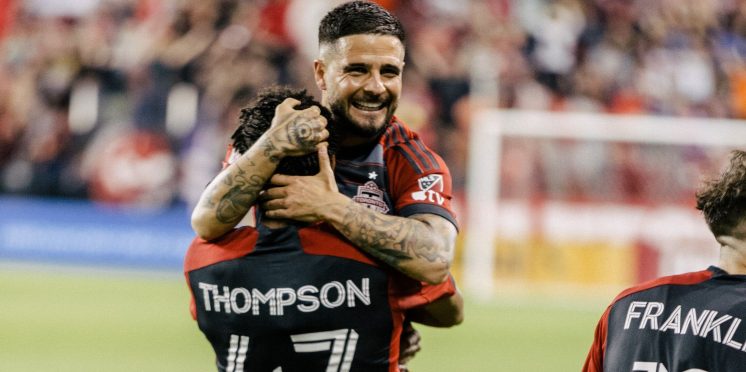 Lorenzo Insigne named to MLS Team of the Matchday after impressive outing against D.C. United
Things can change quickly around here.
After a chaotic, drama-filled week, Toronto FC pulled off a 2-1 victory at home against D.C. United on Saturday, with Lorenzo Insigne pulling the strings on both goals. The 31-year-old Italian was rewarded for his efforts with a selection to Major League Soccer's Team of the Matchday.
The superb showing couldn't have come at a better time for TFC, with the club struggling for form and entering the match having failed to score in four straight league matches.
Insigne made sure that streak would end, delivering a corner kick to Deandre Kerr in the 14th minute, with the Canadian making no mistake with his header.
Insigne would set up another goal in the second half by squaring the ball to midfielder Kosi Thompson in the 72nd minute. That tally would be the winner, with D.C. finding a late consolation goal through Christian Benteke.
Insigne has four previous Team of the Matchday nods, last receiving the honour back on Matchday 29 of the 2022 season after recording a brace against CF Montréal, but this marks his first inclusion in 2023.
The star winger has found it difficult to stay on the pitch and only had one goal contribution on the season prior to the victory against D.C. United on Saturday evening. This is the first time Insigne has been recognized as a starter in a Team of the Matchday.
Insigne's big-time performance came while his compatriot Federico Bernardeschi was missing from action due to Bob Bradley's decision to exclude the attacker after internal discussions. Supporters will hope that there is more yet to come from Insigne, and that he and Bernardeschi can find their stellar form from last year.
---
---