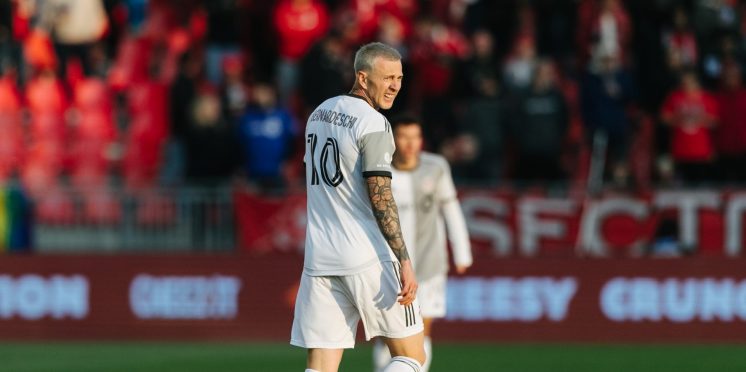 Bob Bradley drops Federico Bernardeschi from Toronto FC squad, dressing room in chaos
Published: May 26, 1:47 p.m. ET
Updated: May 26, 3:48 p.m. ET
Toronto FC: soccer team or soap opera?
The incident that has dominated TFC headlines all week has finally come to a head.
After barbed comments to the media from both Federico Bernardeschi and Toronto FC head coach Bob Bradley, Bernardeschi was absent from TFC training on Friday.
Bradley subsequently told reporters that he has made a "coach's decision" based on internal discussions that will see Bernardeschi left out of the squad for TFC's match vs. D.C. United this weekend.
"Coach's decision: Fede will not be in the squad for this game," Bradley said. He stressed that the decision is not a "disciplinary move" for the comments that Bernardeschi made following Saturday night's 1-0 loss in Austin, but is based on internal discussions that have taken place over the past week.
"There has been a lot going on this week, a lot of internal discussions. So in terms of preparing for this match, the decision was made that way…
"When you think about preparing the group for this game, I felt this was the best way to handle it. There's been just different things that we have worked through this week and that's where it left us as we were getting closer to this match so that we felt we could be best prepared as possible."
However, Bernardeschi's future at the club is not thought to be in doubt and Michael Singh adds "the expectation is he will be back in the mix next week."
To that point, Bradley added that "there are discussions going on about how we're going to continue to work together."
"I think that the plan that Fede is back in it and we all move forward," he added. "He and I had a good discussion today and I think we're both on the same page and excited to keep working together."
It's the conclusion (for now, at least…) of a week's worth of frustration, irritation, and internal friction at the club. But, according to the latest report from Josh Kloke, Tom Bogert, and Paul Tenorio of The Athletic, tension in the room between the star Italians and both Bob and Michael Bradley has existed for quite some time.
Kloke and Bogert spoke with more than a dozen sources to reveal some remarkable behind-the-scenes dealings, including former players who described the environment at TFC as being the worst they'd ever experienced as well as president Bill Manning's admission that he explored the possibility of signing Cristiano Ronaldo from Juventus before the Portuguese star returned to Manchester United.
Most pertinently, the must-read Athletic article (trust us when we say you really have to read it) also detailed that on Tuesday, the first day back at training following Saturday's loss in Austin, Bradley held a meeting with the team's leadership committee that includes captain Michael Bradley, goalkeeper Sean Johnson, Lorenzo Insigne, Matt Hedges, Jonathan Osorio, Mark-Anthony Kaye, and Richie Laryea. After the meeting, Bob Bradley confronted Bernardeschi about his post-match comments in front of the entire squad. Barbs about team issues and tactics were exchanged between Bernardeschi, the Bradleys, and Kaye, and then the meeting ended.
Then, three days after Bernardeschi very publicly voiced his frustrations with the Reds' tactics and performances after they conceded a stoppage-time goal to lose in Austin, Bradley publicly responded in strong terms with a public riposte in which he called the 29-year-old "out of line" and "wrong."
"Fede was wrong for speaking that way after the game," Bradley said earlier this week. "It was a tough loss, a late goal after we had defended in a really good way. So he was wrong to speak that way after the game, 100 per cent. And we've now discussed it inside the team. [I] made it clear that that was out of line."
Bernardeschi had said on Saturday after TFC slipped to their fifth loss in 14 regular season games that "we need to change something, we need more tactics, we need an idea of how we play.
"This is the real problem for me, it's impossible to play like this… we don't have any ideas of how to play…" added the Italian, who was substituted with 25 minutes of the Austin game remaining and the score tied at 0-0. "I think this team, this city, the fans, everybody doesn't deserve this… I'm really proud of the team and about every player because it's difficult to play like this… For me, we need something different."
Bradley was not impressed and has made that known in no uncertain terms.
Most of the sentiment and support amongst the Reds fanbase seems to lie with Bernardeschi; Bradley is not exactly the apple of most supporters' eyes right now given the way the first half of the season has gone.
But it's a tough situation. As an experienced head coach — a three-time MLS Coach of the Year winner, no less — Bradley will feel he needs to take a stand against public dissent, no matter who is voicing it. Regardless of whether or not Bernardeschi said his name or called for a change in management, his comments were a clear criticism of Bradley's management and style of football. As a manager, generally speaking, you have to ensure your authority is respected.
The problem is that in the absence of Insigne — and with his future reportedly far from certain; the Athletic article suggests he does not want to play under Bradley for much longer, and that he and Bernadeschi do not get along too well despite sharing the common goal of seeing Bradley ousted — Bernardeschi is TFC's leading star and leading attacking contributor.
Bernardeschi posted two images to his Instagram story on Friday, shortly before the news broke. The first detailed his attacking importance to the team using cold, hard stats.
With three goals and two assists so far this season, he is the team's leading scorer, and he has the best average number of chances created per game and the highest number of key passes per game. Put simply, many would call him vital.
Most fans would also likely argue that, unlike some other players in the club's recent history, his on-field attitude has never really wavered even in the face of recent form and performances which frankly must be embarrassing to him at times.
For what it's worth, the second image Fede posted to his Instagram story on Friday was this. Check the song title.
Without Bernardeschi, TFC face D.C. on Saturday looking for just a third win in 15 games to start the season, and having not scored in over 400 minutes of game time.
Hey, look on the bright side: at least Bernardeschi can't get injured in action.
What do you think about all this? Let us know in the comments.
---
---